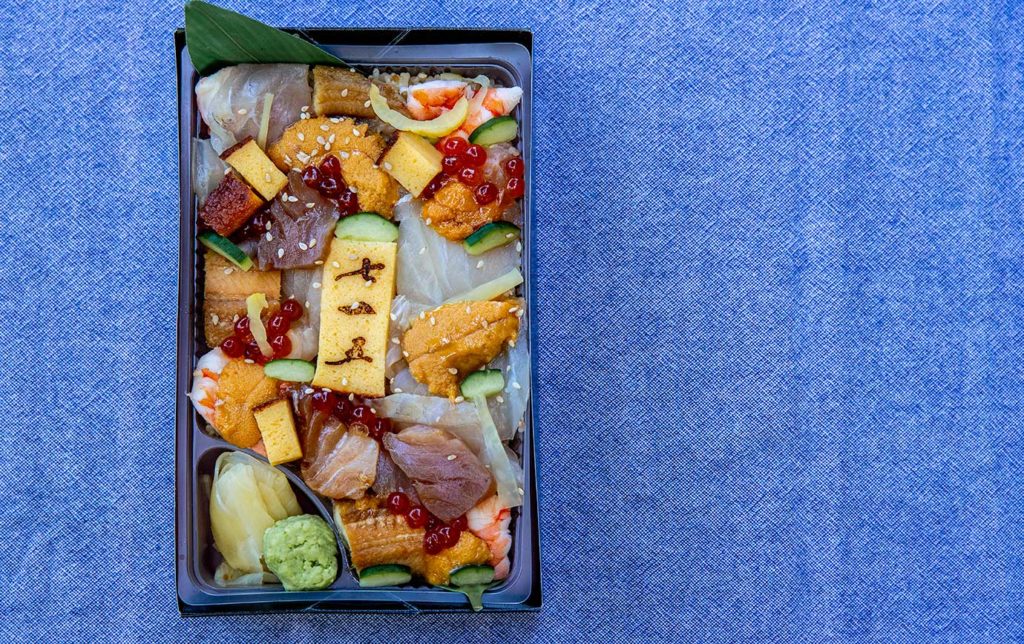 Every month, I explore different corners of L.A. County to curate a shortlist of favorites I believe ought to be on your radar. For September, I'm recommending covert Chirashi, some cooling halo-halo, a new Thai spot in DTLA, and a vegan cinnamon roll in Frogtown. Enjoy!
1. 715 Sushi (Little Tokyo & Koreatown)
When Chef Seigo Tamura met me in Little Tokyo to drop off an Uni Chirashi ($50) I had ordered via Instagram, it almost felt illegal—like I was buying drugs or something. But it was really just delicious slivers of marinated bluefin tuna, belt fish, striped jack, sea eel, and Hokkaido uni scattered across Koshihikari rice tinted brown with red vinegar. Cubes of sweet tamago and a splattering of bright red ikura finished off the dish. When I got home and took my first bite, I'm not going to lie… I felt a little buzz. Available Wednesdays through Sundays. Instagram orders only, pay via Venmo. –> More information.
2. Petite Peso (DTLA)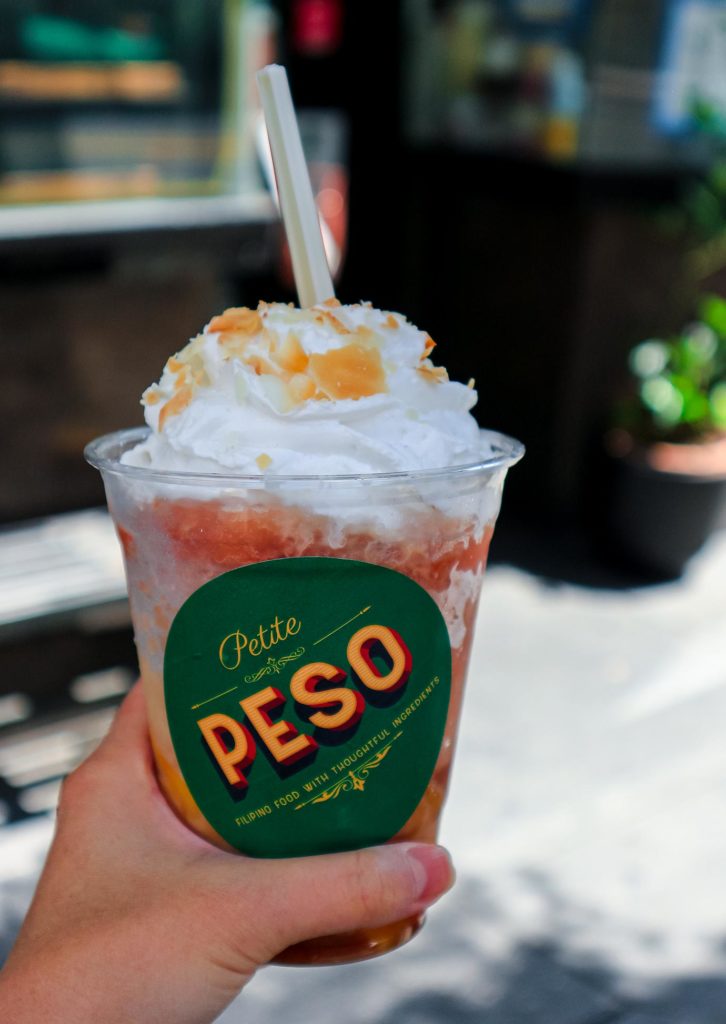 I stopped by Petite Peso in DTLA specifically for the halo-halo ($7) and I have no regrets. Halo-halo is a popular Filipino dessert that consists of layers of crushed ice and sweet ingredients, usually various beans, jellies, and ice cream. At Petite Peso, it's layered with fresh-cut stone fruits like peaches and plums, slivers of jackfruit, ice, and whipped cream, then topped with toasted coconut chips. My spoon dove to the bottom of the cup lifting all the layers up into a sizable bite. More bites quickly followed. Light, but not overly sweet, it was a good summer cooldown, though the concoction did melt faster than I thought it would. Eat quickly, and you won't be disappointed. Open Tuesdays through Sundays from 11 a.m. to 9 p.m. –> More information.
3. Holy Basil (DTLA)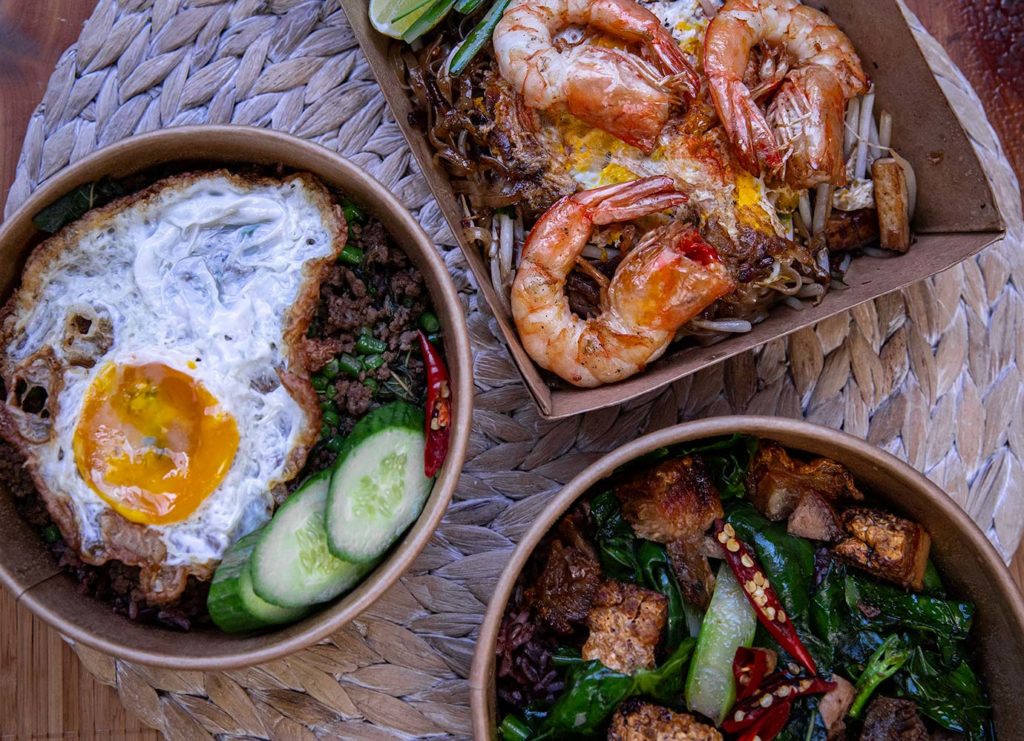 Holy Basil is a self-described "Neighborhood Bangkok street food window" that recently popped up at the Santee Passage complex in DTLA. Right now, they're open only on Sundays, catering to pre-orders. Walk-up orders might experience a lag, but it's worth it.
Two standouts are the Pad Thai Goong ($13) and the Ka Nah Moo Krob ($13). The Pad Thai Goong puts a heavy emphasis on the Goong (the shrimp) with excellent results. Ecuadorian white shrimps lay across noodles dressed with a tamarind sauce that's mixed with tiny dried shrimps. Finally, a fried egg is smashed into the noodles. Frankly, this was one of the best Pad Thais I've eaten in a minute. Writing about it days later, I still feel like I have remnants of shrimp flavor in my mouth.
Then there's the Ka Nah Moo Krob, a Bangkok-style crispy pork belly dish where the sun-dried pork is chopped into cubes and wok-fired with Chinese broccoli and XO sauce. The pork belly at Holy Basil is a flavorful marriage of crunch and air without a trace of grease. To order, DM Holy Basil on Instagram and pay via Venmo. –> More information.
4. Just What I Kneaded (Elysian Valley)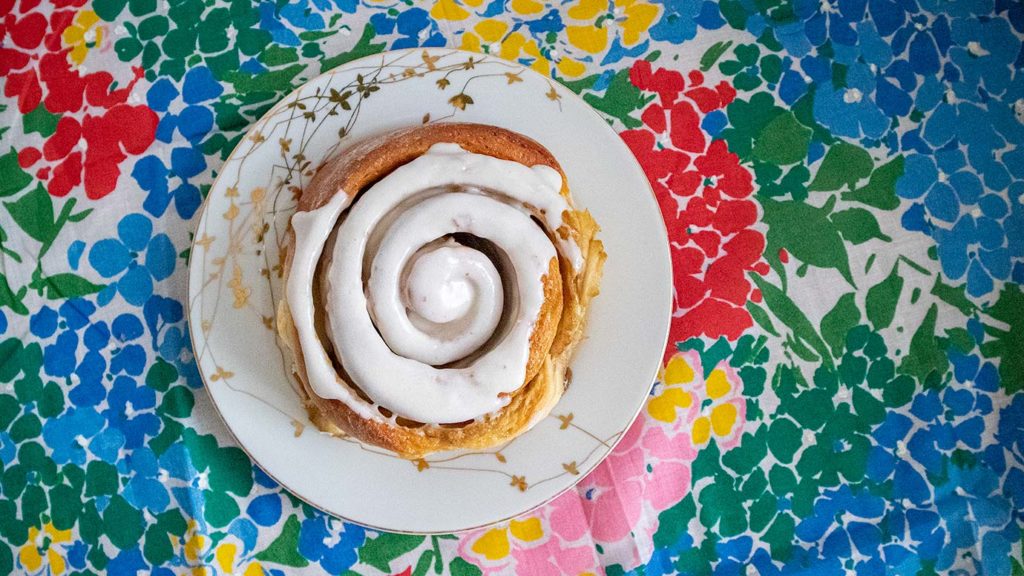 Just What I Kneaded's Justine Hernandez previously sold her pastries at Little Ripper and Kindness & Mischief. After starting a GoFundMe, she opened her own space in Elysian Valley (a.k.a. Frogtown) on Blake Ave., a stone's throw from the L.A. River. Here you'll find 100% vegan sweets including fruit pies, giant cookies, fluffy fruit scones, and galettes. Hernandez's signature offering is a giant cinnamon roll ($6) about as big as your face. The vegan cream cheese frosting has hints of lemon zest, and it's definitely on the gooier side (you might need several napkins). There is a small patio out front and a menu board with the day's baked goods. I suggest a grab-and-go and a walk along the nearby river path. Open Wednesdays through Sundays from 9 a.m. to 3 p.m. or until sold out. Pre-order on Toast. –> More information.