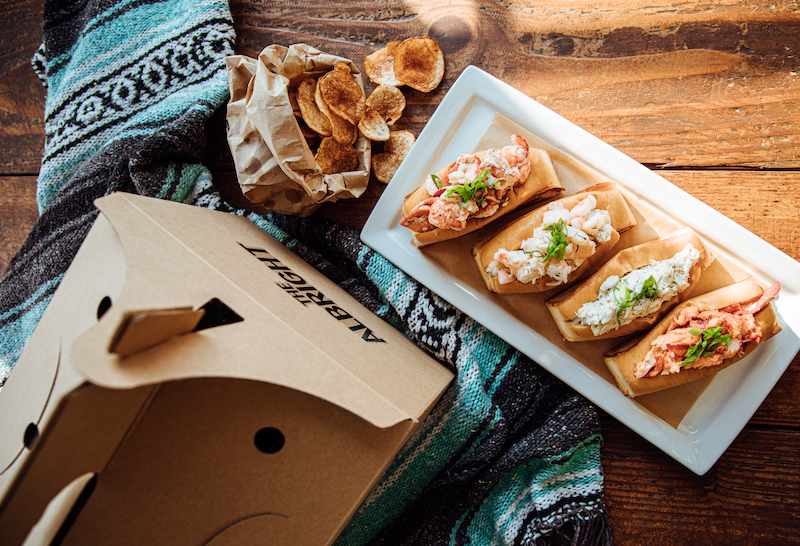 Don't feel like firing up the grill this weekend? Understandable, because it's going to be well over 100 degrees on Saturday and Sunday. From lobster rolls to grill kits and cocktail packages, here are some excellent delivery and takeout specials to try.
The Albright (Santa Monica)
The Albright is delivering special boxes filled with fresh seafood rolls such as lobster, crab, and shrimp. Available only for the month of September, guests can add one to three rolls per box ($20.50-$22.50 a roll). Each roll comes with house-made Old Bay seasoned potato chips. The Albright Roll Boxes are available for delivery via GrubHub, ChowNow, Postmates, DoorDash, and through The Albright's app.
Big Bar (Los Feliz)
Bars might not be open at this time, but Big Bar is making sure that Angelenos can still enjoy top-notch cocktails at home all summer long. Through the Big Bar To-Go cocktail program, guests can choose from 17 evolving libations, some of which come with digital guides or printed instructions detailing any prep. Kits include St-Germain Spritzes, Mai Tais, and seasonal creations like the Honey Pooh made with wild local honey, Aberfeldy 12year scotch, nixta elote liqueur, lemon, rosemary, and sea salt, delivered in an adorable glass bear. Order on Chow Now.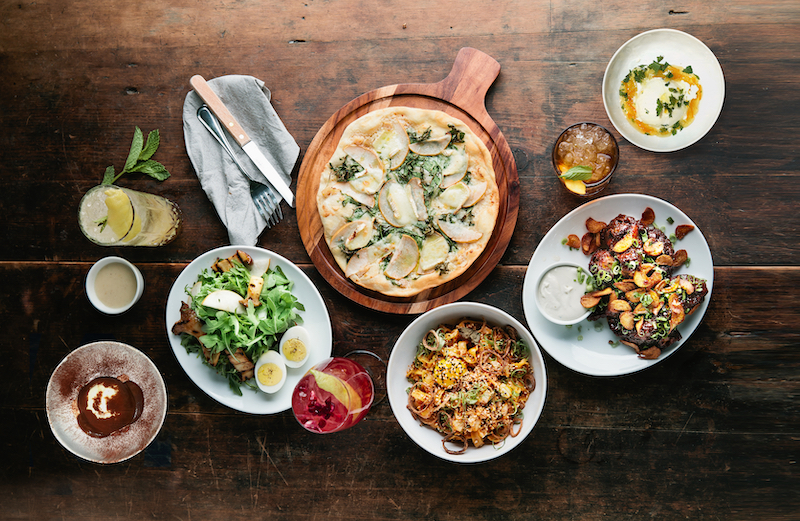 Bacari West 3rd (Beverly Grove)
Mediterranean eatery Bacari West 3rd and Korea Agro-Fisheries and Food Trade Corporation have teamed up on a limited-time menu from Chef Lior Hillel. Dishes include Kimchi Pasta, Korean Pear Pizza, and Korean Spicy Garlic Wings. Add-ons include red ginseng-infused ice cream or a refreshing omiberry cocktail. Available for dine-in or takeout now through September 17. To order, open Toast and select the Korean Menu tab.
Porridge + Puffs & n/naka (Westlake & Plams)
n/naka chefs Niki Nakayama and Carole Iida-Nakayama recently announced and sold out their latest ekiben collaboration this week with Minh Phan of Porridge + Puffs. But you can try your luck another time on n/naka's Tock page, where reservations drop every Saturday at 10 a.m. all September long. For $48, the bento box features eight seasonal dishes designed by both restaurants. For those who just can't wait, Phan also has a $50 five-course dinner menu this Friday and Saturday at her Westlake restaurant featuring ingredients created in collaboration with n/naka.
Rossoblu (Downtown)
Rossoblu's Labor Day weekend grill kit is available for pickup Saturday and Sunday. For $49/person, enjoy a customizable multi-course meal that includes watermelon salad and marinated heirloom tomatoes with burrata; a main like Bolo burgers with all the fixings (Bolognese ragu, bechamel, and fontina) or brick-pressed chicken; sides like creamed corn and fingerling potatoes; and chocolate chip cookies. Substitutions include a 28-day dry-aged, bone-in Holstein New York steak ($40) and Peach Crumble Crostata ($20). Order on Tock.
Kirsh Baking Company (Delivery Only)
Uyen Kirshenbaum has taken her time away as the Executive Pastry Chef of Simms Restaurant Group to turn her passion for cookies into a booming mail-order treats service. Kirsh Baking Company offers hand-baked and individually wrapped cookies in both classic and seasonal combinations. Kirsh also offers dairy and gluten-free cookies. Recently, the company launched a limited edition I ❤️ California collection with six Lemon Poppy cookies and six Orange Double Chocolate cookies. 10% of proceeds will go to Baby2Baby with an additional matched donation by Kirsh Baking Company.