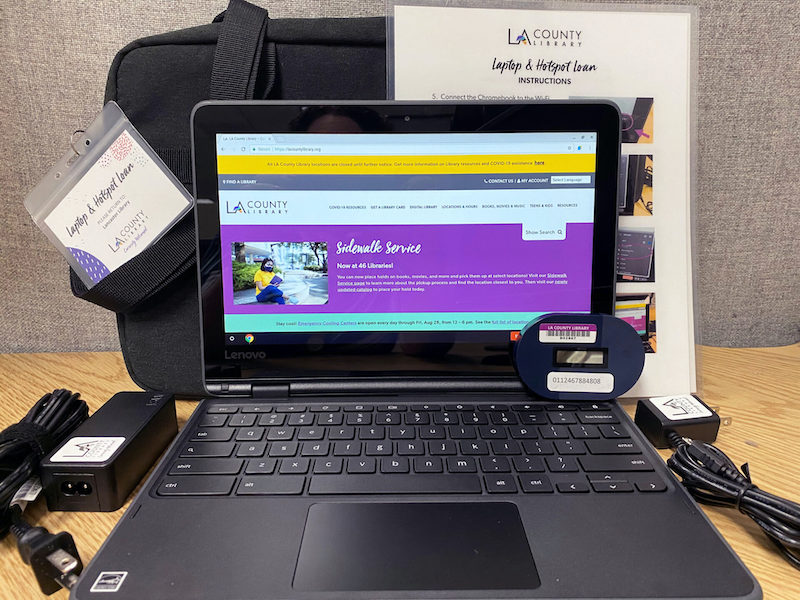 If you or someone you know needs access to a laptop, wifi hotspot, or a printer, you can find these services for free at L.A. County libraries. 
There are a few different services available while libraries remain partially closed due to the ongoing pandemic. There's the Laptop & Hotspot Loan program and there's Printing Pickup. Here's how they work:
The Laptop & Hotspot Loan Kit gets you one Chromebook laptop and a wireless hotspot for three weeks. If there are no holds on kits, you may renew your rental for another three weeks. Each kit is quarantined for 96 hours after it's returned to ensure sanitization and safety. You must be at least 18 to check out a kit. 
According to Los Angeles Public Libraries, this program is being piloted in communities where about 40% of households don't have at-home internet access. The first ten library locations include AC Bilbrew, Compton, East Los Angeles, Huntington Park, La Puente, Lancaster, Leland R. Weaver, Lennox, San Fernando, and South Whittier. More may be added in the future.
Printing Pickup is available at all 46 library locations that currently offer sidewalk service. You can use the library's wireless printing app to print up to 10 pages each day.
"The digital divide has far-reaching consequences, especially during this unprecedented time," Library Director Skye Patrick said via a statement. "No connection to the internet means no way for the unemployed to find employment or participate in virtual interviews, no way for isolated older adults to receive telehealth or keep in touch with loved ones, no way for caregivers to access information for homeschooling or support their kids' digital schooling needs. We see Laptop & Hotspot Loans and Printing Pickup as two ways the Library can help to bridge the digital divide for these communities."
For more information on which libraries are offering sidewalk service and printing pickup and how to use these services, click here.
As a reminder, you can also check out books and other materials at libraries offering sidewalk services. You can also access a bevy of digital resources—including research materials, music, audio books, movies, and more—if you get a free e-card.