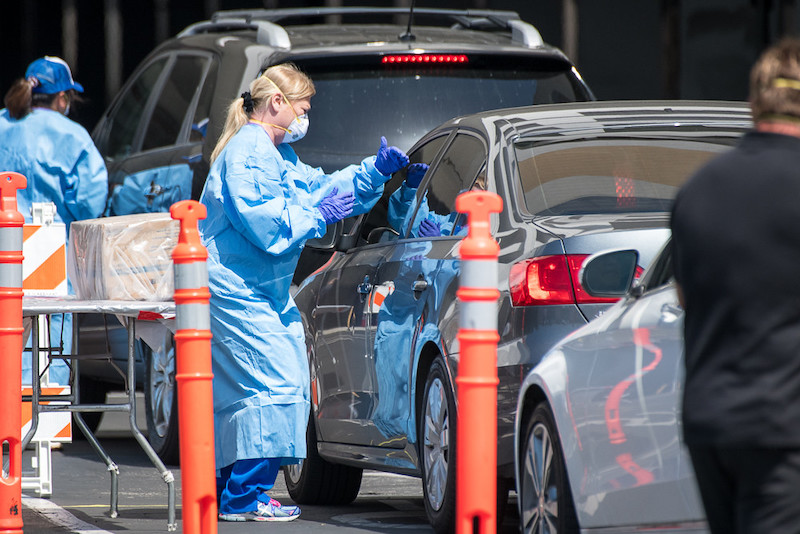 You won't be able to get a COVID-19 test at city sites this weekend, but then again, you'll probably be vegging out at home trying to stay out of the heat. Also: The L.A. County IG says he was blocked from attending the autopsy of Dijon Kizzee, the city is getting a new street lamp design, and a record number of mountain lion dens have been found in the Santa Monica Mountains. Finally, it's been 239 years to the day since the founding of Los Angeles. First, some news stuff.
Morning News Rundown
With temperatures expected to spike over 100 degrees over Labor Day weekend in most parts of L.A., city-run coronavirus testing sites will be closed Saturday through Monday. [KTLA]
Speaking of the heat, if you're worried about things getting too hot––or maybe you don't have air conditioning––the county has several public cooling centers open through the end the holiday weekend. The resource page linked here also has good tips on how to prep yourself for the heat and danger signs to watch out for. [LA County]
During a virtual town hall event on Thursday, L.A. County Inspector General Max Huntsman said that the Sheriff's Department prevented him from observing the autopsy of Dijon Kizzee, who was shot to death by LASD deputies in Westmont earlier in the week. Huntsman said after being stonewalled by the department, he emailed the coroner directly, who told him that the LASD had already scheduled the autopsy and it would be completed within the hour. [NBC Los Angeles]
The City of Los Angeles is getting its first major street lamp revamp since the 1950s. The winning design team, an L.A.-based collective called Project Room, was selected from more than 110 worldwide entrants. [L.A. Times]
National Park Service biologists have found a record number of mountain lion dens and kittens over the past three months in the Santa Monica Mountains and Simi Hills. In total, they identified five dens and counted 13 newborn kittens. It's the first time in an ongoing 18-year study that this many dens were found. All kittens appear healthy. [LAist]
Happy Birthday, Los Angeles
El Pueblo de la Reina de Los Angeles was officially founded on September 4, 1781. In the 239 years since, this place seen has a lot.
Missionaries indentured Native Americans, Rancheros carved up the land and divvied the wealth. An oil boom came and went. Land barons propped up a public transit system then scrapped it once its utility no longer served their profiteering. Monied powers fought––through any means necessary––to bring us water. We took what we wanted. We grew. We sprawled.
Today, cars roam the freeways like herds of cattle on prairies made of concrete, and the epidemic of homelessness persists on far too many street corners and underpasses throughout the city. We've had race uprisings and red-lining and public corruption that could make even the most hardened criminal blush. Now our whole world swirls within the hurricane of a pandemic. Traffic is back, but we can't even dine inside at our favorite local restaurant, if that restaurant is still even open at all. Everything about what we are and what we will be lives under a shadow of uncertainty.
But there is something magical about L.A., isn't there? This is the place where movies were born, after all. It is a land where cultures collide on a daily basis, and where pockets of food and flavor exist like nowhere else in the world. And somehow, despite all the differences between all the people in all the neighborhoods, we're still here. Still persisting. Hopefully for quite some time to come.
So I say happy birthday, Los Angeles. We like you, but we also know you can be better. Here's to the effort to make it so.