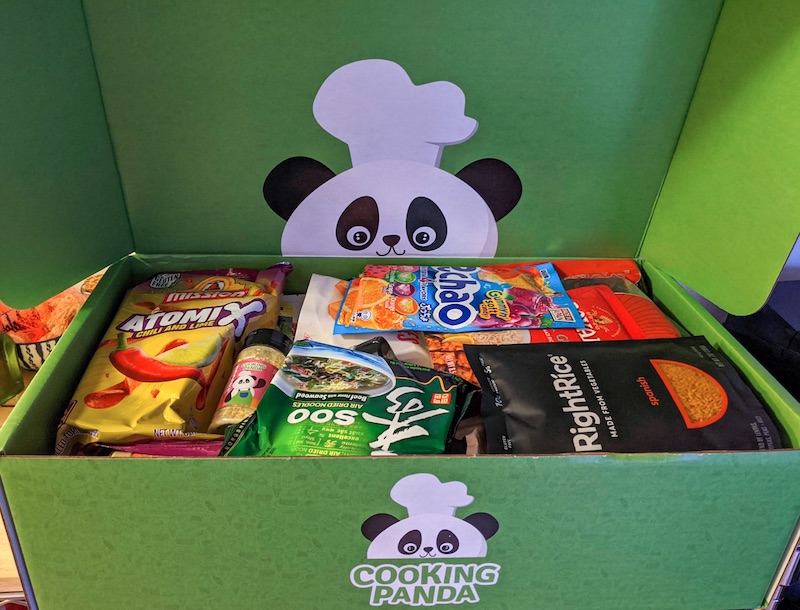 A local company's new subscription box may just help with your snack and recipe fatigue. L.A.-based Cooking Panda, perhaps best known for its cooking and recipe videos, has launched a quarterly "mystery box" full of snacks, spices, condiments, and other treats. Each box promises $150 worth of stuff for $44.99 each.
Cooking Panda founder Noel Ballou said the ongoing COVID-19 pandemic spurred the company's decision to deliver a bevy of food items straight to customers' doors. For one thing, people are eating and cooking at home more now than ever and might be tired of their usual meals and go-tos. But the pandemic also affects consumer grocery brands trying to market new foods to customers.
"Brands used to have trades shows to show off their new products, but with COVID, they had no new outlet. Our box is filled with new products that brands are just releasing," Ballou said.
It's not just a lack of trade shows that's hurting brands. Eater recently reported that food brands are losing business because they can't hand out samples in grocery stores during a pandemic. Eater talked to Daniel Maloney, a New York-based chocolatier who no longer had the opportunity to tell customers about how his great-grandparents farmed cacao in Trinidad and Tobago or how their chocolate costs more because they ethically compensate their farmers. And Rodrigo Salas of Molli Sauces says the company's sales have dropped 30% since the pandemic put an end to sampling.
So, to get new products in front of reviewers, food industry types, and ultimately consumers, brands have to innovate. Chicagoland Food and Beverage Network (CBFN) recently tried sending out tasting boxes for its virtual trade show. According to Food Business News, the event showcased several trends in food, including plant-based and fermented foods. One item featured in the tasting box was Kraut Krisps, a line of chips made from sauerkraut. Cooking Panda sent me their fall box and when I opened it up, there was a packet of Kraut Krisps. (Which I ate—not bad!)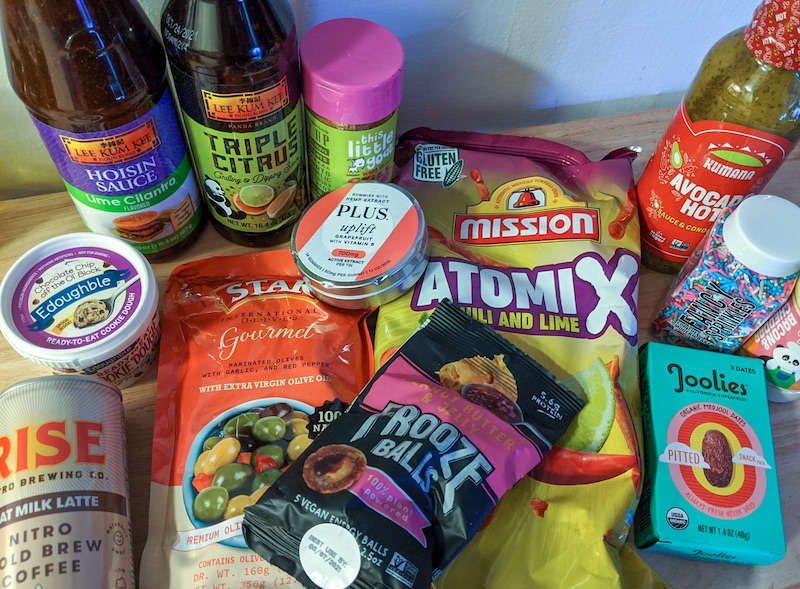 As for what else the Cooking Panda box contained, it was a complete hodgepodge. It included cans of nitro cold brew, various spice blends, an entire bottle of English toffee syrup, sauces and marinades, a box of tea, a jar of sprinkles, plant-based rice, bars, and instant ramen in a variety of flavors. There were so many snacks: salmon jerky, dates, candies, tiny almond and butter cakes, a bag of assorted olives, edible cookie dough, and a foil package of sliced pickles.
Most of the items were the kind you might find in a market if you had time to browse: accessible, not especially gourmet, but fun. Did you know Del Monte has "bubble fruit" cups that pop like boba? Me neither! I haven't thought about fruit cups since my mom packed me lunch.
That randomness is intentional. Ballou said they wanted the box to be different from the slew of other food subscription boxes that focused on only snacks or only one type of cuisine.
"We wanted to create something that is not only fun for one person to open, [but also for a] family to do it together," Ballou said. "When it comes to picking what goes in the box, we had to be super selective, making sure we provided a wide variety allowing everyone to be happy with what came."

That said, the Cooking Panda Mystery Box isn't the sort thing you'd get if you're a picky eater, or if you have dietary restrictions. There's no vegan, vegetarian, or gluten-free option. Some of the items are healthy, while others definitely aren't.
Some I'd actually buy, like a Tapatio chipotle adobo sauce pack you can throw into a slow cooker with frozen chicken and forget about for six hours. Or Frooze Balls, which are little peanut butter and jelly protein balls I'd totally toss in a bag before a hike or a long day. Others, well, not so much. Look, there's just nothing that's going to ever make me buy a fruit cup over an actual piece of fruit. So, in that way, it really was sort of like the lost days of trying samples at the grocery store, but from the comfort of my own home and with mostly full-size products.

If a big box of random snacks and ingredients would spice up your homecooking days, you can learn more here.