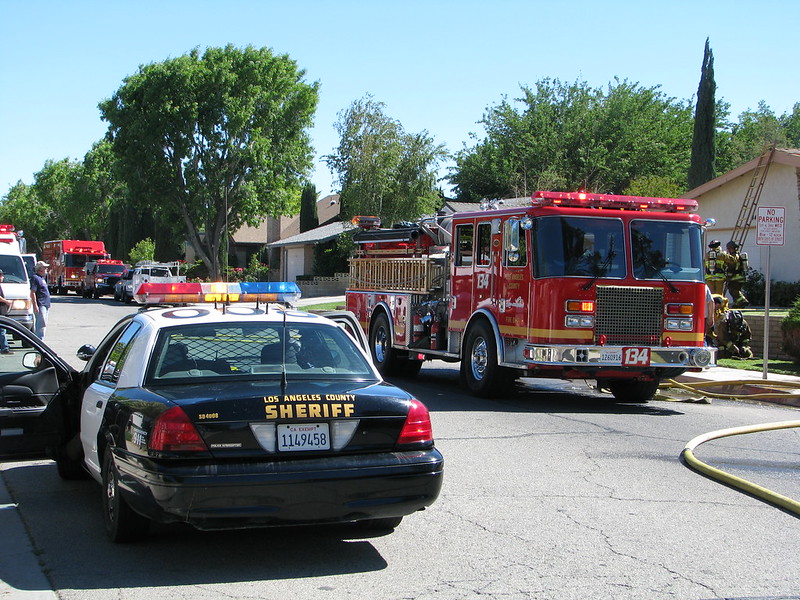 Would you like the Los Angeles County Sheriff's Department to know how you think it's doing? There's an online town hall tonight at 6 p.m. during which you can register for public comment. 
You might think to yourself, but what about the Netflix show I'm binging? The Civilian Oversight Commission town hall has everything: crime, drama, high stakes that actually affect you and your community, and possibly some profane language. It was, after all, at a virtual town hall about the LAPD that Jeremy Frisch uttered his now-famous catchphrase, "I yield my time, f*ck you."
Of course, the LAPD and the LASD are two different agencies, but both are responsible for policing in our communities. Plus, there's plenty to talk about in recent news. Here are just a few things you might want to look into and reference in your comments:
Allegations that gangs of tattooed deputies run various patrol stations through violence and intimidation. Whistleblower Deputy Art Gonzalez accused the Compton station of being run by a group called The Executioners. He said they celebrate when deputies shoot civilians, enforce illegal quotas, and sport matching tattoos with Nazi imagery. Sheriff Alex Villanueva has denied that a gang runs the station, but says they're investigating claims surrounding alleged cliques. 
These cliques would include the Banditos of East L.A., who are accused of getting into a fight with another group of deputies in 2018 among other things. Recently, Villanueva announced that 26 LASD employees would be disciplined in connection with the brawl. 
But that's not all! According to a report requested by the L.A. County Board of Supervisors following a lawsuit connected to the brawl, LASD's so-called cliques may have cost the County millions in lawsuits dating back to 1990. That's actually only as far back as that report goes, not as far back as allegations of deputy gangs go.  
There's also the shooting of Andres Guardado, an 18-year-old man killed by deputies in June outside of an auto body shop in Gardena where Guardado may have worked as an informal security guard. The case is pretty murky with conflicting statements from witnesses, video footage that doesn't show the shooting, and allegations that Guardado flashed a gun and ran when he saw deputies approach in their car. The Sheriff's Department initially put a hold on Guardado's autopsy report, prompting his family to seek their own report that showed the teen was shot five times in the back. Days later, the L.A. County Coroner defied the Sheriff's hold and released the official report, which showed the same thing. Notably, Spectrum 1 News reporter Kate Cagle recently shared footage in which whistleblower Gonzalez testified that Deputy Miguel Vega, the one who shot Guardado, was a prospective member of the Executioners. Vega's lawyer says this is false. Guardado's family is suing the LASD.
The deputies in the Guardado case weren't equipped with body cams at the time of the shooting because those don't roll out until October 1. The County Board of Supervisors just voted to transfer $22.5 million of the total $35 million in funding to the Sheriff's Department for the program's first year. The program comes first to these five stations: West Hollywood, Lancaster, Lakewood, Industry, and Century City. 
Deputies also weren't equipped with body cams when they shot and killed 29-year-old Dijon Kizzee in South L.A. on Monday. Kizzee was riding his bike when deputies attempted to stop him for some kind of vehicle code violation. He ran. Deputies say he later punched a deputy and dropped a bundle of clothes containing a gun. Witnesses say they did not see Kizzee punch anyone or reach for a dropped weapon, and report hearing a dozen or more gunshots.
Inspector General Max Huntsman recently wrote a letter to the Board of Supervisors claiming LASD deputies are not wearing their cloth face masks when on duty. Sheriff Villanueva responded to Huntsman by saying deputies wear masks whenever they can, but also, it's very hot outside.
If these prompts or other recent occurrences have inspired some comments, here's how you can make yourself heard tonight:
If you want to offer comment, you must register and join Webex with either your phone or your computer. Click here to register now. When the time comes, log on, enter the info requested, and use the password COC123. 
If you don't want to do that, you can provide written comment by emailing [email protected].
If you just want to listen tonight, call (415) 655-0001 then use the access code 145 169 1561. Or, watch live on Facebook here.