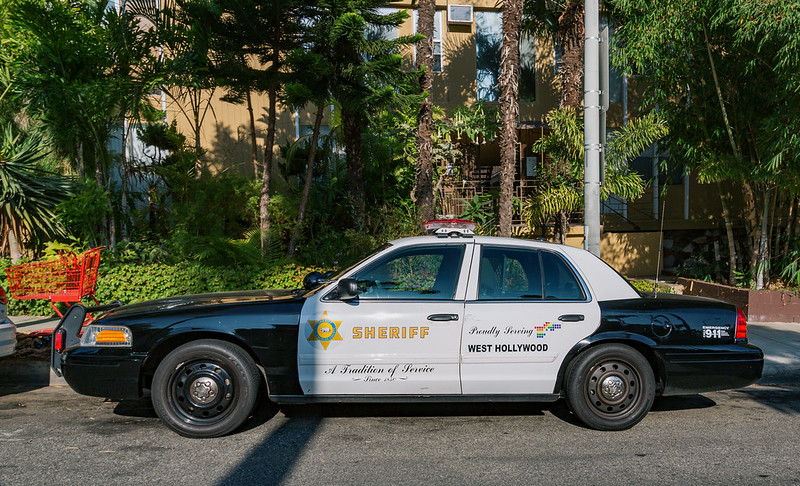 The Sheriff's Department's contract for body-worn cameras has been finalized, according to a release from The L.A County Board of Supervisors. Deputies will begin to wear the cameras while on duty in October. 
Per the release, the Sheriff's Department and Axon Enterprises Inc., the same company that makes the Taser, have entered an agreement for the body cams and a digital evidence management system.
According to Sheriff Alex Villanueva, 1,200 deputies in five patrol stations will be outfitted with cameras on October 1. These stations include West Hollywood, Lancaster, Century, Lakewood, and Industry. The program will ultimately outfit 5,200 deputies and security officers with body cams for the next two years. This will cost nearly $35 million, which the Board of Supervisors set aside last year for the program. 
Villanueva mentioned the new contract today, saying that in a climate "where everyone is doubting the product of law enforcement, I can say honestly, that with the body-worn cameras, the public themselves can see that what deputies are saying and doing in the field matches what they're seeing on video."
Those comments were made during an update in the Andres Guardado case. Andres Guardado was shot and killed by an LASD deputy on June 18 in Gardena. Deputies saw Guardado standing near an auto body shop where he reportedly worked as an informal security guard. The deputies say Guardado flashed a gun, then ran. They gave chase and one opened fire, killing Guardado in a nearby alley. 
Both the official L.A. County coroner's autopsy and an independent autopsy requested by Guardado's family show the 18-year-old was shot five times in the back. How that occurred remains under investigation. Neither deputy was equipped with a body cam at the time and footage obtained from a camera across the street does not show the actual shooting.
Supervisor Mark Ridley-Thomas said, via statement, "George Floyd and Andres Guardado are sobering reminders of the critical need for transparency and accountability in law enforcement. Along with robust and independent oversight of the Sheriff's Department, body-worn cameras are essential for ensuring constitutional policing and for building trust in the communities that our deputies are sworn to protect and serve."