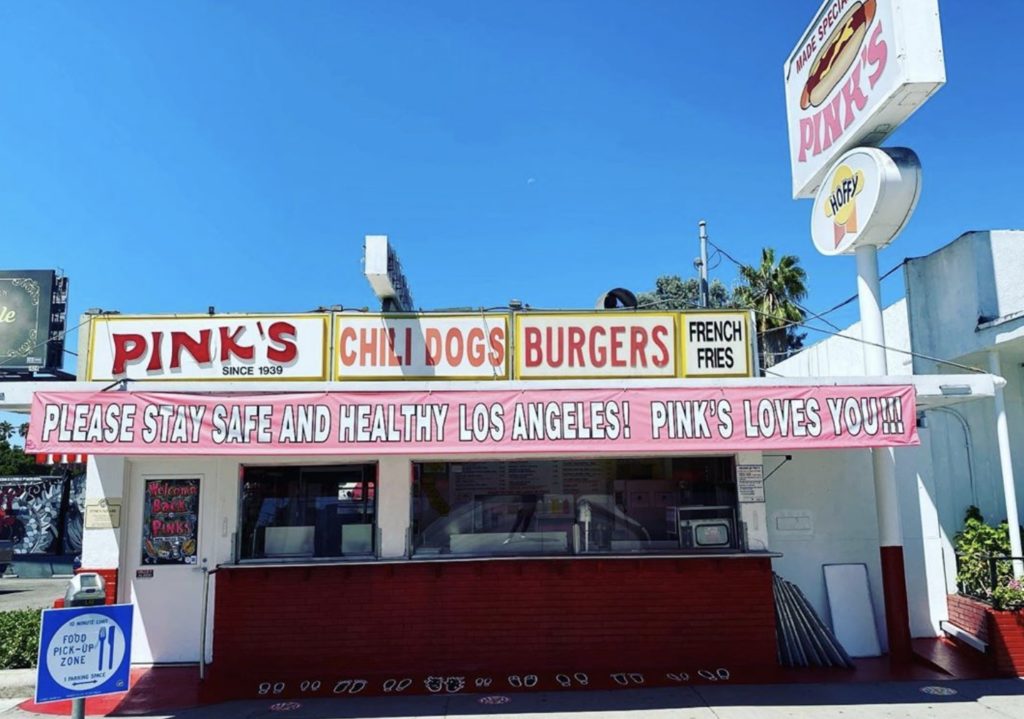 Pandemic or no pandemic, you can't keep a good hot dog down. Case in point, L.A. institution Pink's Hot Dogs is once again serving customers after being closed for nearly five months due to COVID-19. Also this morning: a local BLM organizer allegedly gets swatted, body-cams are coming to the LASD, and West Nile is popping up in SoCal again. Finally, we close with a Dolphin stampede (seriously). First, some news.
Morning News Rundown
After closing for the first time in 80 years back in March, Pink's Hot Dogs reopened for business yesterday morning. Maybe hot dogs aren't your bag, but any sense of normalcy is a welcome feeling at this point. And if you are a big fan of Pink's, phone orders and delivery will be available soon. [Instagram]
Melina Abdullah must have been terrified when armed officers surrounded her home on Wednesday morning for a reason she couldn't possibly fathom. It turns out she was most likely the victim of swatting––a 911 call to report a fake crime that draws an armed law enforcement response to the location of an unsuspecting target. Abdullah is a co-founder of Black Lives Matter Los Angeles and a Pan-African studies professor at Cal State L.A. LAPD says they're still investigating. [Los Angeleno]
Body cams are coming to a Los Angeles Sheriff's deputy near you, starting this October. To start, 1,200 deputies in five patrol stations will be outfitted with body-worn cameras, according to Sheriff Alex Villanueva. Within two years, over 5,000 deputies and security officers will be wearing the cameras.  [We Like L.A.]
Since we're on the topic of camera footage, yesterday LASD stated that they have no surveillance video (shocker!) of the shooting death of Andres Guardado. Guardado was shot in the back five times by Deputy Miguel Vega on June 18. An investigation into Guardado's death is ongoing, though no details of interviews conducted with deputies involved in the incident have been released. [LAist]
A new study by UCLA climate scientists projects that by the year 2070, big upticks in rainfall, coupled with reduced snowfall in the Sierra Nevada, could mean an overcapacity for California reservoirs and an increased chance of flooding in the state. [UCLA]
Speaking of things to be worried about, on Wednesday, L.A. County reported its first death of the year due to West Nile Virus. [ABC 7]
The Lake Hughes fire in Angeles National Forest has now burned more than 10,000 acres. As of last night, the fire was 0% contained. 100 nearby structures are now under mandatory evacuation orders, though thankfully no injuries have been reported so far. [ABC 7]
Now that Kamala Harris has been chosen as Joe Biden's running mate, the search for her Senate seat replacement begins. Ultimately, Gov. Gavin Newsom will get the final say, and it could be any number of California elected officials who get the call. However, Eric Garcetti likely won't be in the mix. [LA Mag]
Dolphin Power
I rarely get to talk about the fact that I'm originally from Dana Point, which is a mostly forgettable factoid I'm happy to omit in the context of writing about Los Angeles. However, every once in a while, something odd (or oddly beautiful) emanates from my hometown.
Peep this video posted to YouTube over the weekend by Capt. Dave's Dana Point Dolphin & Whale Watching Safari, which shows… A DOLPHIN STAMPEDE! If the sight of dozens of joyous cetaceans jumping through the water at top speed doesn't bring a little smile to your face, well… is your heart made of stone?!?!
Happy Thursday.