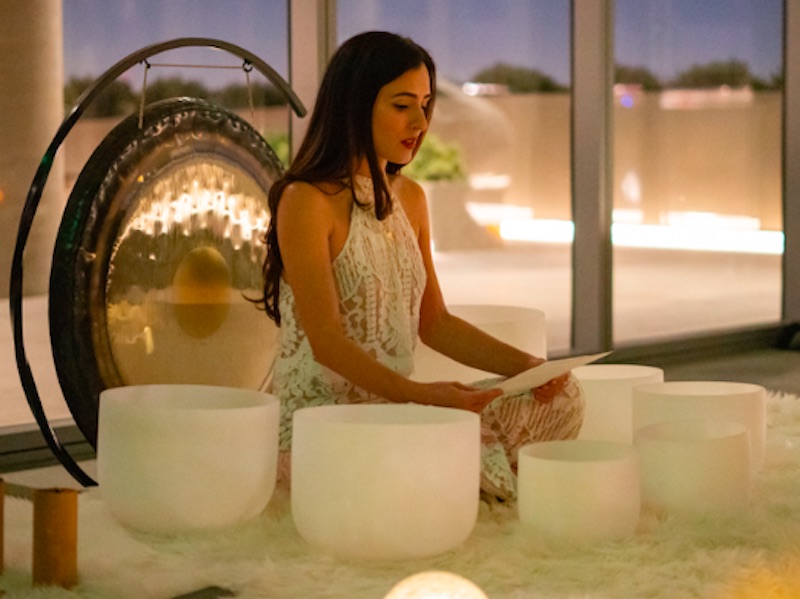 We used to tell you about all the things you could go out and do in Los Angeles on a daily, weekly, and monthly basis. Then, the coronavirus pandemic changed life for all of us, in a thousand small and massive ways. For a while, we posted strictly virtual events to keep you entertained and connected from your home. As the state, county, and city slowly reopen, we'll also include a mix of things you can do outside the house while still abiding by local health orders. We'll still offer plenty of online options for those of you who are self-isolating or who've decided to stay at home for the time being. We'll post a new list of options every Thursday morning. We hope they keep you busy, make you laugh, teach you something, or help you feel less alone.
This week, we've got comedy drive-ins, free ice cream, a summer potluck contest, outdoor spin classes, Nisei Week's first online festival, takeout and delivery deals, online art openings, DIY cake kits, and more. Have something you want to submit for next week? Hit us up: [email protected].
---
Out-of-the-House Events
Sanctuary Fitness launched a new outdoor format featuring Saturday HIIT Class and Thursday Sunset Yoga on ROW DTLA's rooftop. Each class costs $15.
Get free ice cream via a partnership among For Your Consideration, Amazon Prime Video, and dineL.A. August 11-14. Each day, a different shop will offer 100 free treats, each based on an Emmy-nominated Amazon series. To participate, claim your dessert in advance online and schedule a pickup to ensure social distancing. More info here.
For National Soft Serve Ice Cream Day on August 19, Pressed Juicery is offering 50% off its vegan soft serve both in-store and online. Order local delivery using the coupon code SWIRL or stop by one of these Pressed locations.
Los Angeles Black Restaurant Week takes place August 7-16 with establishments like Post & Beam, Sky's Gourmet Tacos, and Comfort L.A. offering specials just for the occasion.
Still Life Ceramics launched Pottery in the Park, a new series of open-air, socially distanced classes held in its "park" designed space. Options include one-time classes on Sundays, a Rosé and Clay session on Fridays, and month-long classes.
Santa Monica Place and SoulCycle now offer SoulOutside, an outdoor spin class that takes place on Santa Monica Place's roof. Bikes are spaced six feet apart and guests must wear masks at all times, including when cycling. Classes are available daily from August 11 through mid-October for $30 each. Packages available online. More info here.
SPLINTER, a drive-through art show from 13-year-old painter Tex Hammond opens on August 15 from 4-7 p.m. in the parking lot of Titmouse Animation Studios. Free with RSVP to [email protected]. More info here.
Levity Live's Improv hosts the Improv Live Comedy Drive-in Series starting August 15 at the Irvine Spectrum Center. August 15 guests include Erik Griffin, Ian Edwards, Jesus Trejo, Ian Bagg, and Chris Porter. Tickets start at $125 per vehicle. More info here.
SugarMynt Gallery in South Pasadena is home to a spooky art gallery located behind the Michael Myers house from Halloween. They host outdoor movie nights Thursdays through Sundays with admission to the gallery. Upcoming films include The Corpse Bride and Sleepy Hollow. BYO chairs, blankets, and food. Social distancing will be enforced during the screenings.
Artist Christopher "Flore" Florentino's "Urban Cubism" is now on display at Art Angels. In-person visits are by appointment only.
Eataly LA will host cocktail pop-ups from Ventura Spirits on its outdoor rooftop patio, Terra, every Thursday in August. A portion of the proceeds will go to Restaurants Care, which provided financial relief to restaurant workers throughout California.
Chado Tea celebrates its 30th anniversary this August. They're offering several specials, including an Afternoon Tea To-Go that includes tea sandwiches, scones, cookies or macarons, tea-infused chocolates, Chado mugs, pins, and tea. It's $100 to serve two or $189 for four. Pickup is available from daily 11 a.m. to 5 p.m. at L.A. area tea rooms or get delivery through Postmates or UberEats. Through August, guests also receive 20% off all online orders using the code DIRTY30 at checkout. Chado Tea is also open outdoor dining. Reservations recommended.
Employees Only turned its parking lot into Summer Social Club featuring a roster of weekly, socially distanced events paired with food pop-ups and cocktails. Happening every Wednesday through Sunday in August, events include movie nights, yoga sessions, and even hair cuts via The Barber Truck. Food activations include brunch hosted by Salt's Cure (Saturday and Sunday), Tacos Tu Madre (Thursday), Bareng Burgers (Wednesday & Friday), EO Tiki Thursdays, and a new sustainable raw seafood pop-up by Chef Brian Bornemann called Crudo e Nudo on Saturday and Sundays.
It's CrabFest at Ragin Cajun in Redondo Beach. They have patio seating and food to-go. The festival features platters of King Crab, Blue Crab, Snow Crab, Softshell Crab and Dungeness Crab. Happening August 7-16.
Board and Brush in Santa Monica has moved its art workshops outdoors. Choose from projects like home decor, doormats, cornhole sets, planters, and more. Adults may drink wine, kids get Capri Sun.
The Arena Cinemalounge Sunset has reopened for drive-in screenings in the lot behind the theater. Tickets are $30/car or $20/motorcycle and must be purchased in advance. You must also purchase refreshments in advance. More info here.
Artist Scott Hove's "The Beauty War" opens at Cakeland Gallery LA in Chinatown on July 17. Hove's work, which often takes the form of trippy cake mazes, will reflect on "the phases of life" including birth, self-discovery, integration, and death. To see it, you'll need to book a socially distant appointment in advance. Tickets are $17 for pre-bookings, $20 otherwise. The Beauty War is on display through Dec. 31.
Concerts in Your Car is a drive-in music/performance series in Ventura. See this week's full schedule and ticket information here.
See artist Lita Albuquerque's site-specific work "Red Earth" The Huntington Botanical Gardens. According to a release: "[T]he installation centers around a boulder capped with bright red pigment placed among towering bamboo in a grove of the Japanese Garden. It is exclusive to this particular time and place and is 'a stand-in for what I am hoping the visitor to feel, a sense of calm in the midst of chaos," Albuquerque said." On view through Nov. 2.
Sunnyday Scoot is a tour company that allows you and one other person to take a mini-car on a fun tour of L.A. Sunnyday is open now with modifications including social distancing, mask-wearing, and online check-ins.
Online & At-Home Events
Grand Park presents B-Boy Summit 2020 "Hip Hop 4 Social Change" August 14 at 7 p.m., August 15 at 3 p.m., and August 16 at 3 p.m. The online summit is "developed to build skills, knowledge, and community relationships [and] will feature the current culture of Hip Hop and showcase its history and foundation through archival footage featuring local and national artists." Expect panels, talk-ins, workshops, dance battles, health and financial empowerment classes, DJs, and more. Check it out on YouTube, Twitch, or Mixcloud.
KCET Cinema Series presents TESLA followed by a Q&A with director Michael Almereyda and host Pete Hammond on August 19 at 7 p.m. Register here.
Submit your best potluck dish to KCRW's Good Food Summer Potluck contest August 14-19 by posting photos and a story about your creation to Instagram. Winners will be announced on August 21.
On August 18 at 8 p.m., catch Trace Beaulieu and Frank Conniff from MST3K riffing over William Castle's 1959 film The Tingler. Tickets for the livestream are $10 here.
Best Coast will celebrate the tenth anniversary of their album "Crazy For You" on August 14 at 6 p.m. via a virtual performance with special guests including Hayley Williams, Mark Hoppus, Lauren Mayberry, and more. Get tickets for $10 in advance here.
11 Days of Sound Healing begins on Tuesday, August 18 at 7 p.m. Virtual workshops mix sound healing, breathwork, and poetry. To enroll, Venmo $11 to $121 (it's pay what you can on a sliding scale) to Roxie Sound Healing. DM @roxie Sarhangi for questions.
The Nisei Week Festival goes online this year with a two-day virtual series August 15 & 16. Programing includes musical performances, culinary demonstrations, cultural demonstrations, and other programming related to the traditional Nisei Week events typically hosted on Little Tokyo's First Street during the Closing Ceremony.
LA Plaza de Cultura y Artes presents "Recetario para la memoria, Demostración de cocina" on August 14 at 5 p.m. on Zoom and Facebook Live. Per LA Plaza, it's a cooking demo from members of Las Rastreadoras del Fuerte, a group of people searching for their missing relatives in Mexico. The recipe is from Recetario para la memoria, a cookbook of 30 recipes, each honoring a missing child. The presentation is in Spanish. Register here.
IB Hospitality owner Rohan Talwar and Chef Mike Williams of Norah and Margot have a new wood-fired pizza concept available to-go only. Lucca Pizza features Roman- and Neapolitan-style pies available for pickup at Norah or delivery Weds. to Sun., 5-11 p.m. Wine is also available. Order on Tock.
On August 14 & 15, Save Melrose will host an online auction of artworks through Save Melrose's eBay account. All funds will benefit four businesses damaged during recent civil unrest, including Pearl's Nail Salon, Doc Martens, Tony K., and Reloaded. Staging for the auction comes courtesy of Lethal Amounts Gallery. More info, including how to make a donation, here.
Long Beach Food & Beverage presents virtual cooking and cocktail classes starting August 15. Upcoming classes include bread pudding, vegan macarons, mushroom risotto, and more. See what's up next here.
Comedy variety show "Your Late Night Show Tonight!" hosted by Mirage Thrams airs online Friday, August 14 at 10:30 p.m. on The Pack Theater's Twitch channel. The show is pay-what-you-can.
Zócalo Public Square presents "How Have Women's Protests Changed History?" on August 20 at 6 p.m., part of the three-part series "When Women Vote." Register here.
Manuela now offers a "Meat n' Three" special for takeout and delivery. Available nightly from 6-9:30 p.m. for $28/person, each meal consists of one main course protein, three vegetables or sides, a biscuit or cornbread, plus dessert. Check out the day's menu on Instagram and order via Tock, Postmates, or phone.
Heidi Duckler Dance presents a three-part series to amplify "the histories and contemporary experiences of Native Americans in California through art, music, conversation, and a deep dive into the story of Ramona." It kicks off on August 13 with "Unsettling Story" featuring Pamela J. Peters, filmmaker, and Dr. Yve Chavez, Assistant Professor UC Santa Cruz. RSVP here.
The online portion of NHMLA's "Rise Up LA: A Century of Votes for Women" opens on August 18. Check it out here.
The Cactus Gallery's Loteria VI group show opens online on August 15 featuring 56 artists and 108 pieces.
On August 19 at 7:30 p.m., The Moth Virtual StorySLAM Los Angeles presents "Enthusiasm." Storytellers will share a 5-minute tale about enthusiasm on Zoom. Tickets are $10.
The first rePRO festival takes place August 12-16. It's a virtual film fest dedicated to women's reproductive healthcare, awareness, advocacy, and bodily integrity in the U.S. See the lineup here.
L.A. County will host a virtual town hall on Wednesday, August 19 at 2 p.m. on how it can improve services for women and girls of color. Register here.
The Latino Theatre Company's online season opens August 18 with its 2014 production, "Premediation," a dark rom-com. A follow-up conversation takes place on August 19. More info here.
This week from LACMA@Home, learn how to make your own paper bird. Or check out Artists on Art: Mario Ybarra, Jr. on Edward Kienholz.
For a little augmented reality, use the Art Projector feature in the Google Arts & Culture app to project works from the Getty into your home. Find more info on how to use the app here.
Paint Your Pet Party Los Angeles now offers an at-home kit. You'll send a photo of your pet and Paint Your Pet turns the photo into a sketch. Then, you'll fill in the sketch with paint at home. A $60 kit includes a 12" x 12" canvas with a sketch of your pet on it, instructions, paint, brushes, a palette, a water cup, mixing sticks, and a plastic table cover. Order here.
The Los Angeles Museum of the Holocaust and the Italian Cultural Institute of Los Angeles presents the "Teicholz Holocaust Remembrance Film Series: The Holocaust & Italy," a series of curated films and discussions. Watch the film first, then join live discussions on Zoom. Next up on Thursday, Aug. 13 at 5 p.m is Syndrome K.
The Petersen Automotive Museum's car week takes place online August 12-16. Events include discussions, garage tours, virtual car shows, and more. Join in on YouTube.
"Facing Darkness" is an online exhibition from 18th Street Arts Center. The art featured was made during quarantine and will be online through June 2021.
Allison Goldberg and David Title have launched a series of Not Boring Workouts designed to amuse you while you exercise. You'll learn about the rise of Tupperware, the history of the domestic cat, and more while getting your workout in.
The Electric Dreams Festival runs through August 16 and it's got some really fun, interactive programming you can enjoy online. Offerings include a virtual game of Werewolf, mystery puzzle games, and "Jury Duty," an immersive piece in which you act as a remote juror for a tense trial. Check it out here. Please note that the festival is based in the U.K., so make sure to convert showtimes to your local time zone.
Duff's Cakemix founded by Food Network star Duff Goldman now provides pickup and delivery of DIY cake kits at their West Hollywood, Pasadena, and Irvine locations. The kits provide everything you need to bring your cake vision to life at home.
If you own an Oculus Quest or Oculus Rift, you can check out The Under Presents: Tempest, a live adaptation of Shakespeare's The Tempest that occurs entirely in virtual reality. You and a few other anonymous theatergoers will enter the world of "The Under" where you can purchase show tickets from a VR theater. When it's showtime, you'll be transported to the "home" of a live actor who will guide you in real-time through the interactive tale. Available now through Sept. 30. Tickets are $14.99 and can be purchased at the in-app box office.
Chef Eric's Culinary Classroom is now offering its kids' camps online. These interactive Zoom lessons allow children and adults to cook together. Participants receive shopping and equipment lists via email beforehand, with suggestions for basic tools if you don't have everything. Register online here.
Lincoln Park Zoo hosts virtual meet and greets with its animals on Saturdays during July and August. The experience grants viewers an intimate look into the animals living in the Lincoln Park Zoo. Each Saturday of the series will feature a specific animal group.
Place orders now for Of the Night deliverable party packages from Disco Dining Club and BLAKESHiNE. Each one is designed for two people to have a decadent night in and includes snacks, beverages, decor, accessories, curated Spotify playlists, themed activities, and more. Add-ons, including birthday packages and theatrical deliveries, are available.
August 16 is the last episode of The Getty Villa's "The ODDyssey," viewable on the Getty Museum's YouTube channel. The Troubadour Theater Company presents Homer's 24 books in short, family-friendly episodes.
Dance with The Music Center through Digital Dance DTLA's online dance sessions, offered Friday nights now through September 4 at 7 p.m. This week, it's Salsa!