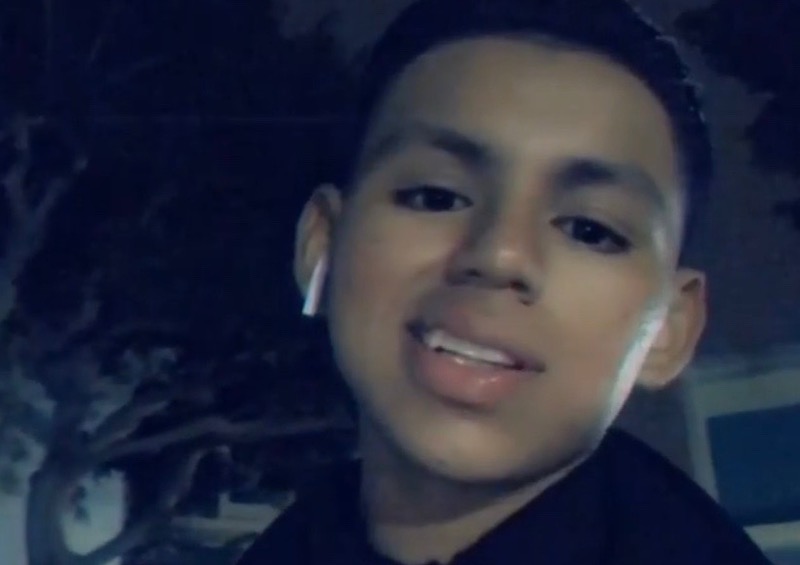 As protests against police brutality and racism continue across the nation, demonstrators in L.A. County are calling for justice for Andres Guardado, an 18-year-old Latino man shot and killed by law enforcement in Gardena last Thursday. 
According to LASD Captain Kent Wegener, deputies spotted Guardado on West Redondo Blvd. in Gardena at about 6 p.m., CNN reports. According to Guardado's family, he worked as a security guard at a nearby auto body shop. The deputies claim that Guardado looked at them, "produced a handgun," and ran. The deputies chased Guardado and one fired six times, fatally wounding him in the torso. Investigators have not clarified why deputy opened fire.
Investigators say they found a .40 caliber semiautomatic pistol with no serial number and an illegal extended magazine. Deputies say Guardado was not wearing a security guard uniform at the time and, at 18, would have been too young to be a licensed security guard. 
Andrew Haney, who works at the auto body shop, confirmed to the Press-Telegram that Guardado was their informal security guard. He watched out for taggers and helped customers.
Haney and members of Guardado's family think he ran from officers because he was scared. "He's got a clean background and everything. There's no reason," Haney told CBSLA.

"My brother was frightened. He ran away because he knew what was gonna happen," Guardado's sister, Jennifer Guardado, told KTLA. 
The involved deputies were not wearing body cameras at the time. The LASD is currently working on a program that will secure 5,200 cameras for its deputies, according to LASD Commander Chris Marks. Investigators have taken security cameras from the area and are currently attempting to get footage of the incident. 
Protestors gathered to demand justice for Guardado on Sunday outside the Compton sheriff's station in Gardena. This protest follows weeks of similar demonstrations throughout L.A. and across the nation, demanding justice for George Floyd, a Black man killed by police in Minneapolis; Breonna Taylor, a Black woman killed by officers in Louisville, and Ahmaud Arbery, a Black man gunned down by a group of white men as he went for a jog in Georgia.

At one point during the protest, LASD fired non-lethal rounds into the crowd and ordered them to disperse, the Daily Breeze reports. 
Guardado's family has demanded an independent investigation into the shooting, and they're not alone. L.A. County Supervisor Mark Ridley-Thomas issued a statement saying he "firmly" believes "that an immediate and independent investigation must be conducted by the Office of Inspector General (OIG) into this matter."