* * * The following is a #sponsored collaboration between Cravings by 99 Ranch Market and We Like L.A. * * *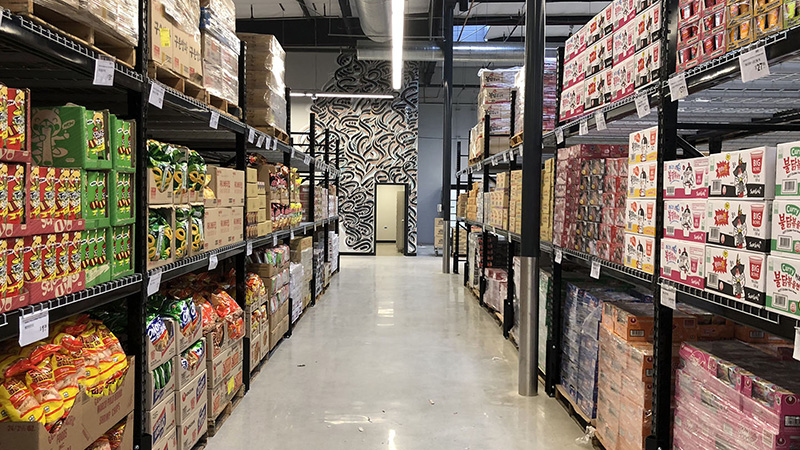 Cravings by 99 Ranch Market is a brand a new warehouse-style global grocery store and food hall officially opening in Chino this Saturday, October 20. Located within the Chino Spectrum Marketplace, the 56,000 square-foot space will offer a superior selection of local products and worldwide brands. Through a combination of individual and bulk packages, Cravings caters to both regular households and food service businesses with a focus on the highest-quality Asian goods.
Nine select food vendors and a beer & wine bar "Piju" will populate the food hall at Cravings:
● Cauldron Ice Cream
● Dos Chinos
● Madbun
● Oi Asian Fusion
● Pinky Promise will make its debut as a modern Taiwanese bakery.
● Red Envelope:
● Wingman Kitchen:
● Shomi Noods:
● Tenori
Saturday's grand opening celebration kicks off at 9:30 a.m. with a powerful live drumming show by Taiko Project and a ribbon-cutting ceremony. Chino Hills High Dance Team also joins the event with a special performance. The store will host various programs throughout the day on October 20 and 21, providing customers with free snacks, giveaways, and food tastings. Some featured products will be on sale from October 20 to October 31, 2018.
Oh, and if you're looking for an extra incentive to check out the opening, keep these freebies in mind:
●On October 20, Receive a Cravings Swag Bag stuffed with all of your snack cravings – first 150 customers only.
●On October 20 and 21, Earn up to 300 bonus points for loyalty program sign up + upon fulfilling all requirements, receive a limited edition Cravings hat.
●On October 20 and 21, Get yourself a special edition Hat or a surprise freebie when you "like and follow" one of Cravings Social Media accounts.
●Enter for a chance to win a 2019 Toyota Corolla Hatchback XSE from 10/20/18 to 12/31/18.
Cravings by 99 Ranch Market is located at 4024 Grand Ave, Chino, CA 91710. Regular store hours for the Market are Sunday to Thursday 10 a.m. to 10 p.m. and Friday to Saturday from 10 a.m. to 11 p.m. The Food hall is open Sunday to Thursday from 11 a.m. to 10 p.m. and Friday to Saturday from 11 a.m. to 11 p.m.
For more information go to www.99ranch.com/cravings.