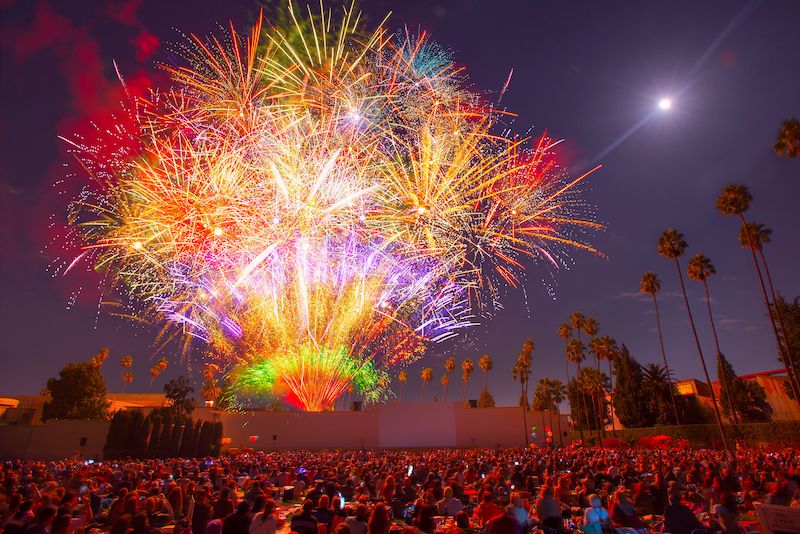 You ready for your July in Los Angeles?
Next month, the L.A. events calendar kicks into overdrive with a slew of free concerts, free movies, and tons of other marquee events. For starters? There's Shakespeare in the Park, KCRW Summer Nights, the Long Beach Pride Festival, Roller Jam at FIGat7th, MLB All-star week, the Lotus Festival at Echo Park Lake, Skirball's Sunset Concert series, the Midsummer Scream convention, CicLAvia in South L.A., and much more. Get started planning below, and make sure (if you're not already) you're signed up for our newsletter so you can keep tabs on all the latest summer happenings.
Things To Do This July
First Friday's at NHM (July 1) -> Natural History Museum's series of plant-centric First Fridays events continues on July 1 with the theme of Mushroom Magic. The evening event puts fungi in focus through a series of digital art installations, pop-up educator presentations, a special discussion, and a short film screening. Plus, catch a 90-minute DJ set by Vegyn along with an assortment of cocktails and small bites for purchase. Tickets start at $20 for adults. More info here.
Anime Expo (July 1-4) -> Anime Expo's four-day event returns to the Los Angeles Convention Center to start July, offering anime lovers meet-and-greets with anime creators, special panels, Q&A's, workshops, interactive experiences and so much more. Four-day passes have already sold out, but you can still grab a single day tickets from between $40-$80. More info here.
Movies On The Roof (continuing July 1 through) -> My Valley Pass and Westfied Fashion Square have teamed up to produce a new rooftop movie series that features cozy bean bag seating, sweet views, and a lineup of new and classic films. Movies On The Roof runs every Friday and Saturday through the end of August, and tickets are $5, with 100% of the proceeds to benefit Hope Of The Valley. Get more info on the lineup here.
626 Night Market (July 1-3, 8-10) -> For two weekends in July, the 626 Night Market returns to its flagship location at Santa Anita Park with over 300 food, merch, and craft vendors. Pre-sale tickets are $5, or it's $6 at the door. More info here.
One Colorado Movies Under the Stars (July 1, 8, 15, 22, 29)-> Movies Under the Stars features classic films screened every Friday for the entire month of July at One Colorado in Old Pasadena. The series opens on July 1 with a showing of Casablanca at 8:30 p.m. Public seating is first-come, first-served. More info here.
Shakespeare in The Park (Starting July 2) -> This year, ISC's Shakespeare in The Park goes beyond The Bard's works with a staging of Franicis Beaumont's Knight of the Burning Pestle on Wednesdays to Sundays, from July 2-31 in Griffith park. Then, beginning August 6, they'll begins performances of Macbeth, to be held on the same Wednesday-Sunday schedule through September 4. All in all, that's 10 weeks worth of free shows. More info here.
Live at the Arboretum with Sara Evans (July 2) -> Chart-topping country singer Sara Evans comes to the Los Angeles Arboretum on July 2 for a special picnic and concert co-presented by the County of Los Angeles. Tickets start at $15 for GA lawn seating. More info here.
4th of July Things To Do -> Need some ideas for how to spend your Independence Day holiday? Here's a quick list of the counties biggest happenings and fireworks displays:
Shakespeare By the Sea (continuing through Aug. 6) -> The 25th anniversary season of Shakespeare By the Sea kicks off in July at locations throughout Los Angeles and Orange Counties, with productions of Much Ado About Nothing and Romeo & Juliet. All shows are free to attend, but donations are gladly accepted. More info here.
Hershey Felder at The Wallis (July 5-24) -> Piano virtuoso Hershey Felder returns to The Wallis for Chopin in Paris, a deep dive on the Polish composer guided by Felder's inimitable skill and theatricality. Performances on select dates from July 5-24, and tickets start as low as $39 for some shows. More info here.
KCRW Summer Nights (beginning July 7)-> KCRW's signature summer series returns this month with weekly shindigs at The Hammer Museum starting July 7 (every Thursday through July 28), a Chinatown event on July 16, and a dance party at California African American Museum on July 22. All events are free to attend. Get more info here.
Rooftop Comedy at The Galleria (July 8) -> My Valley Pass isn't just doing movies on the rooftop of Westfied Fashion Square. This month they'll debut a new event that features a slate of local comedians, a taco bar, DJ'd tunes, and of course epic views of the San Fernando valley on the rooftop of the Sherman Oaks Galleria. Adult tickets are $20 per person. Get more info here.
Summer of Salsa (July 8) -> The LA Plaza de Cultura y Artes Summer of Salsa series runs one Friday each month through the end the summer, highlighting some of city's best salsa and Cuban bands in the process. On July 8, the series continues with The Echo Park Project. Free to attend. More info here.
Culver City Arts District Night Market (July 8) -> The Culver City Arts District Night Market at Ivy Station is a monthly event featuring over two dozen vendors and and plenty of local bites for purchase. Free to attend. Runs 5 to 10 p.m. More info here.
Dance DTLA (July 8, 15, 22, 29) -> Free Friday dance parties continue at The Music Center's Jerry Moss Plaza next month with four scheduled evenings focused on Hip Hop, Bollywood, Colombian Cumbia, and Argentine Tango respectively. For each event, dance instructors will be on hand to teach guests easy-to-follow steps, allowing everyone to get into the groove right from the jump. Very family-friendly and very free. No reservation required. More info here.
Levitt Pavilion Concerts (July 8-10, 15-17, 22-24, 29-31) -> After a quick break over 4th of July weekend, free concerts at Levitt Pavilion in McArthur Park continue Fridays to Sundays through the end of the month. No reservations required. Get more info the lineups here.
The Boardwalk (July 9) -> Spend a day on the Santa Monica Pier savoring boardwalk-inspired eats interpreted by some of the hottest restaurants in L.A. Presented by American Express Gold Card and Resy, participants include Angler, Cobi's, Eszett, Ggiata, Guelaguetza, Gwen, Hotville Chicken, Konbi, Majordomo, Petit Trois, Salt's Cure and Pizzana. There's also "immersive experiences" like a Wine.com Lounge, Grubhub Cotton Candy Stand, Milk Bar Dunk Tank, Shake Shack Bean Bag Burger Knockdown and more. DJs, a half-pipe skate ramp and stilt walkers are all part of the entertainment. Tickets cost $50 per Amex member, and $75 to the general public. More info here.
Palomino Festival (July 9) -> From the team behind Stagecoach is a travel friendly Alternative Country Music festival in Brookside Park in Pasadena. Kacey Musgraves, Willie Nelson & Family, Jason Isbell and the 400 Unit, and Orville Peck will headline the festival. Tickets start at $179 (plus fees), $399 for VIP and $699 for a "High Life" pass. More info here.
Long Beach Pride Festival (July 9-10) -> The 2022 Long Beach Pride Festival is a two-day event headlined by Iggy Azalea, Natalia Jimenez, and Paulina Rubio. Festival activations and attractions include a silent disco, an S&M playground, roller rink, community art spaces, drag makeup, and more. Single-day advance GA tickets start at $40 per adult. Get more info here.
Echo Park Lotus Festival (July 9-10) -> The 41st annual Lotus Festival honors the people and culture of India for 2022 with a special pavilion, live music, children's activities, a lantern launch, a dragon boat parade, and more. Free to attend. Runs 11 a.m. to 6 p.m. both days. More info here.
Off The 405 at The Getty (July 9, 23) -> Live outdoor music is back at The Getty this summer with the Off the 405 concert series, continuing with performances by Los Retros and Hand Habits. Free to attend with reservation. More info here.
Grand Performances (July 9, 16, 23, 30) -> The signature free summer music series at California Plaza continues in July with four Saturday performances, including Scary Pockets on July 9, a World Stage Night on July 16, Ali Sethi + Discostan on July 23, and a KCRW Summer Nights event on July 30. Free shows continue on Saturdays through Aug. 25. More info here.
Bergamot Station Summer Celebration (July 9) -> Creative Arts Complex Bergamot Station will host a community celebration on Saturday, July 9, offering guests access to the campus galleries plus live music, local vendors, and a silent auction with proceeds to go to Westside Foodbank. Free to attend, no reservation required. Get more info here.
CicLAvia South L.A. (July 10) -> CicLAvia's next open-streets event comes to South L.A. on July 10 with a route that covers portions of Vermont Square, Harvard Park, Chesterfield Square, Exposition Park, and King Estates. With the streets closed off to vehicular traffic, guests of all ages can bike, skate, run, walk, or skateboard at their leisure, and check out pop-up activities along the route. Runs from 9 a.m. to 3 p.m. Free and open to the public. More info here.
Rooftop Concert at GenSpace (July 10) -> The Annenberg Foundation and LACMA are teaming up to host a free rooftop concert at the new Wallis Annenberg GenSpace, located at 3643W ilshire Blvd. Classical string quartet The ABC+ Ensemble performs at the afternoon affair, which will be preceded by light refreshments and tours of the new space. Get more info here.
Skirball Family Amphitheater Performances (July 10, 17, 24, 31) -> The series spotlights a dazzling lineup of artists who use music, dance, and storytelling to keep their cultural traditions and family histories alive, encouraging audiences to sing, dance, and interact with performers. Included with general admission tickets. More info here.
Westside Story in Concert at The Hollywood Bowl (July 12, 14) -> Steven Spielberg's vision of Tony Kushner's seminal work West Side Story will be projected on the screen of The Hollywood Bowls for two nights. Gustavo Dudamel and The LA Phil bring Leonard Bernstein's score to life live-to-screen. A few $1 tickets are still available as of the publication of this post. More info here.
Outfest (July 14-24) -> The LGBTQ+ film festival returns in full force with movie screenings (outdoors, indoors and online) as well as a number of special events. This year's highlights include a screening of Billy Porter's directorial debut, Anything's Possible; Outfest Under The Stars at The Ford; the 20th Anniversary screening of Todd Haynes' Far From Heaven, with Haynes, producer Christine Vachon, and star Julianne Moore all appearing in-person for a Q&A; and the 6th Annual Trans, Nonbinary & Intersex Summit. More info here.
Sunset Series at South Coast Botanic Gardens (July 14, 21, 28) -> This July, The South Coast Botanic Garden launches a new weekly after-hours series on Thursdays from 5:30 to 8 p.m. Each week will vary with programming. Guests can enjoy cocktails as well as food while roaming the garden. Yard games, live music and kid friendly activities ( parachutes, obstacle courses, lawn bowling, bubbles) are also part of the evenings. Tickets cost $9 per person. Children 2 and under are free. More info here.
Roller Jam at FIGat7th (July 15-17) -> A three-day dance party and pop-up rollerskating rink hits DTLA's FIGat7th shopping plaza from July 15-17. Free admission tickets gets you access to the themed dance nights with music by Beat Junkie Institute of Sound and a beer garden curated by Crowns & Hops. If you want to skate, rentals are $12 per person. More info here.
MLB All-Star Week (July 15-19) -> Major League Baseball's summer classic lands in Los Angeles this July with a 5-day slate of events including a free activation at the Santa Monica Pier, a fan experience at the L.A. Convention Center, and a special concert at Dodger Stadium headlined by Becky G. It all leads up to the 92nd MLB All-Star Game held on July 19. Get more info on tickets and availability here.
South Bay Greek Festival (July 15-17) -> The South Bay Greek Festival is a three-day affair at St. Katherine's Greek Orthodox Church in Redondo Beach offering lots of Greek food (spanakopita, lamb chops, baklava), dancing, and fun. More info here.
Tam O'Shanter Speakeasy (July 15) -> Tam O'Shanter's speakeasy is back! A lucky few who make it on the list will enter through a secret entrance and travel back in time to the 1920s with expertly crafted cocktails, small bites and live music. The one-night speakeasy takes place on the third Friday of each month. To secure a spot on the list, reach out to [email protected]. Subject line should say: "Bon Vivant." Final confirmation of the reservation as well as instructions and a secret password will be sent out Friday at noon.
Odd Nights at the Autry (July 15) -> Odd Night at the Autry runs every third Friday of the month starting in April. Expect an indie bazaar populated with 80+ unique vendors, food trucks, and live music. More info here.
Goat Yoga at The Gamble House (July 16) -> Enjoy a light-hearted yoga session on the lawn of the historic Gamble House in Pasadena. Ticket ($45) includes 15 minutes of petting and pictures with the goats before and after the class and a 30 minute goat yoga class led by certified instructor Tina Lenert. More info here.
Sunday Afternoon Concerts in the Dome (July 17) -> Mount Wilson Observatory continues its 2022 season of classical concerts hosted inside the historic 100-inch telescope dome, where the acoustics are said to be some of the finest in the world. This month the program features an eclectic blend of Jazz and more with accordionist Cory Pesaturo, violinist Leah Zeger, and percussionist Jorge Villanueva. There will be two musical performances, one at 3 p.m. and the other at 5 p.m. Tickets are $50 -> More information
Summer Happenings at The Broad (July 21) Grammy award-winner Thundercat, alongside Ginger Root will co-headline a concert event at The Broad celebrating the museums's latest exhibition, Takashi Murakami: Stepping on the Tail of a Rainbow. Tickets for the performance are $40 per person. More info here.
Skirball Sunset Concerts (July 21, 28) -> The Skirball Cultural Center's annual celebration of world music returns this month, kicking off six consecutive weeks of free live concerts at the museum. July's lineup features Mamak Khadem on July 21 and Rocky Dawuni on July 28. More info here.
Garagiste Wine Festival (July 22-23) -> Garagiste Festival: Urban Exposure is Los Angeles' only wine festival that exclusively features wines from commercial California 'garagiste' winemakers. The wines are poured by the winemakers or owners themselves at the festival offering a rare opportunity to meet the sources behind the wine. Ticket prices range from $79.00 to $149. More info here.
Montrose Craft Beer Fest (July 24) -> Celebrate craft beer from local breweries on a one block stretch of Montrose. Tickets also include bites from local restaurants. Tickets range from $25 to $49. More info here.
ABOVE at Griffith Observatory (July 25) -> ABOVE, Night Gallery: The Stars of Summer is a unique one night event under the dome, with special access to exhibits and telescopes on an evening the Observatory is closed to the public. Griffith Observatory Director Dr. E.C. Krupp will also lead a live program of sky lore under the Milky Way and the Summer Triangle in the Samuel Oschin Planetarium. Tickets are $50 per person ($45 for Griffith Observatory Foundation members) and include complimentary parking. More info here.
Midsummer Scream (July 29-31) -> If you can't wait until October for a Halloween fix, this three-day convention puts SoCal's haunt and horror community in focus with over 350 exhibitors, a dozen mini-haunts and attractions, panels, presentations, live performances, and more, all at the Long Beach Convention Center. Tickets start as low as $32 for a one-day pass. Get more info here.
DTLA Salsa Festival (July 30) -> On the last Saturday in July, an evening of salsa comes Pershing Square in Downtown Los Angeles featuring a dance floor, beer garden, and food vendors. Free admission with RSVP. Get more info here.
---
Want to get the best things to do in L.A. sent straight to your inbox? Join over 60,000 Angelenos who subscriber to our twice weekly email newsletter!
By subscribing, you agree to our terms of use and privacy policy and consent to receive emails from We Like L.A. about news, events, offers, and partner promotions.