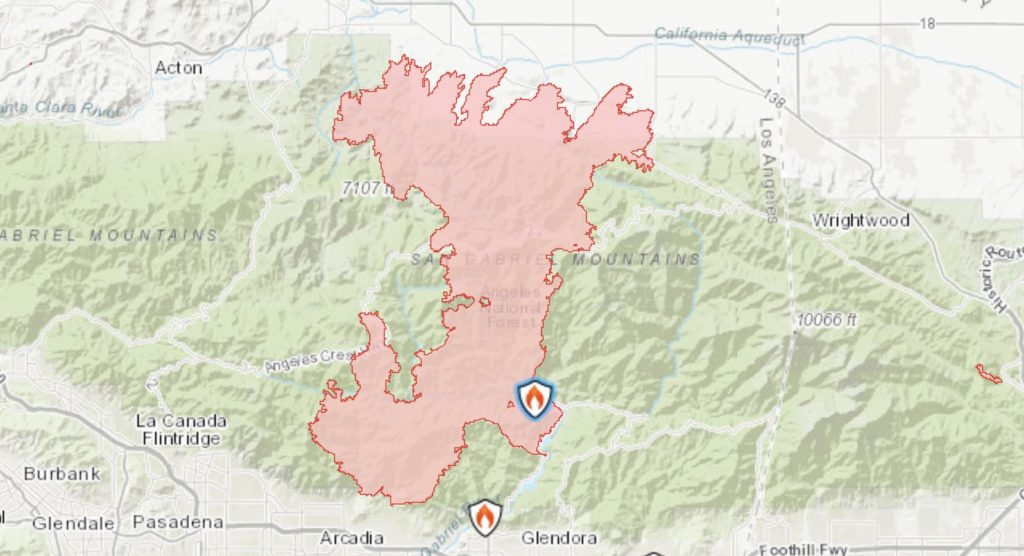 The Bobcat Fire just keeps on growing, and more L.A. County communities continue to live in its burning shadow. Also this morning: Vigils for RBG, body cam footage of a protestor shot in the groin by LAPD, and last night's big Emmy winners. Finally, why is L.A. obsessed with these gondola projects? First, news and stuff.
Morning News Rundown
The Bobcat Fire has grown to over 105,000 acres in size, making it one of the biggest fires in L.A. County's history. Over the weekend, the blaze burned down the nature center at the Devil's Punchbowl Natural Area while threatening homes in several communities in the Antelope Valley. Thankfully no injuries have been reported, but evacuation orders remain in effect for Juniper Hills, Devil's Punch Bowl, Paradise Springs, and multiple other locations. The fire is currently 15% contained, and full containment isn't expected until the end of October. [KTLA]
Multiple vigils were held in SoCal on Saturday for Justice Ruth Bader Ginsburg, who passed away on Friday after a long battle with pancreatic cancer. At one event in Santa Ana, several participants wore robes inspired by The Handmaid's Tale, a not-so-subtle allusion to women's rights issues that might be decided by a (potential) supermajority of conservative justices holding the Supreme Court. Only hours after Ginsburg's death was announced, Senate Majority Leader Mitch McConnell vowed that Trump's nominee will receive a vote. You'll remember, of course, that McConnell famously refused to hold confirmation hearings for Merrick Garland in 2016, saying that Americans should dictate the next nominee in that year's election. So, yeah… rules for thee, but not for me. Very cool. [NBC Los Angeles]
Newly released body cam footage shows an LAPD officer firing a foam projectile into the groin of a protestor during a June 2 demonstration. Ben Montemayor, the 28-year-old man who was hit, says his injuries required emergency surgery. A lawsuit is expected, and the LAPD internal investigation into the incident is still ongoing. [ABC 7]
I'll be honest, I totally forgot that the Emmys were last night. Between continued fallout from RBG's death to Anthony Davis's buzzer-beater against the Nuggets, my attention span was pretty tapped out. That said, after perusing the list of this year's winners, I'm heartened to see Watchmen got its due. That show was bloody fantastic. Also, after Succession won both for best drama series and best actor (Jeremy Strong), I may finally have to give it a look.
Oh Gondola, My Gondola
Why is L.A. obsessed with gondolas? Last month, we got wind of a feasibility study looking into an aerial tram in Griffith Park, which drew ire from many local parks advocates, including Modern Hiker's Casey Schreiner. Now, new renderings have been released for another aerial project: gondola service to Dodger Stadium. The proposed tram would depart at Union Station, head up Alameda, then cut over the top of Los Angeles Historic State Park to wind up at the stadium. My questions are many, but just as with the case of Griffith Park, my first instinct is to ask if there are cheaper, less construction-heavy alternatives. For example, why not first drastically expand or reimagine the Dodger Stadium Express Service that already runs from Union Station? In any case, an environmental review of the gondola is slated to begin in October, but won't be complete until 2022. Construction wouldn't finish until 2025 at the earliest, officials said. [ABC 7]