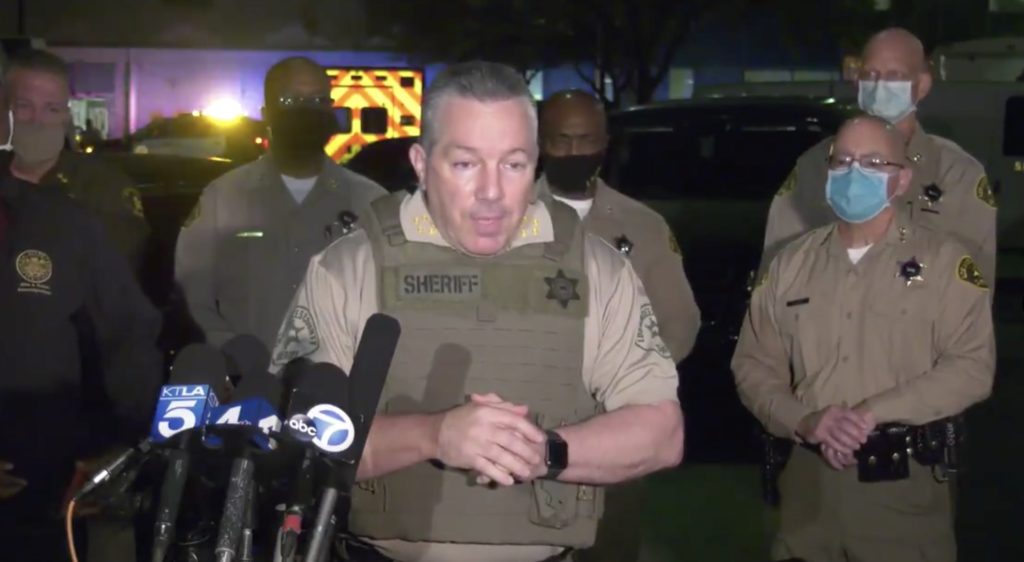 Over the past few weeks, accusations of corruption and violent cliques within the Los Angeles Sheriff's Department, combined with the killing of Dijon Kizzee, have ratcheted up tensions between citizens and law enforcement in the Compton area. Ongoing protests over Kizzee's death at the Compton Sheriff's station had been the locus of discontent, but over the weekend, more fuel was added to the fire when the attempted murder of two LASD deputies was followed by the arrest of a reporter covering the story. For this morning's brief, let's hash out some of the details.
Morning News Brief
On Saturday evening around 7 p.m., two LASD deputies were shot in the head in an ambush at the Compton Metro station. Surveillance footage captured the incident, and the department later offered a $100,000 reward for information leading to the shooter's arrest. As of Sunday, both victims were in stable condition, though one was critically injured. [ABC 7]
That night, KPCC reporter Josie Huang was covering a press conference at St. Francis Medical Center in Lynwood where Sheriff Alex Villanueva was updating media on the condition of the deputies. After the event ended, she noticed a group of protestors confronting deputies outside a hospital entrance. Huang turned on her cell phone camera to record the confrontation and later followed as deputies chased protestors away from the scene. Ultimately, as one of the protestors was arrested and placed in an LASD vehicle, Huang approached while still recording. A deputy told her to back away, and then only moments later, deputies tossed her against a vehicle and forced her to the ground. Huang was arrested and charged with resisting arrest (Penal Code 148 PC ).
In a series of statements posted to Twitter, the Sheriff's Department specifically cited Huang's lack of press credentials and failure to identify herself as part of the justification for the arrest. However, in video posted by Huang to her Twitter account, she can clearly be heard telling the officers she is a reporter with KPCC. A screenshot of footage taken from another angle shows a lanyard, presumably a press credential, dangling from Huang's neck. Additionally, at one point in the video, a deputy appears to repeatedly stomp on Huang's dropped phone with his boot heel. Somehow, the phone footage survived. [LAist]
So what happens next? L.A. County Supervisor Mark Ridley-Thomas called for an immediate investigation of Huang's arrest by County Inspector General Max Huntsman. It's worth noting that the LASD hasn't exactly been hyper cooperative with Huntsman's attempts at oversight. According to the IG, he was excluded from observing the autopsy of Dijon Kizzee despite submitting a written request to attend. Predictably, Sheriff Villanueva later railed against that accusation. As it stands now, the LASD has placed a security hold on Kizzee's autopsy report, and it could be weeks or months before that report is made public.
In other news, The Bobcat Fire has now burned more than 33,000 acres and remains just 6% contained. Evacuation Orders (not just warnings) have been given for parts of Arcadia and Sierra Madre north of Elkins Avenue. [CBS Los Angeles]
Parishioners piled into the pews at Grace Community Church on Sunday, defying a judge's order that prohibited indoor worship at the Sun Valley church due to public health concerns. [Patch]
The LAUSD is kickstarting its COVID-19 testing program. 5,000 district staff and their children received invites for the first batch of testing, with more invites to be sent out to additional staff in the coming days. Ultimately, the program will provide ongoing, periodic testing for all of the district's students and staff. [LAist]