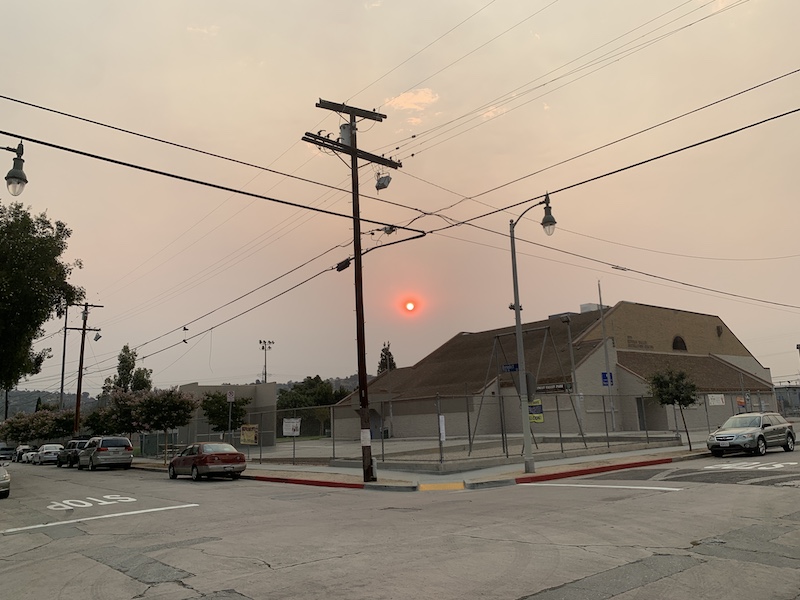 At the tail end of today's brief, I'm going to point you to some long-form pieces I recommend to get you thinking about the future of California's fire policy, and, specifically, how bleak predictions from decades earlier are now coming true. Seriously, we ought to get on the same page about this stuff. First, we'll do the usual newsy bits, including COVID-19 testing at Union Station, a new development in the Grace Community Church spat, and animal abuse caught on video in Santa Monica. So, let's get into it.
Morning News Rundown
Some good news for car-less Angelenos looking for public transit-adjacent coronavirus testing. Yesterday, a COVID-19 testing kiosk opened at Union Station. Operating hours are Thursday through Sunday, 9 a.m. to 3 p.m. [We Like L.A.]
According to the most recent update, The Bobcat Fire has now consumed over 26,000 acres and is at 6% containment. Several foothill communities adjacent to the blaze remain under an evacuation warning, including parts of Arcadia, Duarte, Bradbury, Sierra Madre, Pasadena, and Altadena. [ABC 7]
As if we didn't have enough air quality issues, a chemical spill at an old construction site in Compton yesterday prompted fire officials to recommend nearby residents stay indoors. [ABC 7]
The back and forth continues between Los Angeles County and a local church hellbent on holding indoor worship. A Los Angeles Superior Court Judge issued a temporary restraining order to prevent Grace Community Church from hosting indoor services immediately. For his part, Grace Community Church Pastor John MacArthur says his congregation has been meeting for weeks and no one has gotten ill, which, you know, sounds totally scientific to me. [Patch]
Security camera footage from a condominium building in Santa Monica captured the CEO of an environmental consulting firm grabbing, choking, and slapping his 4-month old puppy after it apparently peed on the ground near the entrance to a parking garage. Jeffrey Previte, the man featured in the footage, later released a statement saying that a building employee had attempted to extort him over the incident. Previte also claimed there was "nothing illegal about what I did," although he might want to recheck California Penal Code 597, which covers animal abuse. [Newsweek]
Fireside Reading
Despite the fact that our esteemed president hasn't even acknowledged that the entire West Coast is on fire (an oversight, I'm sure), you can't be a Californian and not think about how badly our state is burning. Every time you step outside, the smoke is literally in your eyes and the particulates creep into your lungs as the morning sun stares at you like the red-orange eye of Sauron. As a state, at some point, we're going to have to have a come-to-Jesus moment about public lands policy, development in wildfire areas, and general fire prevention. Can that time please be now? I hope you're thinking about it, too. If not, here are a few pieces you might want to read to get the mental juices flowing:
Jeff Weiss never mentions Mike Davis by name, but it's hard to read his recent piece in LA Magazine and not think about Davis's landmark book Ecology of Fear. Published in 1998, Ecology has turned out to be hauntingly prescient, with what Weiss describes as "old prophecies of a ruined future finally devolving into a deranged present." Put another way, the nightmare prediction Davis warned of actually came true. San Francisco literally looks like a scene from Blade Runner 2049 and 2.3 million acres (and counting) of California land has burned this year.
Writing for the L.A. Times in 2018, Gustavo Arellano revisits the legacy of Davis's case for letting Malibu burn, and reanalyzes predictions about California's fire landscape 20 years after it was first published.
What's the Pyrocene? Up until this week, I had never even heard the term, but one fire scholar and Arizona State professor tells City Lab that this is the age we've been living in for the past 10,000 years, ever since people began to use combustion as a tool for progress. But Stephen J. Pyne also argues that we need rethink our relationship with fire to mitigate its effects.