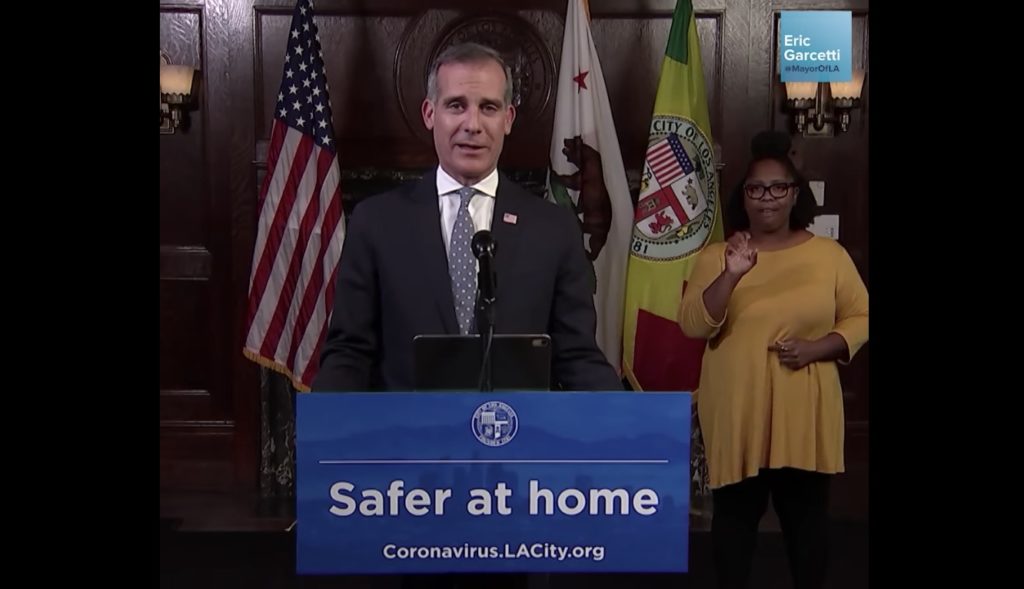 A revised citywide Safer-At-Home order comes with some sterner language from the mayor and a whole lot of exemptions. Also: A new aid program for restaurant workers, firefighters prep for dangerous red flag conditions, and LASD deputies get to hide their names during protests. Here is your news. Take it!
Morning News Rundown
The City of Los Angeles has issued a targeted Safer-At-Home order that closely mirrors the countywide order already in place. The city's order states that: "Subject only to the exceptions outlined in this Order, all persons living within the City of Los Angeles are hereby ordered to remain in their homes." However, there is a lengthy list of exemptions that includes all essential services and businesses, outdoor fitness centers and film productions, and recreational areas like parks, beaches, and golf courses. Restaurant pickup and delivery remains open as well. In a 30-minute update yesterday evening, Garcetti implored Angelenos to stay home and "just be smart and stay apart," and yet made no mention of the newly revised order. [L.A Times]
Yesterday, the city announced a new aid program that offers a one-time $800 stipend to people who work in the front and back of "restaurants, food stands, mobile food units, and pushcarts, and breweries, wineries, and bars that serve food on the premises." Relief will be assigned randomly to eligible applicants (not first-come, first-serve). [NBC Los Angeles]
A lawsuit filed by the California Restaurant Association is testing the limits of the current ban on outdoor dining. On Wednesday, a Superior Court judge ordered public health officials to show scientific evidence to back up their claim that closing outdoor operations will reduce the spread of COVID-19. For now, the ban remains in effect, pending a follow-up hearing.
Pasadena continues to allow outdoor dining in spite of Public Health's countywide order, but new rules effective yesterday now limit tables to a single household. No more than six people may dine together at once. [KTLA]
With red flag fire warnings in effect in the Los Angeles area now through at least Saturday evening, local firefighters are making extraordinary preparations to deal with a possible disaster. [LAist]
In a reversal of a longstanding policy, Los Angeles County Sheriff Alex Villanueva says he will allow his deputies to conceal their names while policing protests or other events of civil unrest. Badge numbers will still be visible. Per section 830.10, California law stipulates that, "Any uniformed peace officer shall wear a badge, nameplate, or other device which bears clearly on its face the identification number or name of the officer." [L.A. Times]