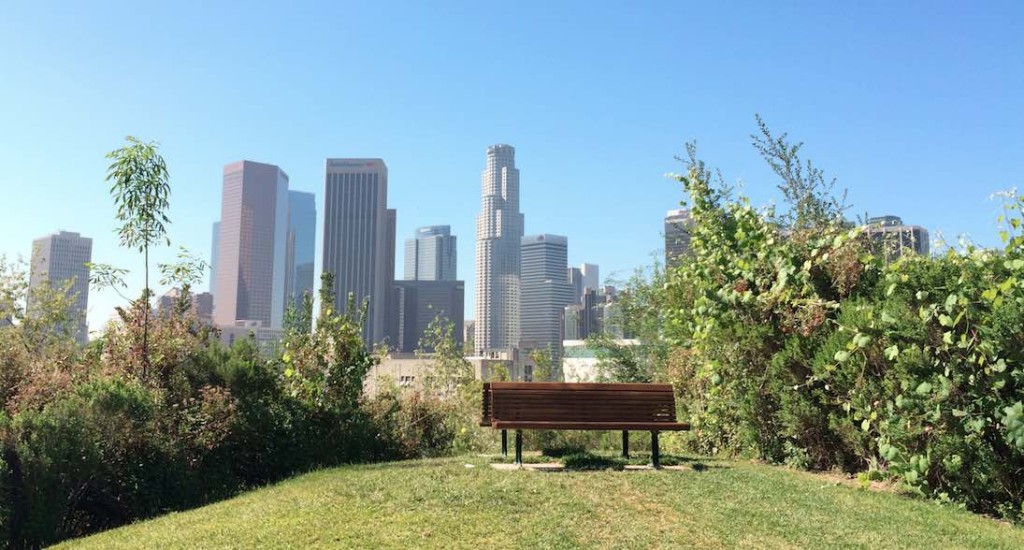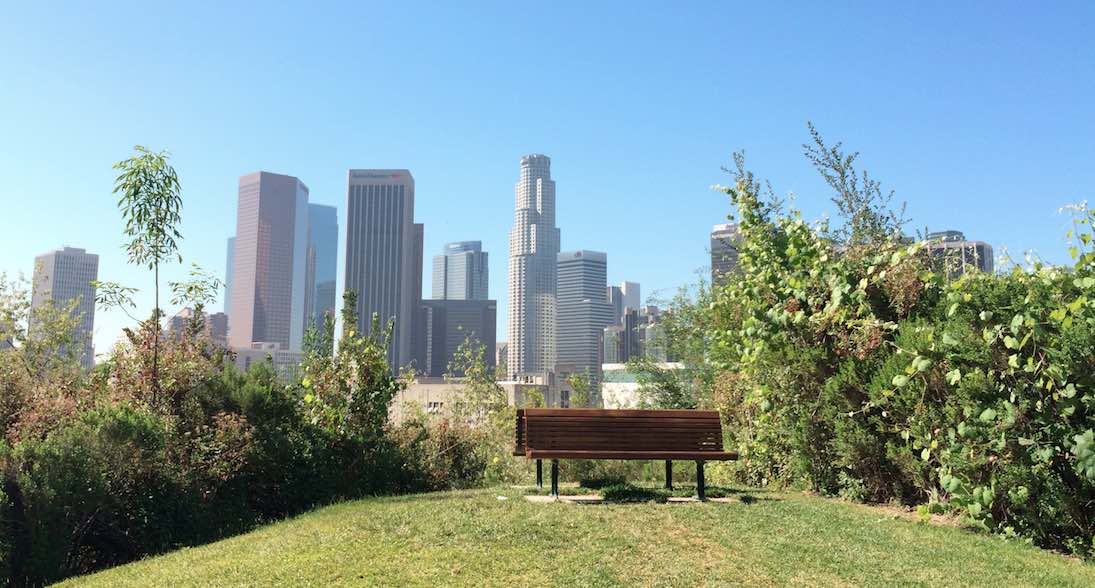 We used to tell you about all the things you could go out and do in Los Angeles on a daily, weekly, and monthly basis. Then, the coronavirus changed life for all of us, in a thousand small and massive ways. Until the pandemic is behind us, we'll post one list of events that adhere to Public Health's current protocols—including plenty of at-home and online events—every Thursday morning. We hope they keep you busy, make you laugh, teach you something, or help you feel less alone.
This week, we've got new options and specials for takeout, in-car holiday spectacles, and virtual theater, lectures, film debuts, and more. Have something you want to submit for next week? Hit us up: [email protected].
---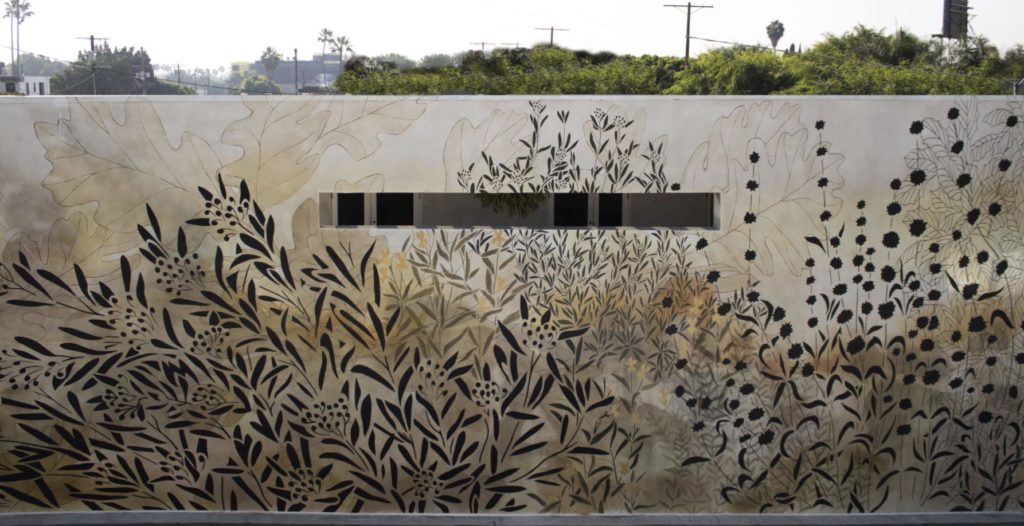 Out-of-the-House Events
Find fun holiday events for the whole family, including drive-thrus, online events, and socially distant gardens in our holiday roundup here.
Los Angeles design and furniture gallery Blackman Cruz recently commissioned women-owned art and design team Studio Tutto to create a large-scale mural on the gallery's 125-foot, north-facing exterior wall at 836 N. Highland Ave. Inspired by the Joni Mitchell lyric, "We've got to get ourselves back to the garden," the mural displays native flora and fauna found in California.
From the team behind Nights of the Jack comes Holiday Road. The illuminated drive-thru includes large-scale holiday installations, thousands of Christmas lights, and Santa and all his cheerful friends. Open Dec. 4 through Jan. 10 at King Gillette Ranch in the Santa Monica Mountains. Tickets start at $75 per vehicle.
Christmas Tree Lane returns Dec. 7 in Altadena with a one-mile stretch of fully decorated houses and trees on Santa Rosa Ave., between Woodbury Ave. and Altadena Dr. Take a drive with the people in your household for some holiday cheer. This year marks their 100th anniversary!
Hikari a Festival of Lights at Tanaka Farms turns the 30-acre Irvine farm into a dazzling spectacle of lights on trees, scarecrows, tractors, and even their sugarcane crop. Open nightly through Jan. 10, but Santa also makes an appearance every Friday, Saturday, and Sunday. Tickets start at $49 per vehicle.
The Pacific Opera Project's drive-in season features three live shows at Camarillo Methodist Church in Ventura County through Dec. 13. Guests will remain in their cars throughout each two-hour performance. Live video with supertitles will be projected above, while sound will come through FM radio. Each performance accommodates about 90 vehicles. 
Pickup & Delivery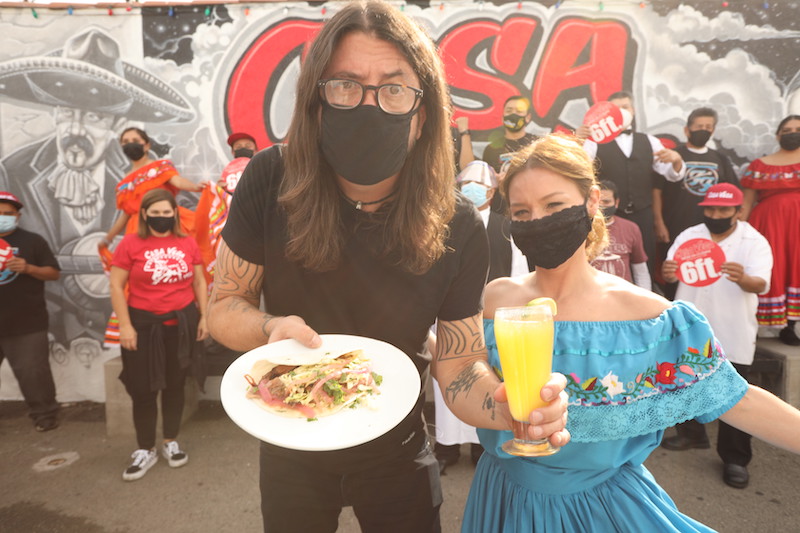 Foo Fighters and Casa Vega have teamed up for a limited-edition taco collaboration that benefits No Us Without You. Available all month, The Foo Fighters taco ($7) features smoked brisket in a Mexican spice rub, backbeat BBQ sauce, Mexican coleslaw, pickled onions, and cilantro, on a homemade flour tortilla. A Foo Fighters cocktail called Los Luchadores Foo ($14) made with La Gritona Reposado tequila is also available. The Foo Fighters taco is only available for take-out (online ordering) at Casa Vega's drive-thru. In addition, there will also be a special Foo Fighters x Casa Vega tee shirt sold on Casa Vega's website, with the proceeds donated to No Us Without You.
Counterpart Vegan's new tasting menu launches Friday, Dec. 4. The plant-based meal for two includes Heirloom Tomato Carpaccio, Spicy Caesar Salad, Lasagna Bolognese, and Tiramisu ($59). Order on Tock starting Dec. 3 for pickup between 6-8 p.m. on Dec. 4-5. 
Michelin-starred Chef David Myers's pop-up ADRIFT Burger Bar features burgers, fried sides, and milkshakes for delivery (GrubHub) or pickup in Venice. Hours are daily, 11:30 a.m. to 9 p.m. The signature DM Burger is a medium-rare patty with Vermont Cheddar Cheese, shaved onion and lettuce, and secret sauce on a brioche bun. Other options include Curry Leaf Fries and Matcha & White Chocolate Milkshakes.  
Chef Jordan Kahn of Vespertine is recreating items Chicago's Alinea for a special eight-course menu available for pickup Thurs.-Sun. through Dec. 20. Guests can either order ready-to-eat, individually plated small dishes ($115 per person) or a DIY family-style format with directions to reheat and plate at home ($95 per person). Two order minimum. Order via Tock.  
Common Space Brewery in Hawthorne and Coolhaus have partnered on a perfectly sweet, rich stout. The Chocolate Molten Cake Ice Cream Stout (7.0% ABV) is everything fans of stouts you can drink for desserts desire, which is kind of hard to find in IPA-loving L.A. Four-packs are available now for pickup or delivery.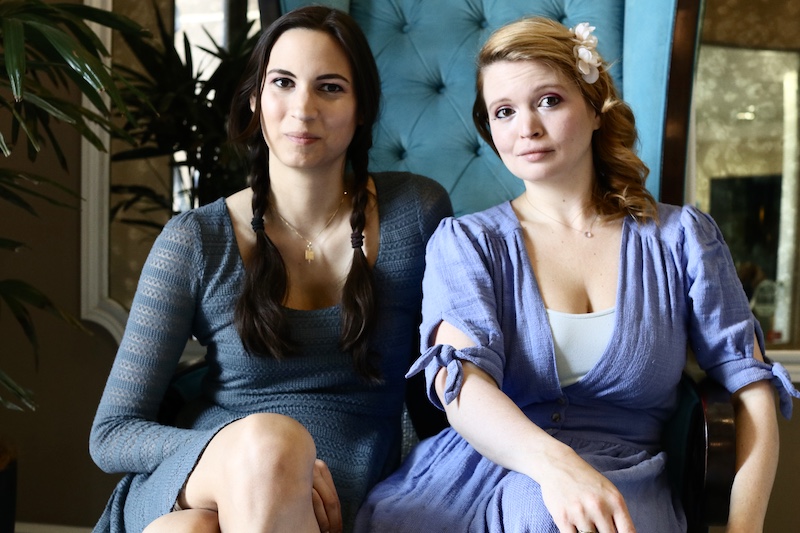 At-Home & Online Events
From Ladybug & Leviathan comes The Place You Once Forgot, an online adaptation of an immersive show that originally debuted at the 2019 Edinburgh Fringe Festival. The interactive experience takes a single audience member on a "journey full of whimsy and wonder." Synopsis: "Follow your inner child's curiosity and enter a dream world created for you and with you, where the choices you make will guide your journey. Your new friends are excited to see you… or are they, perhaps, your oldest friends?" Show dates are available for Dec. 4, 5, 6 & 12. Tickets are $22.
On Site Opera is offering something unique for opera fans with The Beauty That Still Remains: Diaries in Song. It consists of three diary-based shows that you can listen to in your home while sifting through a package of letters, photos, and other ephemera related to the story The package will arrive in the mail, consisting of a handwritten libretto, access codes to the performance, invitations to virtual events, and other insights. Shows include The Diary of One Who Vanished, From the Diary of Virginia Woolf, and A World Turned Upside Down (based on the diary of Anne Frank). Diaries are $45 each or $120 for all three.
The Groundlings Annual Holiday Show goes virtual this year with three weekends of original sketches and interactive improv every Friday and Saturday from Dec. 4-19.
ComplexLand takes the place of ComplexCon this year with a shop-able virtual experience Dec. 7-11 featuring the latest most hyped brands. The free online event includes exclusive merch drops, art, musical performances, food collaborations, and more. You'll create your own avatar to shop from different retailers and explore ComplexLand's digital 3D amusement park-themed universe. Available for mobile and desktop.
Though there's no Hollywood Christmas Parade for 2020, you can watch a "greatest moments" special airing on the CW channel on Dec. 4 at 8 p.m.
Japan House LA presents a virtual conversation surrounding its latest exhibit, "Windowology: New Architectural Views from Japan." Takashi Yanai, EYRC Architects will speak with Professor Taro Igarashi and Monocle magazine's Tokyo Bureau Chief Fiona Wilson "about Japanese aesthetics and their influence on global architecture and the future of windows in a post-pandemic world." Join on Dec. 7 at 5 p.m. here.
On Dec. 9 at 5 p.m., CalTech presents "The Inner Life of the Brain: Fear, Sex, and Violence," a lecture about the behaviors that are fundamental to animal survival. Speakers include David J. Anderson, Caltech's Seymour Benzer Professor of Biology; the Tianqiao and Chrissy Chen Institute for Neuroscience Leadership Chair; director of the Tianqiao and Chrissy Chen Institute for Neuroscience; and a Howard Hughes Medical Institute Investigator. Register here.
On Dec. 5 at 8 p.m., Darlene Love will perform a virtual Christmas concert recorded at Sony Hall in NYC. Tickets are $35, a portion of which benefits the Lisa Smith Wengler Center for the Arts at Pepperdine Universitybenefits
On Dec. 7 at 2:30 p.m., The Fowler presents a lecture on Indonesian rod puppets. Per a release: "Join Student Educator Carolina Guerrero and Senior Curator of Southeast Asian and Pacific Arts Joanna Barrkman for a discussion about the Fowler's collection of wayang golek (rod puppets). Rod puppets are one of the most popular forms of animation in the rich history of puppet theatre in Indonesia." Register here.
Laemmle hosts the digital premiere of HAM: A Musical Memoire, screening Dec. 3 through Jan. 7. Here's the synopsis: "HAM: A Musical Memoir is the comic and poignant true story of Sam Harris's life growing up in Oklahoma's Bible Belt during the 60s and 70s as a sensitive and prodigiously talented kid who dreams of playing Helen Keller at age 5, wishes he was Jewish at 10, finds his voice in the black church at 15, and falls in love with a boy "who looks just like Cary Grant," followed by a depression that leads to a suicide attempt. Sam flees to Los Angeles where he sings at every dump and dive in town, finally ending up on a new TV show called Star Search (precursor to American Idol) winning the hearts of America. Fame ensues – Broadway, television, albums, Carnegie Hall. But for Sam, less is…less. And more is never enough. After the highs and lows of a life in show business, Sam is finally forced to confront the merciless question: what is enough?" Check out tickets and showtimes here.
The Getty presents "Blackness Is in the Making: Materials of the 18th-Century Artist" on Dec. 6 at 11 a.m. Per a release: "The year's Gaehtgens Lecture, part of the Beyond the Borders, Beyond the Boundaries series, features Anne Lafont in conversation with Lyneise Williams on the materials, techniques, and challenges involved in 18th-century artistic representations of Blackness in works from across the Atlantic world. Lafont and Williams explore how European conceptualizations of African subjectivity were expressed through images, and how the artistic materiality involved in figuring Black bodies and subjects contributed to the visual construction of race during the Enlightenment." Register here.
Found LA: Holiday Shopping Edition takes place over Zoom Dec. 5 at 11 a.m. and Dec. 6 at 4 p.m. The virtual marketplace will also feature neighborhood legacy businesses struggling as a result of the ongoing pandemic. Find more info here.
Join NewFilmmakers Los Angeles (NFMLA) for a conversation with William Morris Endeavor (WME) agent Matthew Baskharoon on Dec. 4 at 3 p.m. Per a release: "We will discuss representation for documentary filmmakers, the current documentary landscape, both for film and series and the packaging and pitching of documentary projects. This discussion will be Moderated by NFMLA Board Member, Filmmaker and TV Director Varda Bar-Kar (director of Fandango at the Wall, HBO's new documentary executive produced by Quincy Jones and Carlos Santana)." Tickets are $10.
The Institute of Culinary Education is offering a variety of virtual holiday cooking classes. On Dec. 7 at 9:30 a.m., it's Challah 101. On Dec. 8, at 9:30 a.m., learn how to make latkes. 
The California African American Museum presents "In Conversation: Michael Eric Dyson with Jemele Hill" on Dec. 7 at 5 p.m. Per a release: "Building on his 2017 bestseller Tears We Cannot Stop: A Sermon to White America, Michael Eric Dyson's new book, Long Time Coming: Reckoning with Race in America, grapples with the cultural and social forces that have shaped our nation in the brutal crucible of race. In five chapters—each addressed to a contemporary martyr from Breonna Taylor to Rev. Clementa Pinckney—Dyson traces the genealogy of anti-Blackness from the slave ship to the street corner where George Floyd lost his life and where America gained its will to confront the ugly truth of systemic racism. Listen in as Dyson and Atlantic contributor and sports journalist, Jemele Hill, discuss this new work and race in America." Purchase a signed copy from Eso Won books here. RSVP here.
The 53rd Annual Holiday Look-In Home Tour presented by the Women's Committee of the Pasadena Symphony is online this year. The tour "showcases the architecture and gardens of four magnificent Pasadena homes decorated for the holidays in festive floral regalia." The event is narrated by Pasadena Symphony music director, David Lockington with music from the Pasadena Symphony Youth Orchestras. Available Dec. 5-31. Free with registration here, though donations to the Pasadena Symphony Youth Orchestras and the Pasadena Symphony will be graciously accepted.
On Dec. 3 at 7 p.m. Academy of Art University's School of Animation & Visual Effects hosts a free webinar with the Oscar-winning filmmaker Kevin Willmott and actor/co-writer/producer Trai Byers to discuss the filmmaking and visual effects process of their new film, The 24th. The film tells the true story of members of the U.S. Army's all-Black 24th Infantry Regiment involved in a deadly uprising in Houston in 1917.
Join KCET Cinema Series host Pete Hammond for a virtual screening of Mank and a Q&A star Gary Oldman on Dec. 4 at 7 p.m. Synopsis: "Directed by seven-time Oscar-winning director David Fincher, the drama centers on inebriated Hollywood screenwriter Herman J. Mankiewicz (Gary Oldman) as he struggles with brilliant but controversial Orson Welles (Tom Burke) to finish his masterpiece, Citizen Kane."
FORT:LA has a new VR experience recreating the Dodge House by Irving Gill, which was demolished in 1970. Per a release: "The house was built in 1916 and represented a pivotal moment in architectural history- a hybrid style that blended the indigenous culture of the southland with the first inklings of European modernism." 
UCLA's Center for the Art of Performance (CAP UCLA) presents A Thousand Ways (Part One): A Phone Call by 600 HIGHWAYMEN Dec. 6 & 13 and Jan. 24 at various times PST. Per a release: "The experimental A Thousand Ways, which will ultimately comprise three parts, plumbs the essence of theater—bringing people together in the creation of a moving live experience—to counteract social isolation exacerbated by the COVID-19 pandemic. In Part One: A Phone Call, two audience members—nameless strangers to one another—follow a carefully crafted set of directives, revealing things about themselves and their lives. Over the course of the hourlong journey, a portrait of the other emerges through fleeting moments of exposure and the simple sound of an unseen voice." Tickets are $25 per person here.
Theatricum Jazz Brunch is on Dec. 5 at 11 a.m. Per a release: "Theatricum is honored to host an extraordinary roster of accomplished jazz artists who are donating their talents to promote peace and healing.  Band leader Daryl "D-Notes" Harris will be joined by Theatricum's own Gerald C. Rivers and friends Chezere Braithewaite, Camille Lourde, Bray Ghilia, Sariyah Idan, and more to perform jazz standards, original music, freestyle jazz, chart-topping hits, and holiday classics live from the Theater for you in your homes. Bring your own brunch and enjoy the live music we all miss so desperately. Donations to Theatricum are needed and appreciated during these uncertain times and may even buy you a song request or two!" Free tickets available here.
FoodCycle LA, a nonprofit to eliminate hunger, reduce food waste, and combat climate change, is hosting a virtual cooking class with IMPASTIAMO. Per a release: "Chef Francesco Lucatorto, live from Italy, and other special guests, will be demonstrating how to make a real vegetarian comfort meal – made for everyone: A Pumpkin Soup and Porcini Mushroom Risotto." Register online here.
UCLA's Center for the Art of Performance (CAP UCLA) presents Kid Koala's Music To Draw To on Dec. 5 at 3 p.m., live-streamed from Montreal. Free on the CAP UCLA Online channel.
Zocalo Public Square presents "What Are Today's L.A. Women Fighting For?" on Dec. 3 at 6 p.m. Per a release: "Women have made Los Angeles one of the nation's most progressive cities, fighting for their own rights as well as those of children, laborers, immigrants, and other underrepresented groups since well before they gained the right to vote over 100 years ago. But women in Los Angeles—particularly lower-income and Black and brown women—still face a number of challenges, including health disparities, housing struggles, and human trafficking. What battles are the women of Los Angeles fighting today, and what are the plans to win them?" Register here.
Explore handmade products including home décor, food, housewares, fashion accessories, and body products during the Jackalope Virtual Holiday Market Nov. 28 through Dec. 13.
On Nov 23., the Museum of Latin American Art launched an online auction celebrating its 24th Anniversary with 140 artworks. Through Dec. 6, you can bid on work from artists including Wifredo Lam, Roberto Sebastián Matta, Rodolfo Morales, Rafael Coronel, Esterio Segura, Roberto Fabelo, Rufino Tamayo, Gonzalo Cienfuegos, Ignacio Iturria, Francisco Toledo, Francisco Zuñiga, Jean Charlot, José Gurvich, Eduardo Kingman, Ray Smith, Elmar Rojas, San Poggio, Rogelio Polesello, Emilio Sánchez, Rafael Cauduro, Zaira del Río, José Manuel Fors, Pedro Friedeberg, Leonardo Nierman, Baruj Salinas, Matías Duville, Linda Vallejo and Yolanda González, and more.
Pabst Blue Ribbon and Monster Children's 'Coast to Coast' project contains over 50 artists that have decorated 4-inch wood coasters with original artwork. It's all on sale via online auction through Dec. 7. Bidding starts at $25 and 100% of proceeds benefit InnerCity Arts.
The Groundlings Theatre hosts an interactive improv show on Dec. 4, 5, 11, 12, 18 & 19 at 7 p.m. It's directed by Groundlings Main Company Member Leonard Robinson (Insecure) with cast including Robinson and fellow Groundlings Lauren Burns (This Is Us), Michael Churven (Modern Family), Samantha DeSurra (Yeoja), Chris Eckert (Empty Space), Ryan Gaul (The Last O.G.), Kiel Kennedy (Robot Chicken), and Ariane Price (Barb and Star Go to Vista Del Mar). Tickets start at $25.
The William Turner Gallery hosts Andy Moses's "Recent Works" Dec. 5 through Feb. 10. Per a release: "Implementing techniques that utilize the artist's almost obsessive study of the alchemical properties of paint, Moses's work blurs the line between abstraction and a new kind of pictorialism." By appointment and at williamturnergallery.com.
Corey Helford Gallery's seventh annual Art Collector Starter Kit group show highlights affordable 12" x 12" works from new contemporary artists, giving new art collectors and enthusiasts a chance to buy an original piece from artists. The show will be on view Nov. 14, 2020 through Jan. 9, 2021.
The Natural History Museum of Los Angeles County (NHM) and Nickelodeon will explore the Science of Slime through videos, DIY activities, and weekly live programs with NHM scientists. Check out new programming here every Monday and Thursday (except Thanksgiving) through Dec. 14.
The Music Center's digital series, For the Love of L.A., "celebrates the creativity of Los Angeles and supports L.A.-based artists representing the disciplines of music, dance, visual culture, and more." See it every Tuesday through Feb. 9 on Instagram.