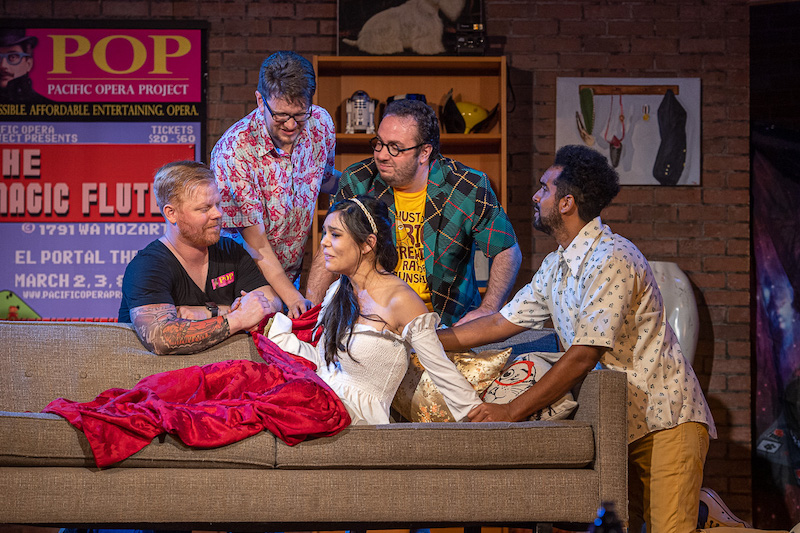 The Pacific Opera Project, known for its pop-culture takes on classic works, is launching a drive-in season this fall featuring three live shows.
All three shows will take place at the Camarillo Methodist Church in Ventura County. Guests will remain in their cars throughout each two-hour performance. Live video with supertitles will be projected above, while sound will come through FM radio. Each performance accommodates about 90 vehicles. Tickets start at $60 per car.
"People say they want opera that is relevant – that it can and should speak to current events. Here we are in the midst of the most life changing event any of us have ever experienced in our lifetime. Should we act like it isn't happening? I don't think so. Should we wait five or ten years until the pandemic is more of a memory and we have some 'distance'? Why? There was a time when opera was regularly written about current events," POP Founder Artistic Director Josh Shaw said via a statement. "Granting organizations and patrons consistently state that they want opera that is about our time, our situations. Well, here's a chance to make some opera about what is happening right now. Yes, it might be extra painful, but I think it will also be extra uplifting, extra humorous, extra cathartic – and I know for myself and many others on both sides of the curtain, it is extra needed right now."  
Here's the lineup:
November 14, 15, & 22 at 5:30 p.m.: COVID fan tutte is a spin on Mozart's Cosi fan tutte set at a SoCal golf resort. The plot follows two women who have both fallen in love with caddies. However, wealthy club member Don Alfonso makes a bet with the caddies to see if their lovers are faithful. The caddies claim to be furloughed only to return in disguise and tempt their girlfriends to cheat with their alter egos.

In the original piece, the caddies are actually soldiers who pretend to be called off to war. In this production, POP states that "personal protective equipment, facemasks, and social distancing will play a large part in the update, perhaps finally making the disguises and plot of Cosi fan tutte (almost) believable."
November 20 & 21 at 5:30 p.m.:  La Corona and Il Parnaso Confuso. According to POP, Shaw's discovery of Christoph Willibald Gluck's La Corona led him to Gluck's one-act comedy, Il Parnaso Confuso. Per a release: "Both were written for royal celebrations and for the same four Archduchesses, children of the Habsburg Empress Maria Theresa and sisters of Marie Antoinette. La Corona was never performed during Gluck's lifetime, as it was written for Francis I and rendered irrelevant by his death in 1765. The opera was resurrected in July 1987 when it received its world premiere at the City of London Festival for the bicentenary of Gluck's death. Loosely based on the Greek myth of Atalanta, four sisters argue over who gets to hunt a wild boar and prince Meleagro, who gets not the alto part but the highest soprano, comes along to supervise events. Il Parnaso Confuso was composed in 1765 for the four Archduchesses to sing at Habsburg Archduke Joseph's wedding. The opera follows three Muses— Euterpe (Music), Erato (Lyric Poetry), and Melpomene (Tragedy)—atop Mount Parnassus who are asked by Apollo to sing last minute at the wedding of the Emperor and are not prepared for the request." Both operas will be sung in Italian.
December 10, 12, & 13 at 5:30 p.m.: La Boheme: AKA "The Hipsters" 2020 Edition. This one is POP's updated take on Puccini's La Boheme. Per a release: "The artist, poet, philosopher, musician, and seamstress become a graphic designer, screenplay writer, English major, indie-rocker, and fashion designer dealing with the timeless issues of life, love, jealousy, overdue bills, and now, COVID-19." The opera is sung in Italian with English titles.