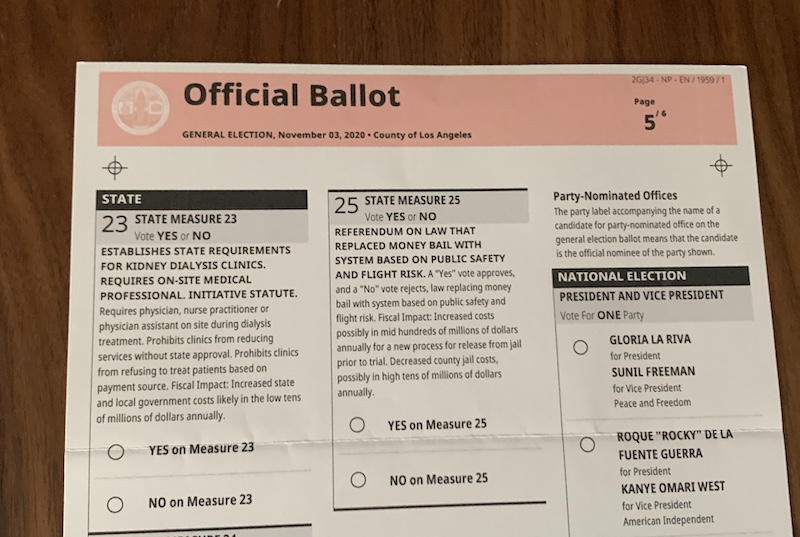 In today's brief: Ballots sent out without a place to vote for president, a big Trump sign catches eyes in the Sepulveda Pass, and a UCLA professor wins the Nobel Prize. Finally, R.I.P. to Eddie Van Halen. First, some news.
Morning News Rundown
Sooooo….. 2,100 residents were sent ballots with no option to vote for president. The Los Angeles County Registrar-Recorder/County Clerk's office confirmed to the Times that earlier this week, the erroneous ballots were mailed to residents in Woodland Hills. New ballots were to be sent out on Tuesday. [L.A. Times]
This seems like a good time to point out that, despite what you'll hear from our President on his Twitter feed, please (please!) remember that incidents like the one described above are super rare. Consider what the experts are saying about our election security. Christopher Way, Director of the FBI, along with General Paul Nakasone, Director of the National Security Agency; Chris Krebs, Director of the Cybersecurity and Infrastructure Security Agency; and Bill Evanina, Director of the National Counterintelligence and Security Center released a joint video statement on Monday saying their confidence in the security of our vote "has never been higher." Last month, a top GOP election attorney who has studied the issue for decades contradicted Trump's ongoing mistruths about mail-in voting fraud. Put simply, the process still works. Mail-in voting works. Now, just go out and make sure you vote.
Speaking of voting, here's all the info you need to make a plan to vote as a resident of L.A. County. [We Like L.A.]
A giant "Trump" sign was spotted in the hills above the 405 freeway in the Sepulveda Pass on Tuesday. The sign, which was located on private property, was first reported as a fire hazard. It was ultimately taken down because people kept slowing down to take photos, causing a traffic issue. [KTLA]
UCLA astrophysics professor Andrea Ghez has won the Nobel Prize for her part in the observation of the supermassive black hole at the center of our galaxy. Ghez shares the prize with Reinhard Genzel of UC Berkeley and the Max Planck Institute for Extraterrestrial Physics. [UCLA]
Lena Hernandez, Torrance's foremost ranter of racist tirades, is going to jail. Hernandez has been sentenced to 47 days after pleading no contest to misdemeanor battery related to an incident at a Torrance Mall in 2019. [ABC 7]
R.I.P. Eddie Van Halen
Eddie Van Halen died yesterday at the age of 65 after a long battle with cancer. The guitar virtuoso grew up in Pasadena after moving with his family from the Netherlands at the age of 7. Eddie, along with brother Alex, formed the band that shared their last name in 1972 and were later joined by a couple of other San Gabriel Valley kids, David Lee Roth and Michael Anthony.
There are lots of tributes and reminiscences by lots of famous people about Van Halen's influence and work. By all accounts, he was not just a rock legend, but a genuinely good guy. Still, I find the obscure Twitter threads where you read stories from anonymous people who grew up with him or saw his band at backyard high school shows to be the most illuminating. It reminds us that, whatever his talent or legacy, he was just a person trying to figure things out.
65 is too young, of course. It's about the same age my mom was when she passed. She also died of cancer, and I can't help but think about her in this moment and all the life she still had to give when her light was extinguished.
In my mind, as I connect it back to the pandemic, part of me is deeply saddened by all the older-but-not-that-old people whose lifespans we're cutting short by five or 10 or 15 years because we can't do simple things like avoid crowds or wear masks. Of the 200,000+ people who have already died from COVID-19 in the U.S., many don't have the luxury the president has in terms of the best doctors and the best treatments, and many have and will continue to die without family by their sides or with tubes stuck down their throats. Alone. Terrified.
Maybe in the months to come, we'll make a collective psychological breakthrough on universal adoption of simple practices, and maybe in the years that follow we might take a similar scientific leap forward on cancer treatment. Here's hoping.
In any case, I've embedded the video for "Hot For Teacher" below because, well, this has to be a top song opening of all-time. It provides exactly the kind of jolt we could all use right now.
R.I.P., Mr. Van Halen.