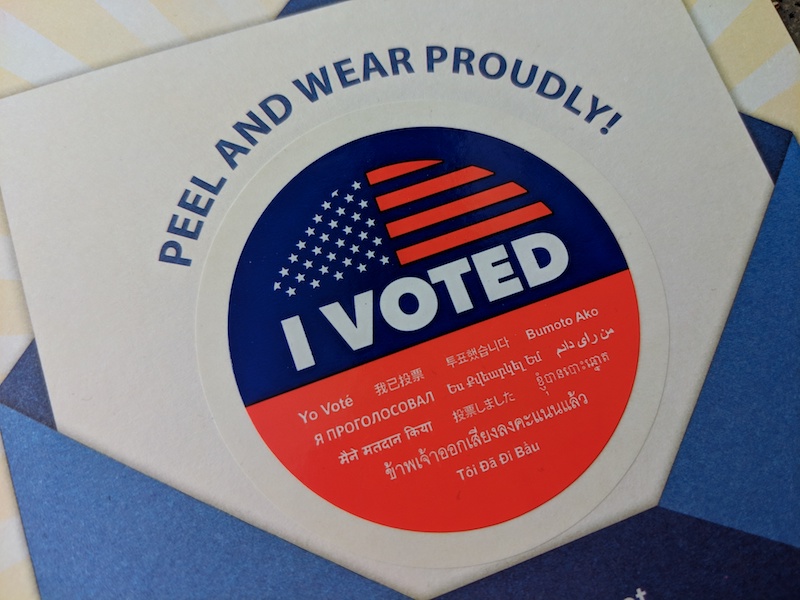 I'm sure you already know that we've got a big election coming up on November 3. If you don't currently have a plan to cast your vote, here's a handy guide on how to make sure your voice is heard.
Register to vote. If you haven't registered to vote yet, you can do so online here. You can also use this site to check your voter registration status. You must register by October 19. If you miss that window, go here. While registering online is the easiest option, you can also pick up a paper application at your local elections office. Find yours here.
If you want to see a sample ballot beforehand, know that you should receive one in the mail. However, you can see sample ballots online here. If you're not up to speed on this year's ballot measures, California's are listed here. L.A. County's are here.
Decide if you'll vote by mail or in-person. You can use this tool from the Los Angeles County Registrar-Recorder/County Clerk's office to make a plan to vote. You will enter your name, contact info, and whether you'd prefer to vote in-person or by mail. 

If you'd prefer to vote by mail, know that mail-in ballots began going out to all registered voters on October 5. You may have already received yours. If not, you can track your mail-in ballot here. If you do not get your ballot or something happens to it (say, your dog eats it or you spill a pot of coffee on it), request another one via your local elections office.
Okay, you've got your ballot! Now, you'll fill it out and seal it inside the envelope. Postage is prepaid, so no need to worry about a stamp. Sign and date the back of the envelope where indicated. To be counted, your ballot must be postmarked by November 3.

You could mail your ballot or take it to a vote center, which open on October 24. However, this year, you can also take your mail-in ballot to one of over 400 secure drop boxes. Drop boxes opened on October 5 and you can find the nearest one with this map.

Once you've turned in your ballot, you can check its status here. Find more information about voting by mail, including what to do if you forget to sign your ballot, here.
If you'd prefer to vote in-person, voting at the County Registrar-Recorder headquarters in Norwalk is available now. L.A. County Vote Centers will be open October 24 through November 2 from 10 a.m. to 7 p.m. On Election Day, November 3, they'll be open from 7 a.m. to 8 p.m. Social distancing and face coverings will be enforced, so don't forget your mask! (If you do, a mask will be provided.) You can see a map of vote centers here. Find more information about voting in-person here.
Here are some additional resources and fact sheets if:
You are displaced by a natural disaster.
You experience a medical emergency.
You have a disability.
You are experiencing homelessness.
You have a criminal conviction and need to restore your vote.
You are a student currently living elsewhere.
You are in the military or a civilian living overseas.