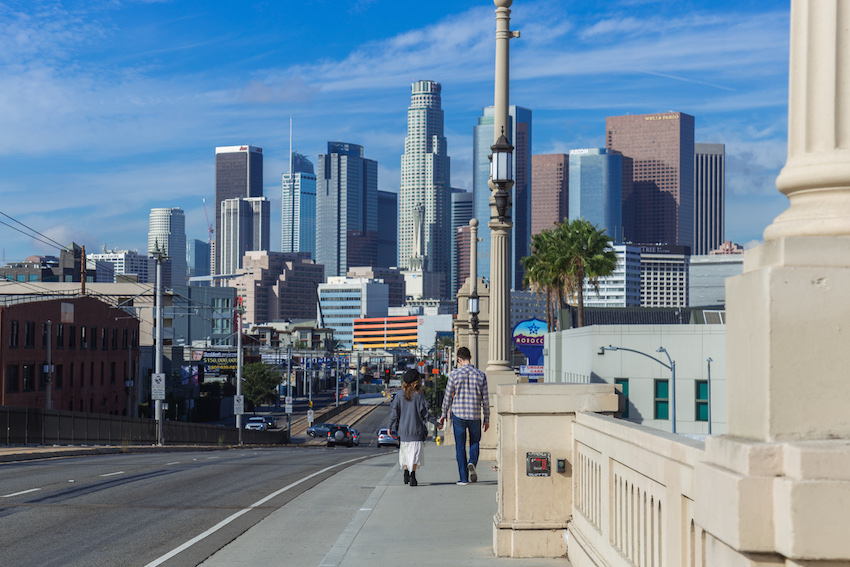 In today's brief: Public Health drops October reopening dates for certain sectors, the Times reports on big money in the race for D.A., and tech workers flocking to L.A. have helped keep the real estate market on fire. Finally, can architectural design combat homelessness? First, news and stuff.
Morning News Rundown
Earlier this week, the L.A. Board of Supervisors voted to lift restrictions on specific business sectors as the county broadens its reopening. Yesterday, Public Health announced timelines for reopening limited indoor operations at nail salons (Oct. 1), outdoor operations for cardrooms (Oct. 5), and indoor shopping malls (Oct. 7). Playgrounds can reopen at the discretion of specific cities/agencies, and schools wanting to offer in-person instruction for grades TK-2 may apply for a waiver starting Oct. 5. No specific dates have yet been announced for the reopening of outdoor operations at breweries and wineries serving a meal, though that should be ironed out in the coming week. [Public Health]
To paraphrase Lester Freamon, if you follow the money, you don't know where the f*** it will take you. On that note, a new report by the L.A. Times tracks mega donations flocking in for the hotly contested race for District Attorney. [L.A. Times]
An earthquake swarm unleashed a series of small tremors near the Salton Sea this week. What the hell is an earthquake swarm? According to USGS, it's "a sequence of mostly small earthquakes with no identifiable mainshock." They're usually short-lived, but can last for days, weeks, or even months. [CBS Los Angeles]
There's a common narrative that people fleeing urban areas in the face of the pandemic might put downward pressure on the housing market in big cities like Los Angeles. But it turns out not all big cities are created equal. Tech workers leaving the Bay Area and New York are flocking to L.A. during the pandemic, which in turn has kept the local real estate business unexpectedly strong. [dot.la]
In another bad sign for the future of movie theaters, earlier this week, over 80 influential filmmakers signed a letter urging Congress to provide assistance to struggling theater owners impacted by the ongoing COVID-19 crisis. [Hollywood Reporter]
Whether you're looking at raw data or anecdotal evidence, the relationship between the community and law enforcement in Los Angeles has never been worse. [LAist]
Can Architectural Design Combat Homelessness?
We all get that housing and affordability are a central part of the homeless crisis, maybe the most important part. The plain fact is if we really want to lower costs we'd have to make L.A. so undesirable that people are driven away in droves (I mean, it could happen) or simply build more. But densifying neighborhoods and constructing more units often draws stiff opposition, whether it's NIMBY homeowners associations who don't want intrusion on the "character of their neighborhoods," more broad concerns over gentrification and/or displacement, battles over what is or is not affordable housing, or red tape that prevents projects from moving forward. It's a sticky problem. But can pure design innovation really outmaneuver the very real obstacles? That's a question Los Angeles Magazine wanted to think about in a new story published online yesterday. From the article:
"Over the past year, Los Angeles invited 13 of the city's top architectural firms to leverage their design expertise to come up with innovative concepts for affordable or permanent supportive housing. Their ideas, which include maxxing out the number of ADUs on a lot and devising mobile dwellings that fold out of a suitcase, range from the eminently doable to the futuristically far-out."
Check out all of the designs here.