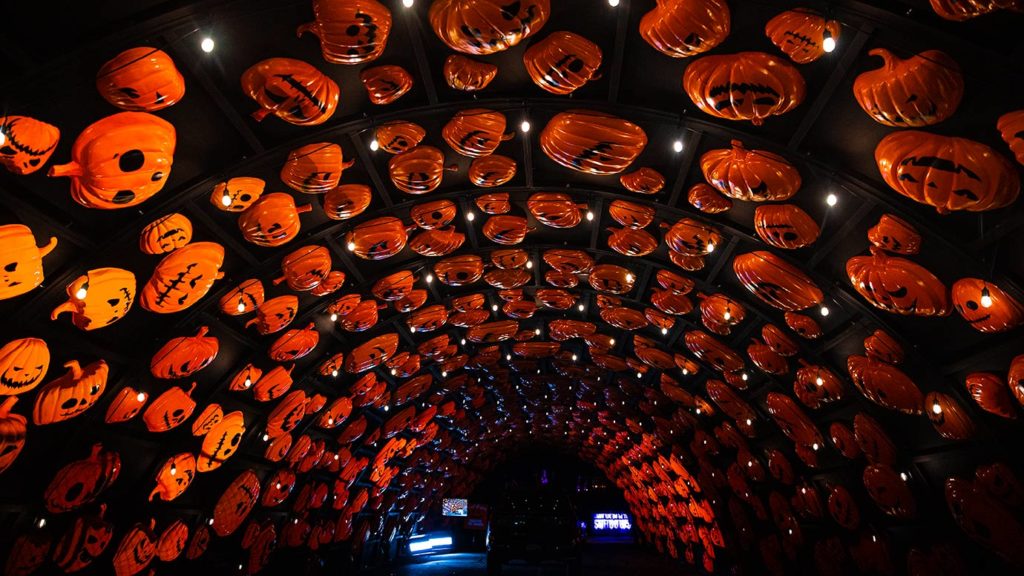 [Updated October 27]

Of all the years for Halloween to fall on a Saturday, right? COVID-19 restrictions aside, there are still plenty of things families and thrillseekers can check out this Halloween, ranging from seasonal food fests to outdoor and drive-in frights. Here, we'll keep a running list of options that a) haven't sold out yet and b) align with the County's safety guidelines as the holiday approaches. As a reminder, you can find Public Health's Halloween guidance here.
The following events are divided by in-person and online or at-home events. In-person events might include drive-ins, outdoor dining and food fests, and outdoor haunts, activities, art displays, or pumpkin patches. At-home events include mystery/puzzle boxes, virtual escape rooms and games, themed party packages, locally produced horror podcasts and films, and more. Happy hauntings!
In-Person Events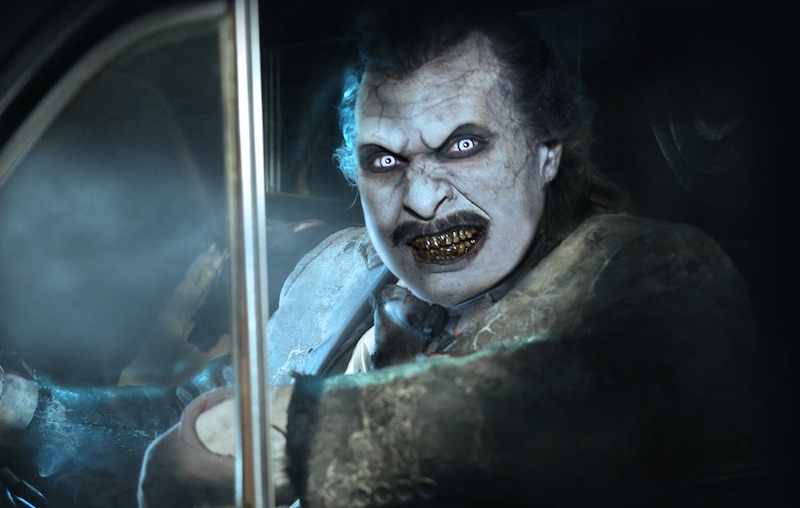 Haunted Hayride (Drive-Thru)
Los Angeles Haunted Hayride is a "drive-up" experience this year at Bonelli Regional Park in San Dimas. You'll stay in your car as you drive down the ominous "All Hallows Lane" to your final destination: a narrative, multimedia show that unfolds via lighting, sound, special effects, creepy sets, live actors, and a 40-foot screen. Expect short horror films, music videos, and roaming monsters (but only after you're safely parked). Open September 25 through November 1. Tickets start at $49.99.
Tortured Souls Threshold
Zombie Joe's Underground Theater is offering a private, outdoor horror experience for up to two people at a time. Tortured Souls Threshold is a 20-minute show about the guests trapped within the theater. As such, guests can watch the phantoms play out their eternal hauntings from open-air thresholds or around the perimeter of the theater, but the living are not allowed indoors. Masks must be worn at all times. Open Weds.-Sun., October 21 through November 1. Tickets are $35 per time slot (two people max) and available online.
The Bite (Drive-Thru)
The Bite LA: Halloween Food Crawl and Creature Safari is a drive-thru event that combines bites with frights. Your party will drive slowly around Legg Lake in the Whittier Narrows Natural Area, stopping along the way to enjoy eight different seasonal foods served by sinister characters. As you progress, you may notice some creatures lurking in the scenery. Use a flashlight to attempt to spot them as they prowl. Eventually, you'll arrive at a virtual 'campfire' where you'll park to hear ghost stories and enjoy desserts and hot cocoa, cider, or coffee. Open select dates throughout October. Tickets are $38 to $98 per person.
HauntO'ween (Drive-Thru)
Families can enjoy trick-or-treating, photo ops, and scenic drives through jack-o-lantern tunnels all from within the safety of their vehicles at this Woodland Hills event. It'll be spooky, but not scary, so it's appropriate for all ages, and kids will leave with candy and a pumpkin to carve at home. Open daily October 9-31. Tickets are $70 per car.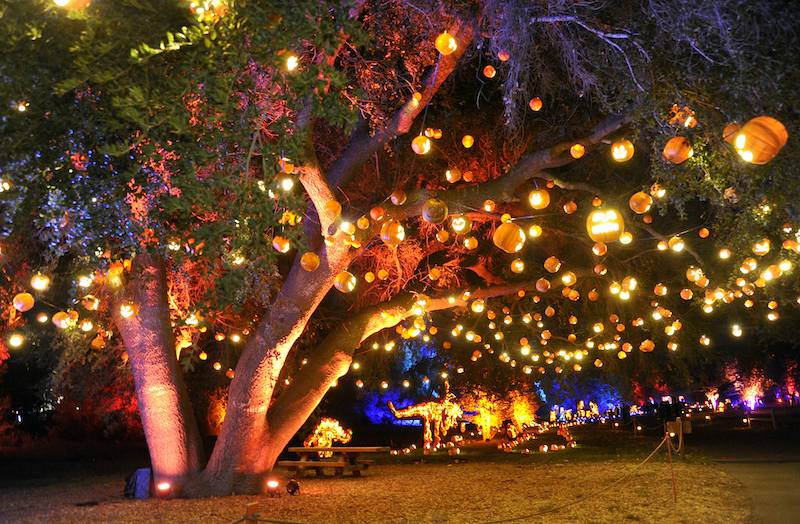 Nights of the Jack (Drive-Thru)
Nights of the Jack is a drive-thru spectacle of thousands of hand-carved and illuminated jack-o-lanterns at the King Gillette Ranch in Calabasas. Some pumpkins are even assembled to form sea creatures or dinosaurs. Open October 1 through November 1. Tickets are $69 per vehicle (up to seven people).
Legion M will celebrate the 2-year anniversary of MANDY, a very bizarre horror film starring Nicolas Cage as a logger out for vengeance, with a series of drive-in screenings around the country. Catch it at the Vineland Drive-In Theater in the City of Industry on Oct. 30. All guests will receive a free box of Cheddar Goblin mac & cheese (which makes perfect sense if you've seen the film) while supplies last. Tickets are $10 for adults at the box office.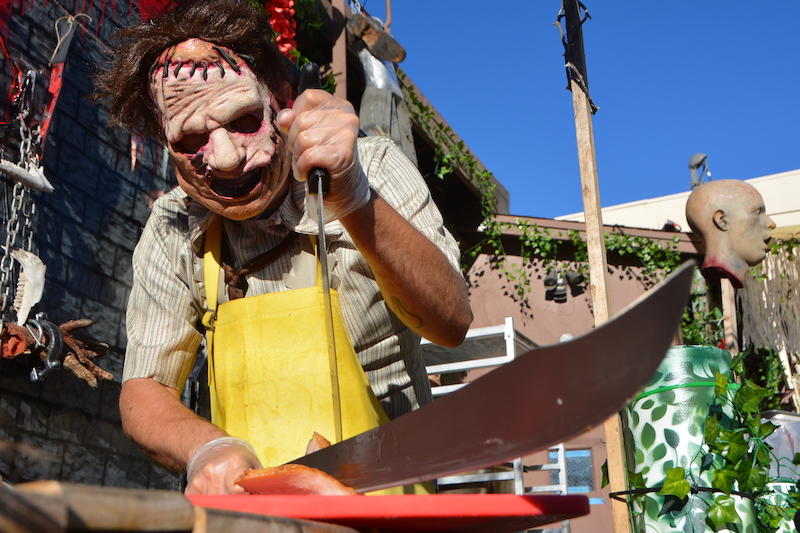 Dirk's Terror Tavern
This horror-themed bar in Sherman Oaks currently offers plant-first fare, craft beer, and cocktails on its outdoor patio, known as the Lost Bar. Select weekends offer Texas Chainsaw Massacre-themed BBQs with meat or vegan mains, plus all the fixings. Read more about Dirk's here.
Tanaka Farms Pumpkin Tours
Tanaka Farms in Irvine is offering family-friendly, interactive, pumpkin-themed experiences on its 30-acre farm through October. Highlights include picking your very own pumpkin right out of a real pumpkin patch and watching the team launch pumpkins into the sky from a cannon.
Ha-LOWES-Ween

Lowes Santa Monica Beach hotel has outdoor movie screenings and tarot reading Halloween weekend. On, October 30, watch Hotel Transylvania at 8 p.m. on the pool deck. On October 31, catch a double feature with Hotel Transylvania and Hocus Pocus kicking off at 6 p.m. and tarot card readings from 7:30-9 p.m. Tickets for both nights are $35 per person (or free if you're a hotel guest) and include reserved seating, popcorn, candy, and a soft drink. Call 310-576-3180 for reservations.
Things That Go Bump in the Night
California Botanic Garden has turned its family-friendly "Things That Go Bump in the Night" event into an activity box and scavenger hunt. The box contains a sterilized owl pellet, kid-safe dissection tools and tray, a bone chart, and an envelope to hold findings. It also contains an activity book, crayons, a plush bat puppet, an origami craft, native seeds to attract nighttime pollinators, "a creepy crawly surprise," and a print out of clues to the Garden scavenger hunt, which kids can solve at the garden October 3-31 during regular hours. Purchase boxes for $65 ($60 for members) starting October 1 for pickup October 16.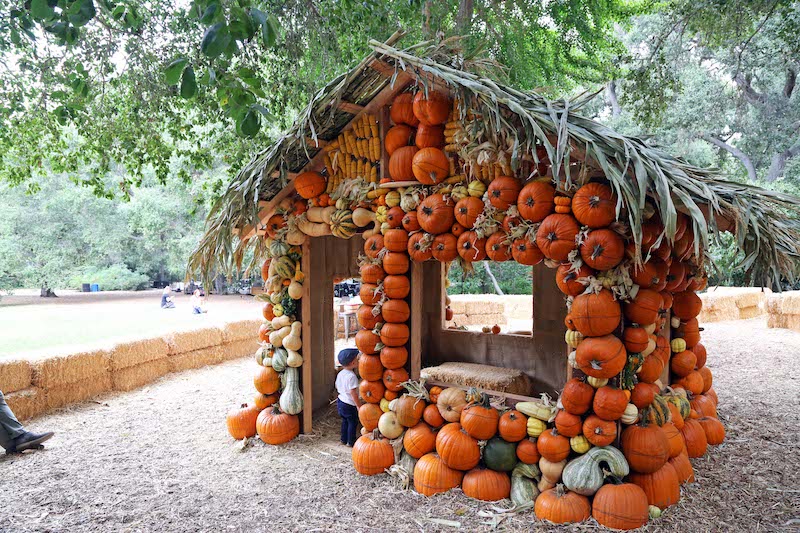 Descanso Gardens
"Halloween at Descanso" is a socially distant "pumpkin-filled extravaganza" featuring a winding hay maze, a house built entirely out of pumpkins, a pumpkin arch that leads to a forest filled with pumpkin-headed scarecrows, and colorful pumpkin mandalas. Open October 1-31, though we'd suggest going after October 10 for maximum pumpkin. Tickets are $4-$15 and must be reserved online in advance.
A Gentle Drive-Thru & Haunted Barnyard (Drive-Thru)
The Gentle Barn in Agua Dulce is offering a Halloween edition of its drive-thru animal tour. Enjoy a behind-the-scenes tour of the Sun Chlorella: Healing Center and the Gentle Barn, replete with Halloween decor, from the safety of your vehicle. Guests may wear costumes and will receive candy. Open Sundays through November 1. Tickets are $28/person (two-person minimum) and include lunch.
From October 22 through November 6 at 7:30 p.m., they'll host a scarier, Haunted Barn experience that takes guests through the "Haunted Woods" and a zombie-infested graveyard. Guests remain in their cars as audio tracks guide the way. Though you may see ghosts and ghouls, there are no animals at this one so don't worry about them getting scared. Tickets start at $28/person. Suitable for ages 13 and up, costumes encouraged.
Home Haunts
The SoCal Haunt List is a huge list of home haunts including yard displays and drive-by installations that you can check out this year. Locations include the Valley, Santa Clarita, the Simi Valley and beyond, so definitely a lot to choose from, especially if you feel like going for a drive. For example, you might try Catastrophe Cabin in Glendale. This year, they'll provide the "tricks" via their socially distant yard display, and you'll provide the treats. Well, in the form of commercially prepared, unopened food and personal hygiene products or cleaning supplies, which will be donated to the Glendale YWCA or Burbank Temporary Aid Center. Open October 24 through November 1, 7-9:30 p.m. Suitable for all ages. Or, check out Beware the Dark Realm in Santa Clarita, an immersive visual display raising funds for Family Promise. Open select nights in October from 7-10 p.m.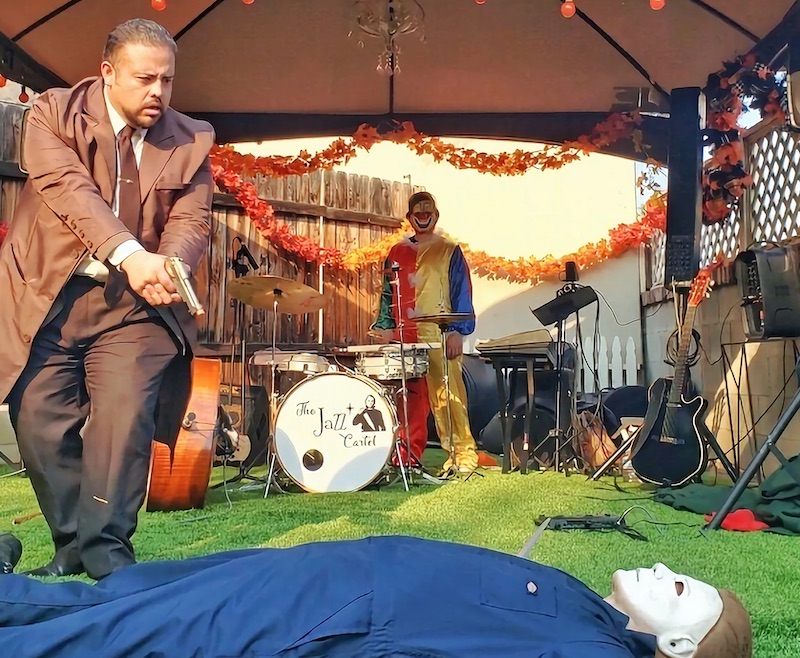 SugarMynt Gallery
SugarMynt Gallery in South Pasadena is home to a spooky art gallery located behind the Michael Myers house from Halloween. This October, join them for outdoor horror movie nights on select nights, free with gallery admission. On other nights, The Jazz Cartel performing the Halloween soundtrack as The Three Michaels. BYO chairs, blankets, drinks, and food. Social distancing will be enforced during the screenings. $25.
Mr. Jack O'Lanterns Pumpkin Patch
Mr. Jack O'Lanterns Pumpkin Patch will open its Hollywood location on October 3, offering in-person shopping, online ordering, delivery, and contactless curbside pick-up. They'll also be at the Original Farmers Market on October 10 & 11.
Fright Farms
Fright Farms is a drive-thru immersive experience in Norco. In the town of Hilldale, Emily Parker has gone missing. Her disappearance is accompanied by strange news reports. Guests will remain in their cars as they follow clues to discover what happened to Emily and what lurks in this otherwise sleepy town. Suitable for ages 13 and up. For those looking for milder thrills, the Not So Spooky Farm offers a map to uncover candy clues and is appropriate for all ages. Both events run October 26 through November 29. Tickets are $65 for Not So Spooky, $75 for Fright Farm, and $100 for both per car.
Randy's Donuts
All Randy's Donuts locations will give free candy-topped Randy's Rounds to children 15 and under on Halloween while supplies last. Costumes welcome, but not necessary.
Citadel Outlets
Citadel Outlets has a gigantic steel pumpkin that stands 16 feet tall and weighs 1,500 pounds, plus a spooky display for family-friendly photo ops. Families can also ask for a self-guided map and stickers at Customer Service to play the "Let's Track Jack & His Friends" scavenger hunt. Find all 12 characters and win a prize. On view October 1-31.
L.A. Arts Society
L.A. Arts Society's drive-in cinema has a slew of horror movies coming up this month, ranging from earlier, "spooky" screenings to later "dark" screenings at Gardena Cinema in Gardena. Spooky offerings include The Addams Family and The Corpse Bride, while the late-night frights include gorier fare, like The Texas Chainsaw Massacre and Candyman. Tickets start at $25 per vehicle. Feel free to bring your own food, though concessions are available. Check out the complete lineup here.
The Beverly Center
The Beverly Center is opening a pumpkin patch on October 18 at the 3rd Street entrance. Guests can browse pumpkins (priced $2-$10, depending on size), watch carving demonstrations, pose at photo stations, and sip pumpkin spice lattes. The patch will be open through November 17, though you can only buy pumpkins until October 31. Hours are Mon.-Sat., 11 a.m. to 8. p.m. and Sundays, 11 a.m. to 6 p.m.
Haunted Los Angeles Tour
L.A. Magazine has a self-guided audio tour of true crime, Los Angeles history, and general creepiness in downtown L.A. When you arrive at any of the tour's 10 locations, GPS will trigger audio to tell you more about it. Learn more here.

LA Ghosts
LA Ghosts can't run its in-person tours this year, but they do have four new ways to celebrate. Ghostflix lets you watch ghost tours from home, you can ask Alexa or the Google app to tell you a ghost story, or you can download the app Junket, which uses GPS to tell you tales of haunted L.A. locations. You'll need ten Junket tokens for LA Ghosts' tour, which comes out to $9.99. They're also selling a haunted doll named Lily, Halloween's answer to the Elf on the Shelf if you really just want to live in a nightmare world.
Level 8 Fright Nights Drive-In
Level 8 Fright Nights Drive-In is a family-friendly, drive-in film series. On Oct. 28, see Beetlejuice. Tickets include a meal from Picnic Society by Gwen that includes fried chicken, Mac & cheese, crudité, cookies, snacks, and water. Tickets are $60 for two people, $85 for three, and $110 for four. Get them here.
At-Home and Online Events
PARA

PARA is a live virtual reality haunted house, meaning every actor you experience is actually performing live, from their headset to yours! The entire experience takes place using the app VRChat, which allows you to move through virtual worlds as an avatar, talking to and interacting with other people. PARA exists in a private world in the app. Per PARA's creators: "Guests will arrive at the seemingly innocuous PARA headquarters for a tour of "the next big thing," the latest AI products. They are drawn into a maze of confusion where things are not as they seem. You will run for your life as you try and find your way out of this mad world." The experience is about 20 minutes long, available on various dates through October 31. Tickets are $10.
Murder…Without a Clue
"Murder…Without a Clue" is an online murder mystery comedy game set in the 1960s. You and your team are the elite guests of Col. Grady Pupon's benefit auction gala. Each of you has a specific role to play as you decipher clues, all emailed to you prior to the show. Could the killer be you? Maybe! Tickets are $35 per person or $50 per household. Book your game here.
Fun Size Horror's Shocktale Party
Fun Size Horror's Shocktale Party, Season 2 is available to watch on Amazon Prime. Episodes include terrifying horror shorts interspersed with a public access-style comedy show featuring puppet hosts Screwball and Mistress Minerva. They'll also interview the filmmakers, assuming they do not eat them. Shocktale Party previously debuted last year at Alamo Drafthouse in DTLA back when there were, you know, movie theaters. There were some true gems in there for fans of both horror and horror-comedy.
One Day Die
One Day Die is an at-home immersive experience from filmmaker Darren Lynn Bousman, whose previous Halloween events have included Theatre Macabre and The Tension Experience, plus magicians Daniel Garcia and Blake Vogt, screenwriter Joshua Ryan Deitz, and tech agency Purple, Rock, Scissors. Participants will buy a ticket for a specific showtime, then receive a personalized box in the mail that they won't open until their show. At that time, they'll engage in an online seance to speak with the dead. One Day Die has been selling out, but you can sign up for its mailing list to be notified when new batches are released. Select dates through October. Tickets start at $125. You can also engage with the story on Instagram.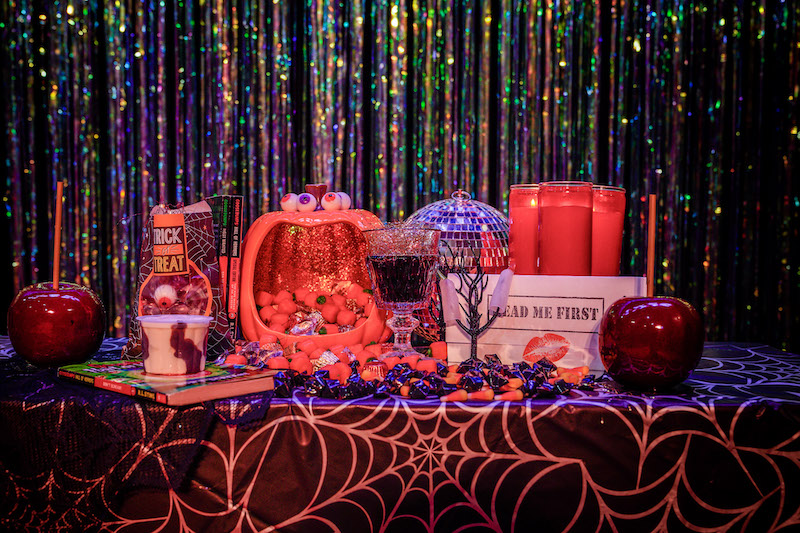 QuaranSCREAM

QuaramSCREAM is a live, online theater experience that adapts the 90s horror-comedy Scream for an online audience. In this version, the characters are trapped in their homes due to the pandemic when a masked killer arrives. The story unfolds over social media and video chat and the viewer can participate in a drinking game and chat. Upcoming dates include Oct. 30 at 7 p.m. Tickets are $30.
Hocus Pocus
From After Hours Theater Company comes Hocus Pocus, a 90-minute mixology session from the Sanderson Cousins (yes, cousins). These witches will host their musical class online, extolling on the art of spells and potions you can drink. Each witchcraft kit, which will be shipped the Monday before your experience, includes a "black flame" candle and the ingredients to make three potions (each potion serves two). Runs Fridays and Saturdays starting Oct. 9 at 6 p.m. Tickets are $69 for non-alcoholic potions, $79 for boozy ones.
The Sleepover is an hour-long immersive online event set at a 6th grade slumber party in the 1990s. Read diaries, log onto AOL, tell ghost stories, watch SNICK, discuss the finer points of R.L. Stine's oeuvre. Tickets are $19.50 for general admission or $49.90 gets you a VIP box full of 90s appropriate snacks and literature. Available select dates throughout the month. Read our review here.
My Name is Jamie
From escape room The Basement in Sylmar comes My Name is Jamie, an online horror experience for you and your friends. Jamie has been kidnapped and it's up to you to help her get free. This is a live, interactive puzzle game that requires teamwork and quick thinking. The experience lasts 45 minutes. Tickets are $20.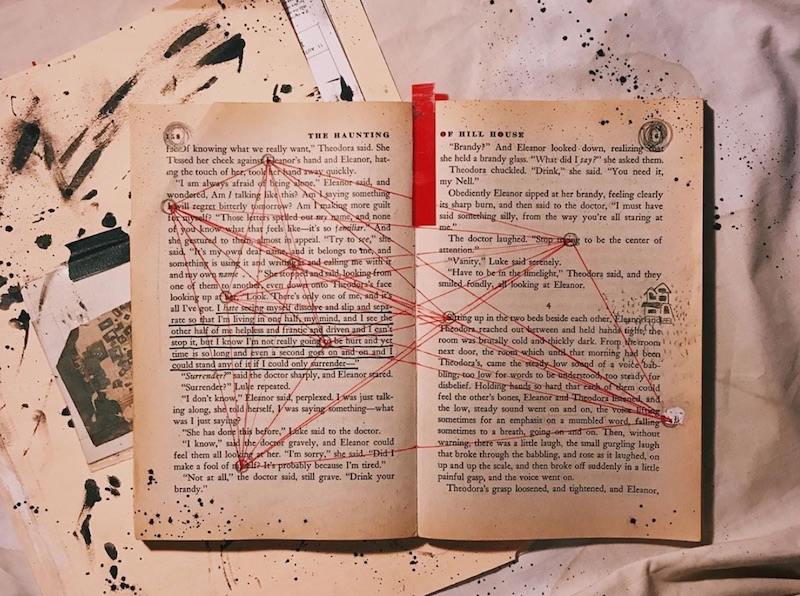 In Another Room
E3W Productions' In Another Room has become a favorite Los Angeles haunted house for immersive theater fans. It's not happening this year for, well, obvious reasons, but you can still check out their compelling ghost stories through a new podcast from The Violet Hour. All eight episodes of In Another Room are available now for your listening pleasure here.
The Light House
Author Jeff Heimbuch's Light House is a disturbing ghost story that revolves around one very unfortunate home. To explore the house and the chilling grip it's held over one woman and her family for decades, listen now via iHeartRadio.
Serial Killer Speed Dating

Serial Killer Speed Dating is a great way to meet someone new, depending on who it is you meet. This online speed dating event is full of hopeful singles and at least one killer. It's your job to figure out who's who. It's kind of like Among Us, with romance! Serial Killer Speed Dating is currently in beta throughout October, so anyone—single or taken—can participate. Tickets are $15.