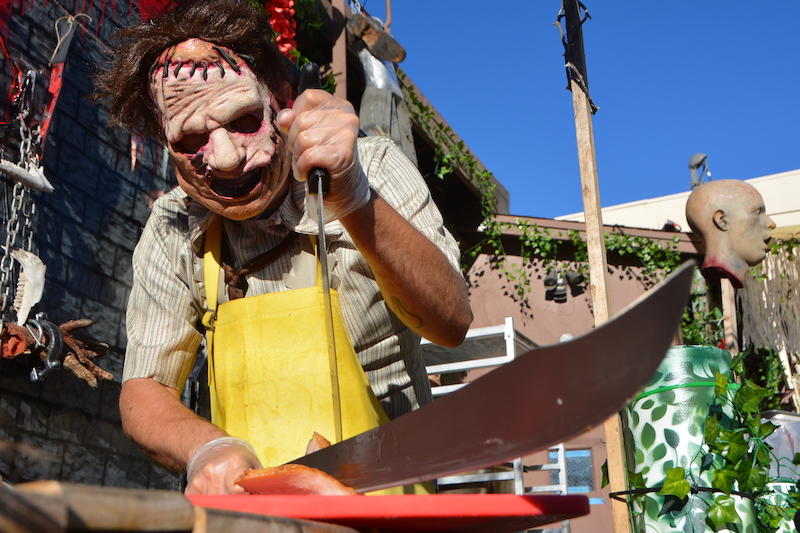 There's only one place in town that offers a Texas Chainsaw Massacre BBQ (vegan options, oddly enough, available), and that's Dirk's Terror Tavern in Sherman Oaks. Though the pandemic has prevented this horror-themed bar and restaurant from its full grand opening, you can still swing by for a spooky meal and a tiki cocktail al fresco. 
The eponymous Dirk Rogers, who helms the bar with partner Soni Benson, saw Godzilla when he was just a small child. From that moment on, he knew exactly what he wanted to do: make movie monsters. As an adult, he worked in prop shops, then on music videos, and ultimately landed at Screaming Mad George FX and later KNB FX, the studio that does effects for The Walking Dead among myriad other properties. All told, Rogers has spent some 30 years both collecting and making practical special effects.
Rogers met Artisanal Brewers Collective (ABC) owner Tony Yanow through a Halloween party he threw for 25 years called "Dirk's Festival of Madness." 
"I would spend six months building it. It was a giant maze. There were stripper poles on coffins, fire pits. It was a hedonistic fun time for adults," he said. "People would come from Russia, China, Canada, Wyoming [and] everyone would get along."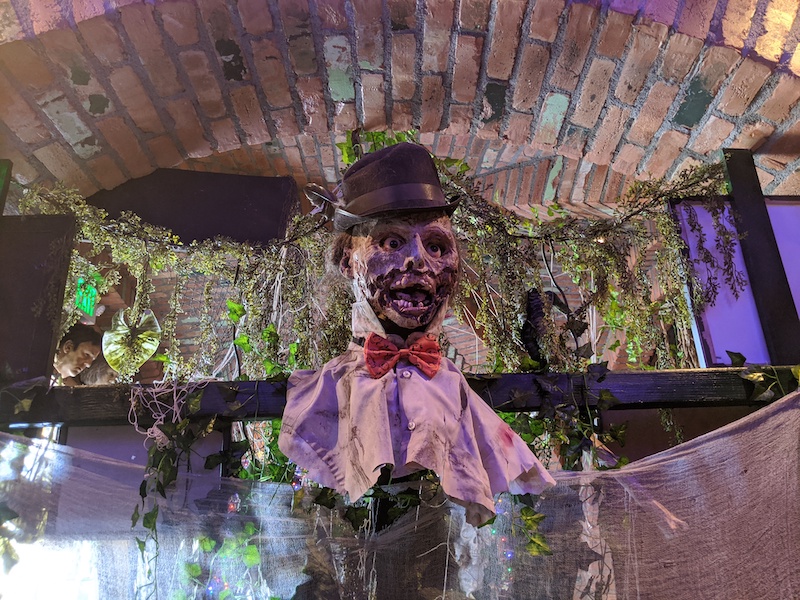 Yanow supplied the party's free-flowing beer for the last five or six years it ran. One year, he brought his daughter, who Rogers said walked in and exclaimed, "This needs to be a bar!" 
After contemplating one ABC property in Silver Lake, Rogers settled on transforming the Bluebird Brasserie in Sherman Oaks into his chamber of horrors. The Valley, Rogers maintains, is where the horror industry lurks, whether it's at Burbank's Halloweentown, Mystic Museum, or bookstore Dark Delicacies, or at the studios and makeup houses that support the genre's films. Plus, Bluebird Brasserie had the perfect bones. Modeled in the style of a Belgian brew cafe, its vaulted brick ceiling is a perfect cover for brooding nights. 
Out back, you'll find the Lost Bar, a patio lounge reminiscent of an ill-fated summer adventure. For now, this is the only area that's open to the public due to the pandemic.
The bar offers plenty of craft beers as Bluebird's brewery is still up and running, or you could try one of the house cocktails, each named after a different episode of Black Mirror. "White Bear" is a particularly grisly episode of the series, but at Dirk's, you'll find it's a tropical slushy with rum, coconut cream, orange, and pineapple. You could also request the Black Lagoon, made with rum, falernum, cassis, and activated charcoal, and topped with toasted coconut, an aloe leaf, and a little skull.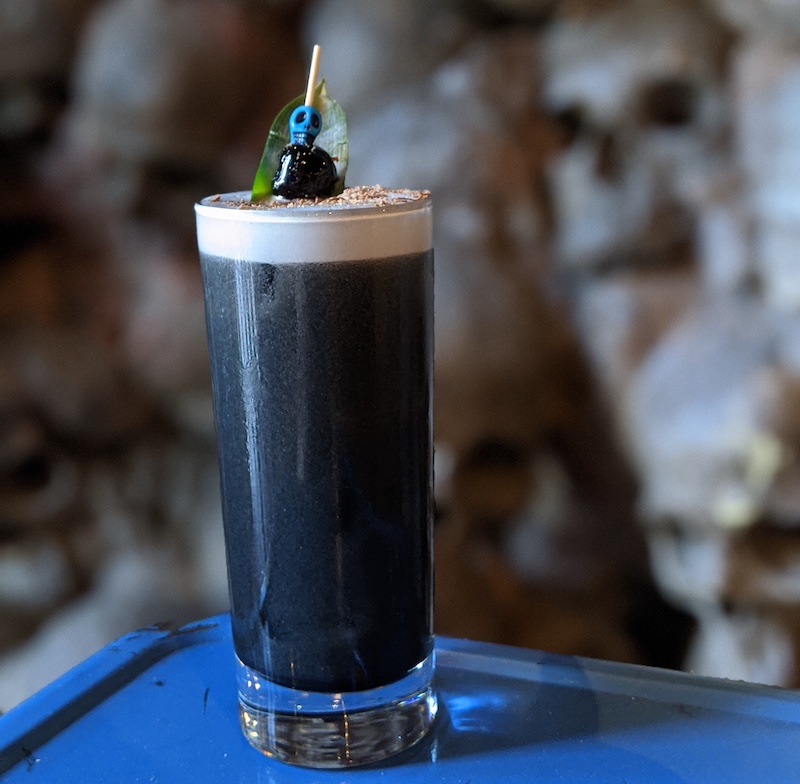 The food menu at Dirk's skews vegan, though meat-eaters can request substitutions. 
"It's kinda the opposite of when you go to any restaurant as a vegetarian or vegan. There's all this meat-centric stuff and then you can sub a garden patty. Here, it's all plant-based and then you can sub a meat burger or sub chicken," he said.
Highlights include the cauliflower or kale and mushroom tacos, pizza, kimchi burgers, and a "Halalraiser" plate of vegan merguez with rice, romaine, pickled red onion, cucumber, tomato, olives, and red and white sauce. On select weekends, they do a ticketed Texas Chainsaw BBQ where Leatherface himself will serve both meat and vegan fare with all the fixings.  
When guests can actually go inside Dirk's Terror Tavern, they'll find horror props and memorabilia at every turn, including at themed tables. There's a Haunted Mansion section, replete with the mansion's lavender wallpaper, gargoyles, and photos of the attraction's construction. Another section pays homage to horror-adjacent music and includes the beating heart from NIN's "Closer" music video and Iron Maiden's "Number of the Beast" devil mask. There's a tribute Black horror, the table plastered with scenes from Blacula and Get Out and photos of Grace Jones, Pam Grier, and Predator star Kevin Peter Hall. Another section is full of Japanese kaiju like Godzilla, Mothra, and Rodan.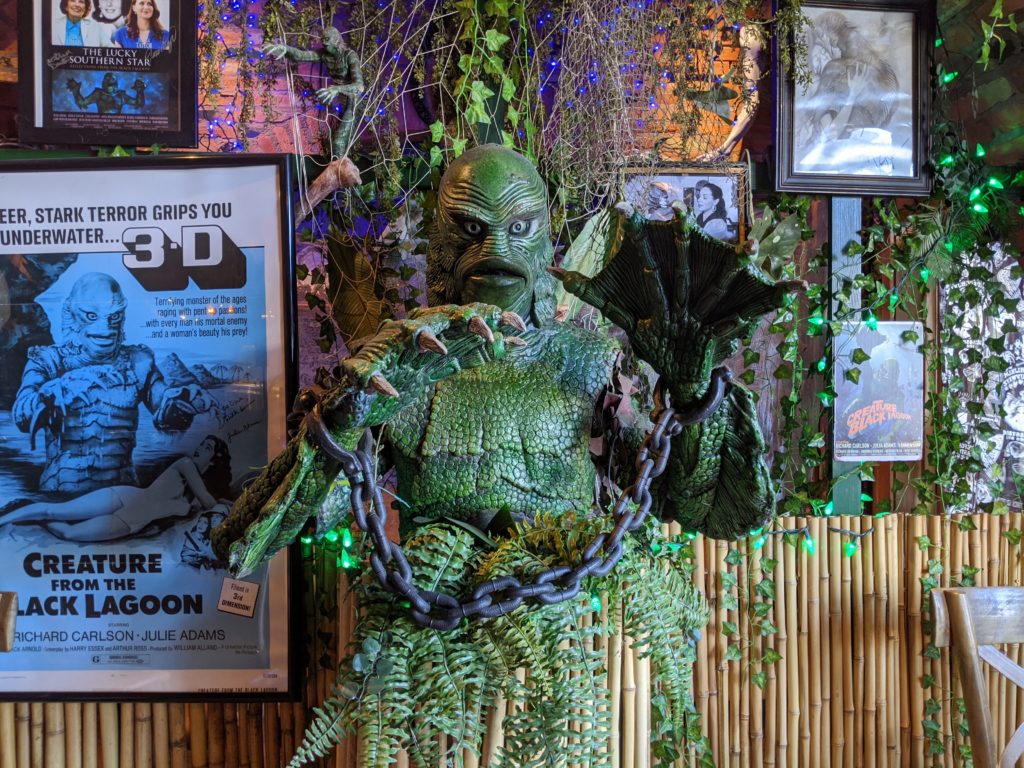 Most of the items are from Rogers' own collection or were given to him by friends and colleagues. Among the many cabinets, shelves, and corners, you'll also find the sewer monster from Big Trouble in Little China, Xenomorph eggs, and the faces of Lon Chaney, Jr., Vincent Price, Bela Lugosi, and Boris Karloff. There's even a Freddy vs. Jason foosball table specially made for the bar while a skull wall inspired by French catacombs serves as a photo op. Near the brewing tanks, a small stage currently sits empty. But one day, Rogers hopes to host conversations, podcast tapings, and other events with horror industry icons. 
While traditional haunted houses may be closed this year, Dirk's will at least provide a solid spooky time for those comfortable with outdoor dining (takeout and curbside pickup are options, too). But make sure to wear your mask when you arrive—your cloth one, not a hockey mask, someone else's face, or a white-painted William Shatner mask.
Dirk's Terror Tavern is located at 13730 Ventura Blvd. in Sherman Oaks. Hours are Tuesday through Friday, 4 to 10 p.m., Saturday and Sunday, noon to 10 p.m.