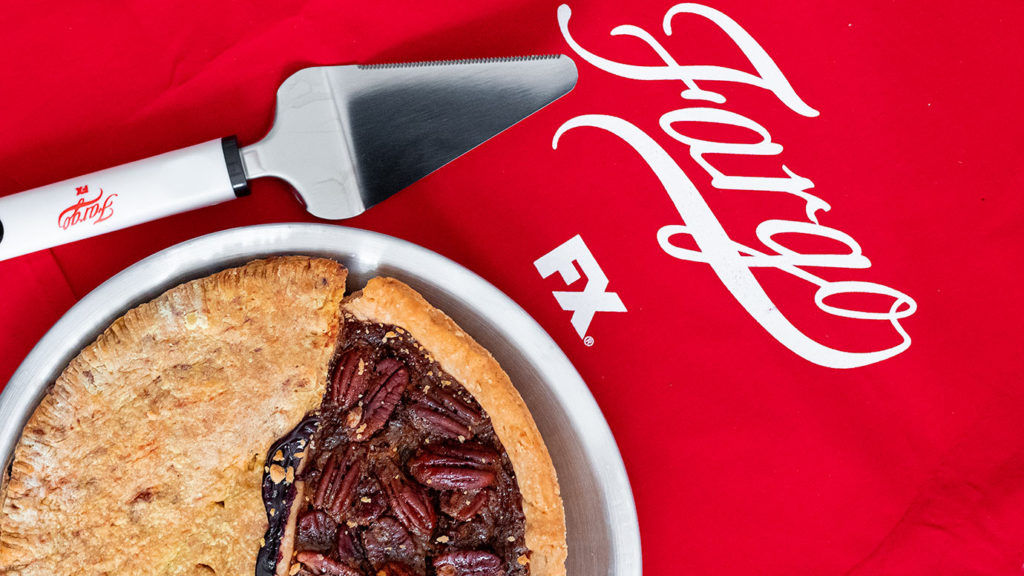 Fargo's fourth season is set to debut this weekend. This time, the anthology series takes us to Kansas City in the 1950s as two rival crime syndicates jockey for control. As everyone fights over their "piece of the pie," fans can enter a contest to win a free pie created by one of five different chefs. 
There's a phrase you've probably heard before: "as American as apple pie." But really, there are numerous cultures that intersect in our culinary landscape. With "Fargo Flavors," you won't find an apple pie. Instead, Chefs Marcus Samuelsson, Daniela Soto-Innes, Einat Admony, Nyesha Arrington, and Alisa Reynolds each created their own unique recipe that ties to their heritage. 
Samuelsson's berry pie is made with cloudberries and a spiced Västerbotten cheese crust, which he says draws from his Swedish childhood and Ethiopean heritage. He serves it with a honey whipped cream. Einat Admony makes her pecan pie with Medjool dates and a tahini crust, which she says "encompasses so many childhood flavors and memories of mine as a Persian-Yemenite Jew who was born and raised in Israel." Native Angeleno Nyesha Arrington chose a lemon meringue pie, inspired by her great-grandmother Lena and to highlight one of her favorite local ingredients, Meyer lemons. 
Are you craving pie now? There are two ways to get some. First, you can enter a contest for a chance to win a Fargo Flavors Pie (while supplies last) that'll be delivered straight to your door. Just fill out the form here. 
Or, you can bake your own. Each chef's recipe is available to view online or to download as a PDF. Just select the name of the chef to learn more about their pie and see the recipe. 
You can watch Fargo Season 4 on FX starting September 27. Chris Rock stars as Loy Cannon, the leader of a new gang hoping to take power from an established Italian gang, of which Jason Schwartzman plays a young mob boss. Here's the trailer.