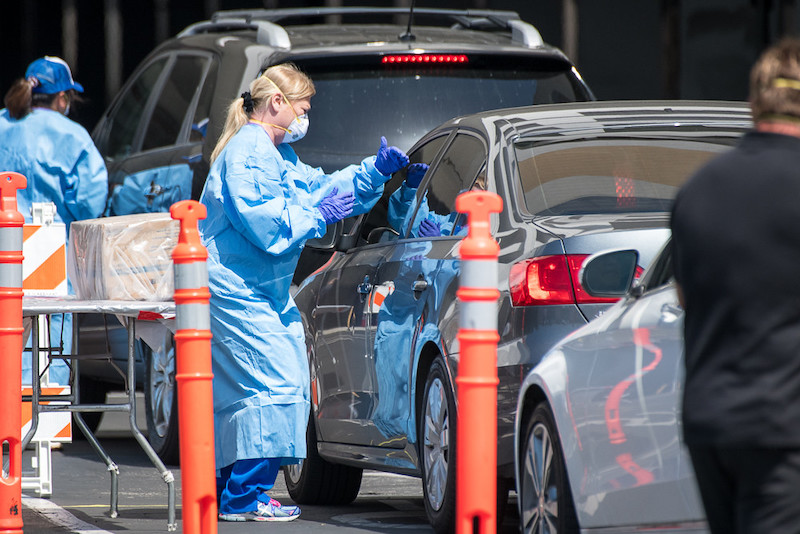 In the brief today: No measurable Labor Day outbreak, Joe Montana thwarts a kidnapping, and some crappy comments made by our Mayor regarding homelessness. Finally, when are we going to see flying cars in L.A.? First, news stuff.
Morning News Rundown
Whatever we're doing in regards to the coronavirus, let's keep it up. On Sunday, Public Health reported fewer than 700 patients hospitalized with COVID-19, the lowest number since the early days of the pandemic. Officials also said they do not believe the County experienced a significant surge in cases due to activities from the Labor Day holiday. That said, L.A. County is still experiencing wide-spread community transmission of virus and will remain cautious in reopening. [NBC Los Angeles]
On Saturday, a woman broke into the Malibu home of Joe Montana and attempted to kidnap his 9-month-old granddaughter. Montana and his wife Jennifer successfully fought off the would-be kidnapper, who fled the scene and was later arrested by the LASD. [CBS Los Angeles]
Protests demanding justice for Breonna Taylor continued in West Hollywood over the weekend. Several acts of vandalism allegedly took place, and ultimately six protestors were arrested. On Saturday, video emerged of an LASD deputy hitting a person multiple times with a riot shield they were detained face-down on the ground. [ABC 7]
A video excerpt from a private online Q&A event featuring Mayor Eric Garcetti may have him in deep doo-doo over comments about Los Angeles's unhoused population. The mayor was apparently addressing the staff of a large entertainment company when he described the City's role in L.A.'s homelessness crisis as "kind of like, at the Rose Parade, you know those folks who are dressed up in the cowboy outfits but they're behind the horses? Sweeping up everything that falls out of their rear ends?" So, yeah… horse crap. Even in the most charitable view, it's a clumsy analogy showing a clear lack of empathy. I definitely recommend watching the entire video of his comments for complete context. [Knock LA]
Ugh, it looks like we're due for another heatwave this week. Be prepared for temps near 100 degrees, increased fire danger, and gusty Santa Anas. [KTLA]
The Lakers are back in the NBA Finals for the first time in a decade, and now their matchup is set. They'll take on the Miami Heat, who bested the Celtics last night to advance. The Finals start Wednesday. [NBA.com]
Flying Cars in Los Angeles
As far as promises made by the sci-fi films of my childhood go, flying cars have to be among the most disappointing. When I was 10, I totally envisioned that by the 2020s, we'd be zipping around freeways in the sky without a care in the world. Turns out, traffic just got worse. But are we actually closer than we think?
L.A. Magazine recently spoke to Harrison Wolf, the Project Lead for World Economic Forum's Aerospace and Drones team. Wolf claims that in only five to seven years, we'll see a significant advancement in urban air mobility tech (aka flying cars). The end result will be something like oversized electric-powered drones big enough (and presumably quiet enough) to taxi Angelenos around the city, bypassing the mudflow of traditional auto traffic.
Of course, so many things have to go right to make this all happen. The technology needs to be improved, then go to scale. The city needs to have a framework for implementation and legalization. Safety measures and regulations would have to be enacted. And that's part of what Wolf's role has been, to create a set of principles and overall guidance for how lawmakers need to think about urban aerial mobility. In the best-case scenario, we're at "the beginning of a twenty-year story," according to Wolf.
I'm not banking on it. Too much lingering disappointment from childhood. But as I reflect on it, there are a lot of things I watched as a kid that have come true.
The LA Mag article opens with a reference to Doc Brown and Back to the Future 2, but frankly, I can't stop thinking about another, more dystopian version of the world. Given the cyber-punk esthetic of a masked population, the overt fascism in American politics, and the massive wildfires darkening the skies in recent weeks, aren't we pretty much already living in Blade Runner? I feel like flying cars would just about seal the deal.
Well, that and replicants.