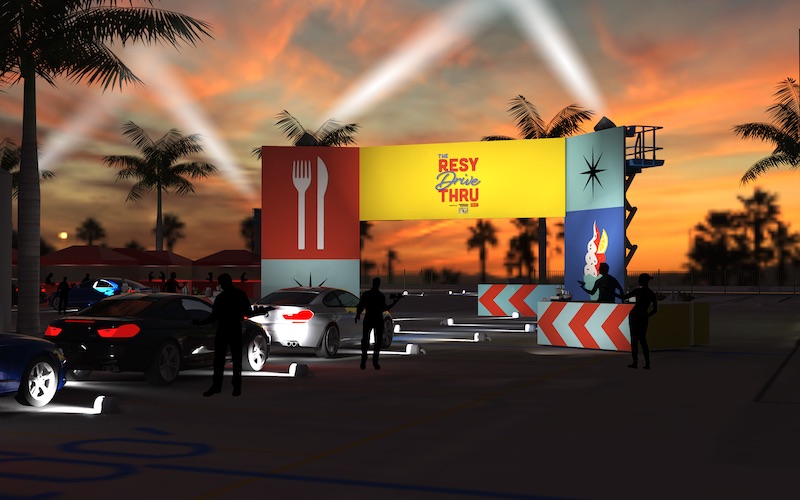 A 10-course drive-thru featuring some of L.A.'s best chefs is coming to the Hollywood Palladium on October 15 & 16. Each chef is creating a brand new dish just for the occasion. 
The Resy Drive Thru comes via Resy, an app you may have used in the past to secure a reservation at a restaurant, and American Express.  
Here's how it works: Guests will remain in their cars for the entire event. Each car will slowly wind through a labyrinth with a designated server who will take them from tasting to tasting. Each restaurant will have its own tent where they'll prepare one dish, which the server will bring to your car. Due to COVID-19, face masks must be worn when interacting with servers and other staff. Cars will be admitted in 15-minute intervals. 
Here's the menu:
Spicy Deviled Egg with Rice Cracklings (Keith Corbin, Alta Adams)
Thai Pasta Salad: Thai Basil Pesto, Grilled Gai Lan, Silken Tofu, Chile Oil (Kris Yenbamroong, Night + Market) 
Gochujang Glazed White Sea Bass with Local Greens and Toasted Sesame Vinaigrette (Nyesha Arrington)
Trap Kitchen Golden Rice with Chicken (Malachi Jenkins and Roberto Smith, Trap Kitchen)
Spiced Lamb Ribs, Tzatziki, Armenian-Style Spice Blend (Nancy Silverton, Osteria Mozza, Pizzeria Mozza, Chi Spacca)
Mortadella Sandwich with Truffle Pomme Fondue (Jon Shook and Vinny Dotolo, Jon & Vinny's)
Slow-Roasted Pork Collar with Bird's Eye Chile and Bagoong Coconut Cream. Caramelized Cauliflower and Shaved Turnips (Chad Valencia, Lasa)
Ricotta Cake Doughnut with Coriander Brittle, Lemon Curd, and Strawberries (Curtis Stone, Gwen)
Petits Fours: Houjicha Caramel and Ganache Tart; Pate De Fruit (Akira Akuto, Nick Montgomery and Jen Yee, Konbi)
Plus, each guest will receive a take-away item from Majordomo. American Express members will also get an amuse-bouche from Kismet. 
The Resy Drive Thru is on October 15 & 16 from 5:45-9:30 p.m. Tickets are $95 per person and can be bought as singles, or in groups of two, three, or four. You can purchase them now if you're an American Express® Card Members. Otherwise, tickets go on sale on September 30 at 10 a.m. 
A portion of proceeds will go to nonprofit World Central Kitchen. Hedley & Bennett will also donate 1,000 masks to World Central Kitchen and provide one face mask for each Drive Thru guest.