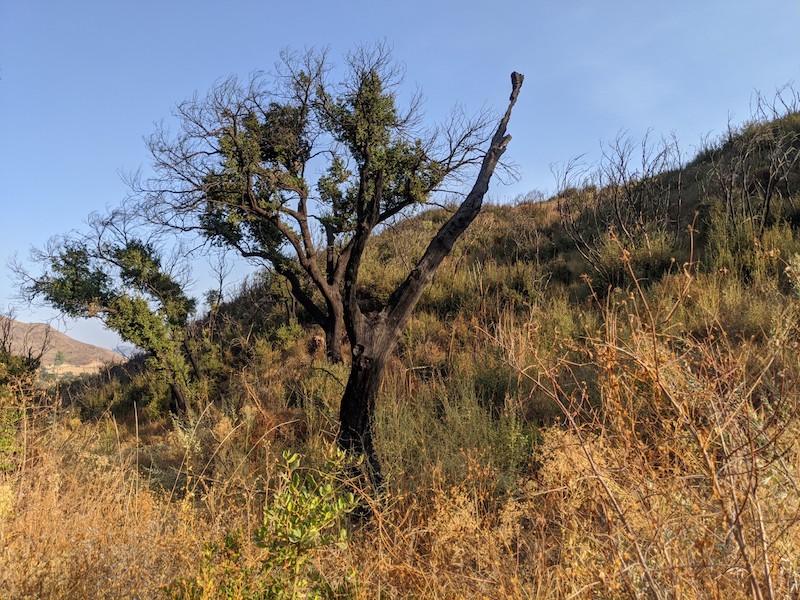 Fire Season, a new site-specific work from immersive theater company Capital W, asks you to explore the site of a recent burn while contemplating wildfires, climate change, motherhood, and mythology. It's live theater, but it's also socially distant and mildly apocalyptic—ideal for this time of overlapping disasters.
For some time, I'd tried to get someone to go to Paramount Ranch with me. I was on a real Westworld kick, but I don't have a car, so I needed a partner willing to drive. I didn't try that hard, though, and the weeks and months passed. And then, in November of 2018, it burned down. Nearly every Western-style structure, used in numerous films and TV shows since 1927, was gone.
"Doesn't it seem hotter than when you were a child?" Capital W co-founder and Fire Season writer/performer Monica Miklas asks. "It is. Doesn't the weather seem more calamitous?"
The total loss was much greater. The Woolsey Fire burned 96,949 acres, consumed 1,643 structures, and killed three people. That same fire season, the Camp Fire took nearly all of the town of Paradise, killing 86. As of September 28, CalFire lists the Camp Fire as the state's most destructive in history, while Woolsey sits at number eight. This year is proving even worse. Over 3.5 million acres of California land have burned this year alone. The Bobcat Fire has already burned over 114,000 acres and sits at 65% contained.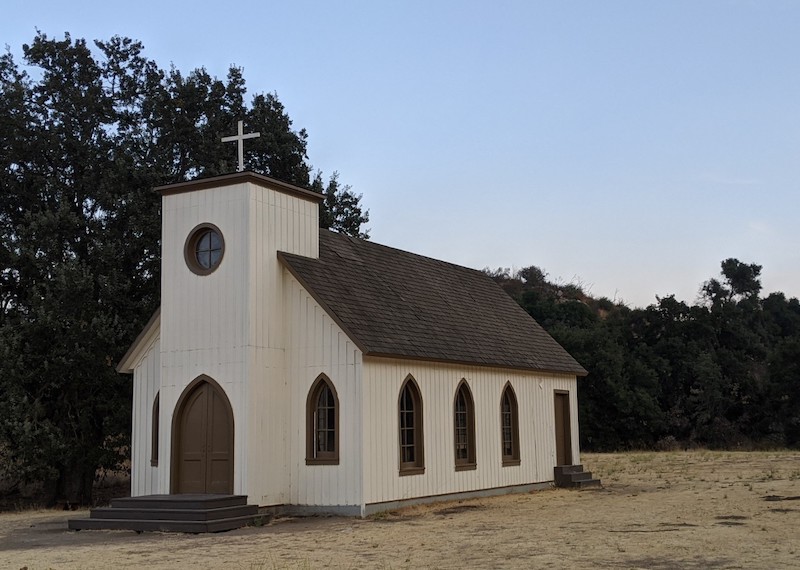 Fire Season guests will arrive at Paramount Ranch and park not far from the church building that survived the fire. (Yes, the Westworld church.) There will be a temperature check and you'll have to verify that you have no COVID-19 symptoms, nor have you come into contact with anyone you know to have had COVID-19 in the last two weeks. You'll receive a sanitized transmitter and headphones and a camping chair. That's how we do stuff now.

From there, you can wander the trails at your leisure. Blackened trees may remind you of the fire. Regrowth may distract you. Soon, a broadcast begins. Miklas reads essays as you journey on a socially distant path of your choosing. You can walk at any pace you like. If you get tired, you can sit at a picnic table or on a rock. The one thing you can't do is go too far. If you do, the transmitter begins to fail and Miklas's voice becomes laced with static.

She reads about the fire, the way it threatened her parents' home. She reads about falling in love and lust, the creation and permanence of plastic, rivers carving canyons then drying up, accidental lakes, and mythological mothers facing off against nature and hereditary demons.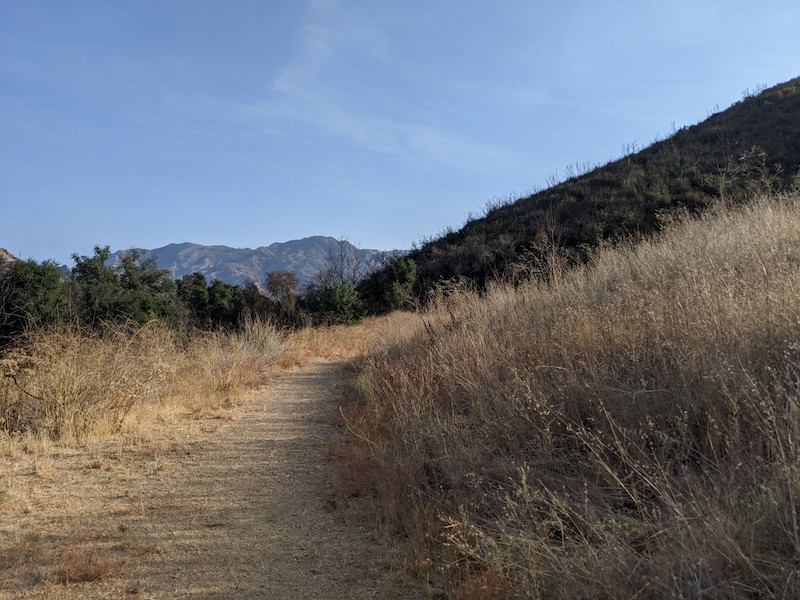 At a certain time, you'll be asked to venture back and maybe that's the oddest part of the whole thing—watching every other guest creep out from whatever trail they've wandered to come together, but not too close. Six feet apart, at least.

Fire Season is less of a narrative play than previous Capital W offerings, like the Red Flags, a one-on-one show about a bad date, or the coming-of-age tale Rochester, 1996. It's more like a foreboding meditation in nature. According to Capital W co-founder and Fire Season director Lauren Ludwig, the nature of the broadcast is purposefully apocalyptic. You could imagine someone like Miklas at the end of the world, talking into a ham radio or a walkie-talkie just to see if anyone else is there.
At one point, near the end, Miklas recalls hiding in a cellar to ride out thunderstorms and tornados. "You can't ride out a fire," she says.
The fires are still raging and we're still arguing over whether climate change is real. Fire Season may feel like a meditation, but it's also a call to action.
Fire Season runs October 3-25 at Paramount Ranch in Agoura Hills. Tickets are $45. $5 from each sale goes to fighting the effects of climate change.