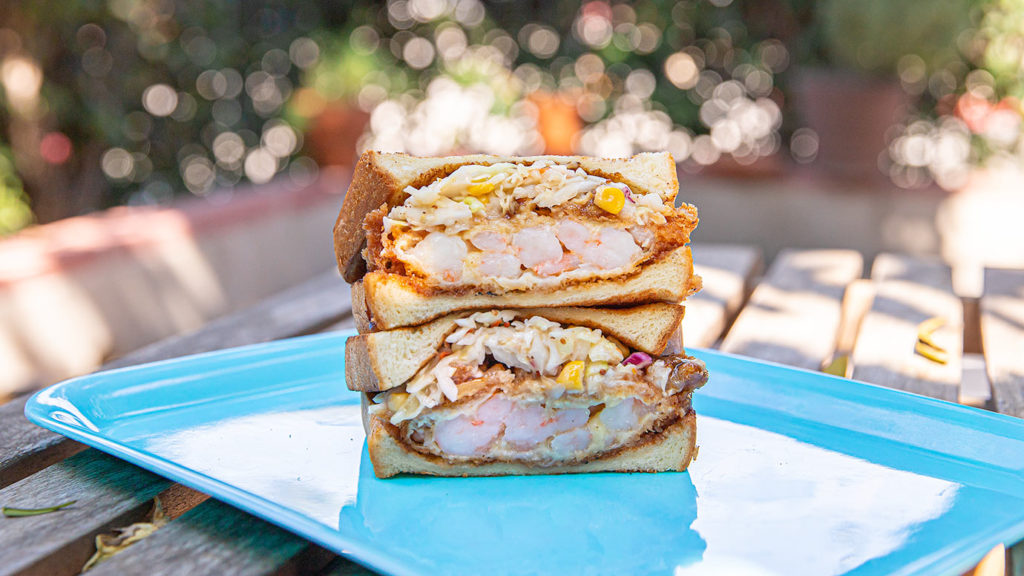 Every month, I explore different corners of L.A. County to curate a shortlist of favorites I believe ought to be on your radar. For October, I'm recommending a devilish Black Pastor Taco, a stacked Honey Walnut Shrimp sando, loaded Shawarma Nachos, and artisanal Twinkies inspired by Filipino ingredients. Enjoy!
Katsu Sando (Chinatown)
The Japanese sandwich trend has found a special home right here in Los Angeles. You can find a number of these sandwiches on the menu at several restaurants, but at Katsu Sando, they're pushing the boundaries of what gets sandwiched between their freshly baked bread. If you're drawn to the classics, chicken, pork, and ground beef katsu are all on the menu. There's even a mushroom katsu for vegetarians. But the most ambitious creation so far is the Honey Walnut Shrimp Katsu Sando ($11.95). A generous portion of whole shrimps is dipped in batter and fried into a crispy patty, then finished off with crunchy glazed walnuts and slaw. Fluffy milk bread holds it all in place with the help of Tonkatsu sauce.
Walk-in ordering is available or get takeout and delivery through ChowNow. Open Tuesdays through Sundays, 11 a.m. to 5 p.m. –> More information.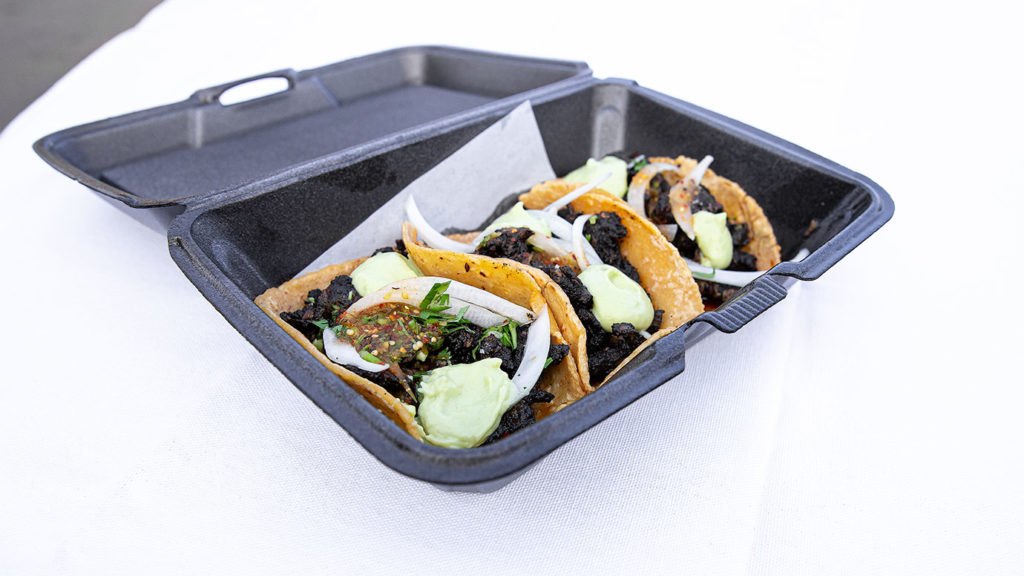 Evil Cooks (El Sereno)
Walk up to Evil Cooks front yard operation and you'll witness a slowly rotating trompo of black pastor. This sinister-looking slab of meat is so black that they affectionally nicknamed it "Goth Trompo," but don't let the color sway you. The black pastor is the way to go here. The dark hue comes from a marinade of Mayan spices. Fire from the rotating spit seals the flavor into every inch of meat. In taco form ($3), it comes with white onion, salsa roja, avocado sauce, and cilantro. Don't @me about the missing pineapple. You won't miss it once you bite into this dark abyss.
Evil Cooks' defiance on what it means to be a taco stand is even more apparent once you look through the entire menu. Flan and churros are both served as tacos. Their "tortilla" is a sweet crepe-like hybrid. House-made chorizo is bright green instead of red because they use epazote, an herb often found in Mexican cuisine. The chorizo is anything but traditional, giving off an herbal flavor. You can buy it by the pound or try it in a taco.
Drinks are also unique. The Agua De Mazapán ($5) is extracted from a classic Mexican peanut candy. I took one sip and was surprised how refreshing it was to drink peanuts. It tasted like a nutty horchata.
Evil cooks is walk-up and takeout only. Open Fridays through Saturdays from 5 p.m.-8:30 p.m. and Sundays from 3-9 p.m. –> More information.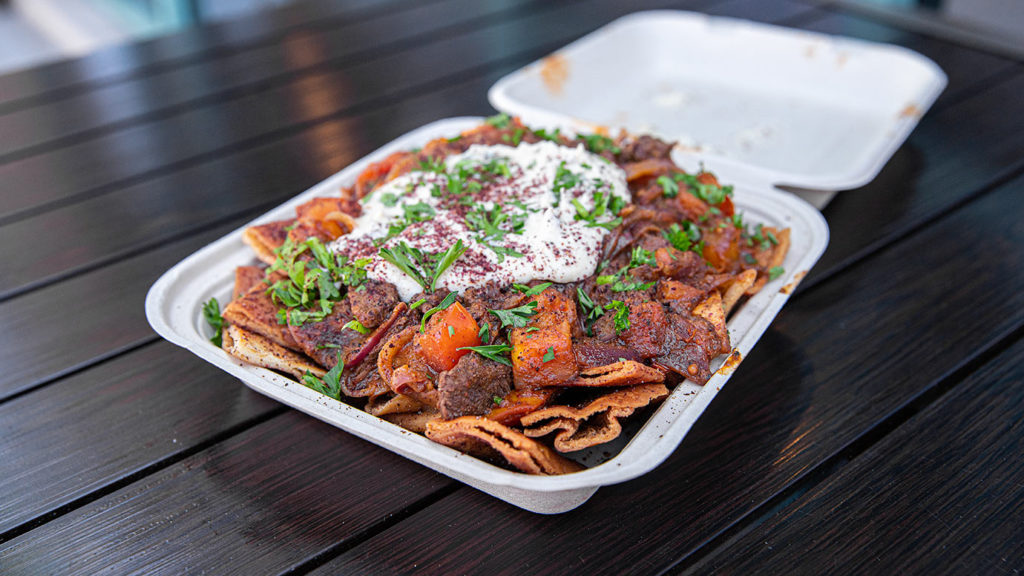 Hummus Labs (Pasadena)
There's a secret item at Hummus Labs that people are begging to have placed on the permanent menu. The Filet Mignon Shawarma Nachos ($14.95) comes with thick pieces of pita bread fried to a golden crisp, then topped with buttery filet, sautéed onions, and tomatoes. The whole thing is drizzled in Thani and finished off with a scoop of hummus (there are several types to choose from) or garlic sauce.
Shaded outdoor seating is available right outside the cafe. Pickup and delivery are available through the ChowNow app, but nachos are not on the app at the moment, so you'll have to call (626) 345-5592 to order. We recommend calling ahead for the nachos as they tend to sell out.
Open Mondays through Thursdays, 11 a.m. to 7 p.m. and Fridays and Saturdays, 11 a.m. to 7:30 p.m. –> More information.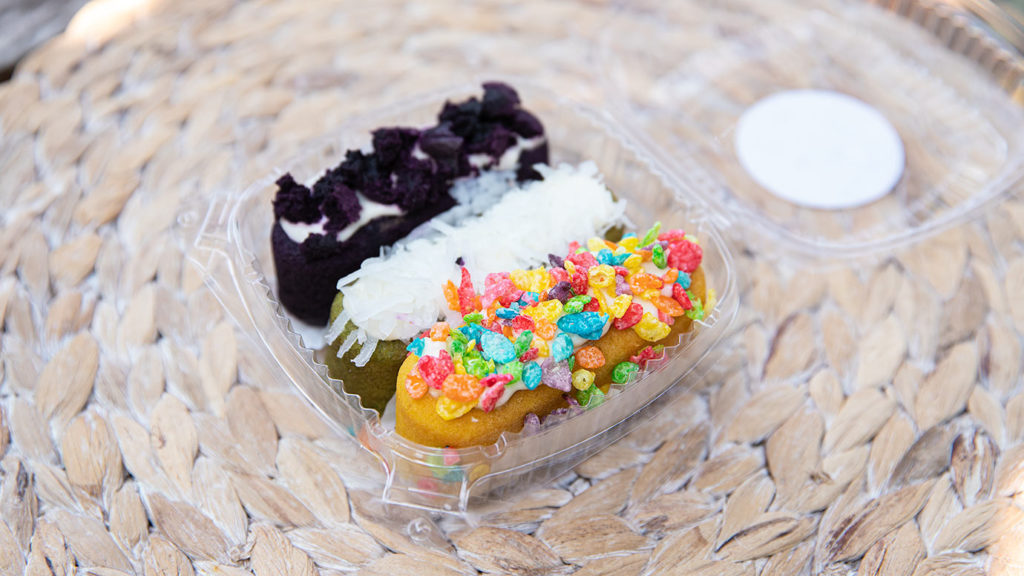 Keyks (Delivery & Downtown)
Keyks owner Jae Javier de Castro's passion for nostalgic treats inspired her to reimagined the Twinkie with a global twist. Baked from scratch and sold in packs, there are several different flavor themes on the menu. The Halo Halo Keyks pack ($12) gives you three Filipino-inspired Twinkies made of Ube, Pandan, and Jackfruit. All are filled with buttercream. –> More information.
Available for delivery in Los Angeles and Orange County through Keyks's website and every Sunday at Manila District in downtown L.A.