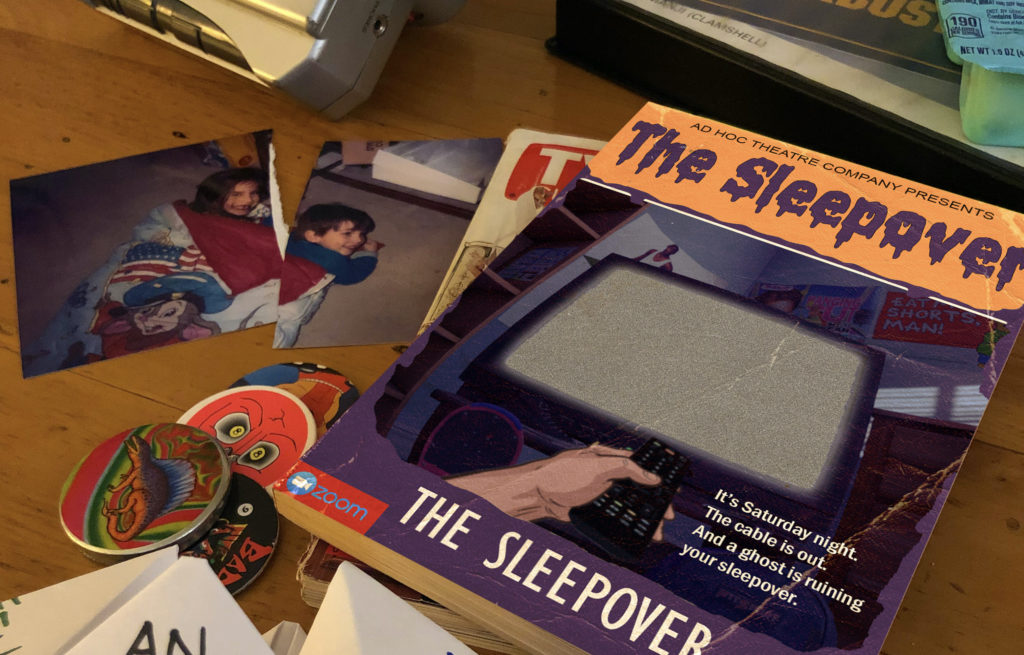 It's the 1990s. You've never heard of COVID-19 or QAnon. All you care about is that it's Halloween, and the new kid at school has invited you over for a slumber party. If you can survive the ghost his sister swears haunts their suburban home, maybe you can catch the new episode of Are You Afraid of the Dark? 
The Sleepover from KatNip Productions and The Cricklewood Theater Company is an interactive Zoom show that is actually fun. In the era of Zoom fatigue, The Sleepover uses the platform's best assets to provide an interactive, funny, and touching experience. 
The concept is simple. You're a kid in the 1990s. There's no exact year, but you're in the 6th grade. Your classmate Mikey (Janson Lalich) has invited you and a few other students to his sleepover. While his parents go off to a Halloween party, Mikey's older sister Louise acts as babysitter. Mikey is a serious nerd whose only aspirations for the evening are watching SNICK, while Louise (Susan Louise O'Connor) is a too-cool-for-school music aficionado in an MTV T-shirt whose favorite band is The Cure. 
When the cable goes out, thus preventing you from tuning into SNICK, Mikey and Louise are forced to entertain their guests in other ways. This includes telling ghost stories, playing trivia games, spying on and pranking each other, and taking tours of their respective bedrooms. 
What makes this all work is that it never feels like you're in yet another boring Zoom meeting and there's really no way to screw it up. 
I've seen a lot of Zoom shows in the last eight months, and it's clear we're all still trying to figure out how we create interactive entertainment in an online-only world. Some shows have felt aimless, leaving me sitting awkwardly in front of a screen while actors fumbled to keep us engaged. Others have relied too much on audience members following instructions (including muting themselves if they're going to make a bunch of noise). Others have had so little interactivity, it didn't matter if you turned off your video and audio and folded laundry. At that point, it's just TV.
The Sleepover, however, sidesteps these problems with a tight, hour-long script; a cast of just two live actors who excel at improv; simple, yet effective prompts to interact, and a mix of content types. 
For example, during onboarding, you don't sit there anxiously waiting for the meeting host to let you in. Instead, a mix of pre-recorded videos and interactive buttons lead you to the "sleepover," which is already underway. The effect is that you feel like you're walking into a party just moments after your "parent" has dropped you off. You don't miss anything, but there's no waiting either. When the show uses breakout rooms, it's quick and simple.
In terms of how much a guest has to do during the show, that's up to them. You can unmute yourself to play games or chime in, but you could also just sit back and let everyone else do that until one of the siblings specifically addresses you.
But on top of all of that, The Sleepover is genuinely funny, while still being cute enough to make you feel nice—the exact escape a lot of people could use these days.
The Sleepover is available select dates now through October 24. Tickets are $19.99 per household. L.A.-area guests can also add on a '90s-themed goodie bag that contains your choice of a classic Goosebumps (R.L. Stine) or The Baby-sitters Club (Ann M. Martin) book and an assortment of '90s products, like Dunkaroos, Pop Rocks candy, a slap bracelet, Pogs, and more.