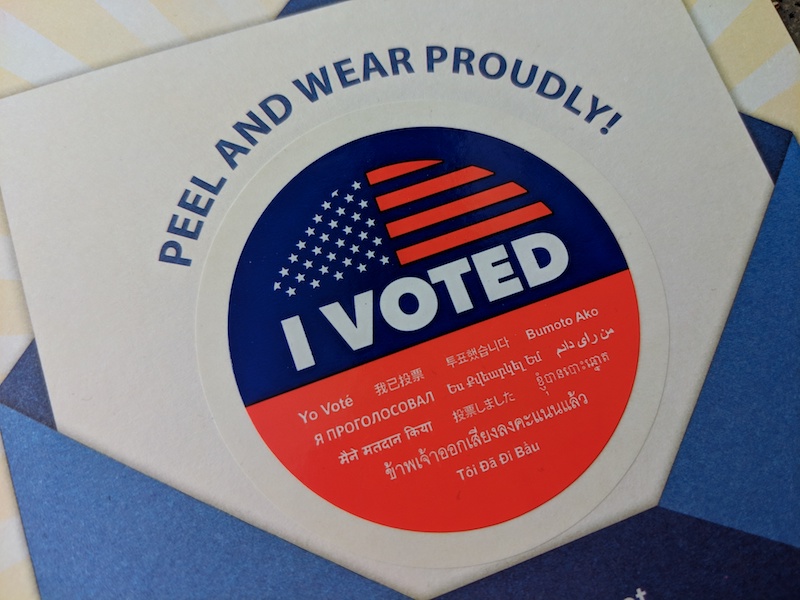 Yes, the California GOP did place the illegal ballot drop boxes that have appeared in at least four counties statewide. Also this morning: State guidelines on holiday gatherings, LAPD officers don't like tattling on each other, and the hero who celebrated the Lakers victory in a bubble suit. Finally, a farewell to the Target Husk. First, news.
Morning News Rundown
Quick update on the story about the "fake ballot drop boxes" I mentioned yesterday: First, the California GOP has admitted that they were responsible for installing the unofficial ballot drops. On Sunday evening, Secretary of State Alex Padilla put out a memo to registrars statewide saying that the boxes are, indeed, illegal. Yesterday, Padilla and Attorney General Xavier Becerra sent out sent out cease-and-desist letters to the state Republican Party. Legal wrangling is sure to ensue. [LAist]
How big will your holiday celebrations get? The state of California put out new guidelines that suggest you keep your holiday gatherings outdoors and limit them to three households or fewer. [ABC 7]
Cops don't tell on each other, and the proof is in the numbers. New LAPD records obtained by the L.A. Times show that in the last five years, there are only two documented instances in which an officer filed an unauthorized force complaint against a fellow officer. Both incidents took place in 2016. [L.A. Times]
The Bobcat Fire, which has burned more than 115,000 acres and almost took out the Mt. Wilson Observatory, may have started because tree branches struck a Southern California Edison overhead conductor, according to a letter SCE sent to the California Public Utilities Commission on Monday. [Patch]
The Lakers may have won their championship in the NBA bubble, but a man in DTLA who celebrated the win in a bubble is the true hero. See the tweet embedded below for visual proof.
Farewell, Target Husk
The Target on Western and Sunset may be the most famous in all of Los Angeles, and it hasn't even opened yet. The massive retail store was originally approved in 2010, partially completed, and eventually held up in legal wrangling that saw its construction delayed for the better part of a decade, leaving only the empty shell of a half-finished giant.
Around 2014, social media feeds on Twitter and Facebook popped up claiming to be the sentient form of this unfinished shell. It called itself the Target Husk, and it had a lot to say.
In 2019, Husky even got its own interview with KCRW's DnA, which as far as I'm concerned, is the true mark of cultural arrival in the city of angels. Between the Husk's insightful Mary Shelley references and its razor-sharp witticisms about politics and housing policy, I was a fan for life.
Unfortunately, as the rock-poets Semisonic once sang, "every new beginning comes from some other beginning's end," and so it is with the opening of a living, breathing Target store at the site of the Husk on Oct. 25. On this date, a horde of Hollywood denizens will flood inside the newly finished 200,000 square-foot space. The frenzied throng will load shiny red carts with jumbo jars of Prego and reasonably priced linens and whatever else their hearts desire. It will also be on this date that the spirit of Target Husk, such as it is, will begin to drift away to find some other form to inhabit, perhaps a Toys-R-Us or a Bed Bath & Beyond
In a farewell interview with Los Angeleno, Husky shared thoughts on gentrification, building sentience, and the bittersweet transition from vacant shell to a living, breathing retail space. It all makes me a bit sad, if I'm being honest.
L.A. is a place, I think, where the vacant buildings seem to have more meaning than the ones filled by people. Maybe it's the housing shortage and the affordability crunch. Maybe it's because we're still a relatively young city, and old things are kind of rare. Maybe there's a lesson in there somewhere.
In any case, farewell, Husky. We will miss you, though something tells me your life force will live on in the realm of social media, and in the future, I can still look forward to the occasional Blade Runner reference or political hot takes surfacing on my feed.