So some hipster looking bro local artist is offering you the opportunity to stay in Los Angeles in the absolutely cheapest way possible through a new ad up on airbnb.com. Well, that's the nice way of saying it.
His name is Barry and his listing promises that for just $10 a night you will "Experience Downtown Los Angeles from a perspective you and your friends have only heard stories about!" Basically, what that means is he's offering you a tent on the sidewalk in the epicenter of homeless in the city of angels. But I'll let Barry tell you:
"Located in the heart of Skid Row, your private tent near the corner of 6th and San Pedro will give you the experience of what life is like living on Skid Row. Your neighbor and concierge, Dice will be there to help you settle into to this new way of living and be able to answer any questions you may have… This is an experience of a lifetime. The inhabitants of this area of DTLA are from all the ends of all the ropes and roads of life. You will see things you never wanted to see and you will definitely smell some things too!"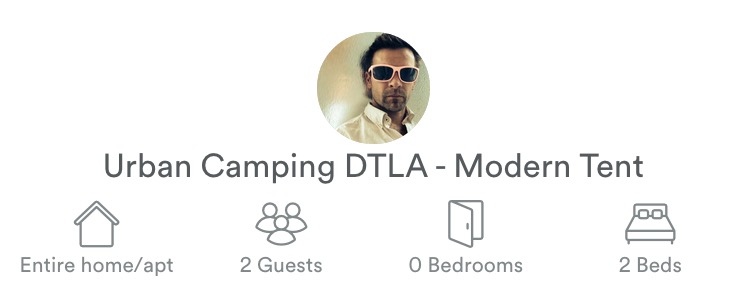 Other highlights noted by Barry:
Accommodations for two people
Pet friendly
A neighbor / personal concierge named 'Dice' who will show you around
Free meals at the local missions
Free Wifi (!?!)
Short distance to the rest of downtown's amazing amenities
18+ only please
I know what you're thinking. Actually, it's probably one of two things. Either a) you find this jokester to be mildly to wholeheartedly amusing or b) you think the whole thing is in god awful taste.
After thinking about this for a minute, I suppose your level of amusement at will depend on your tolerance for jokes that come at the expense of our less fortunate citizens. Personally, I think anything can be funny in the right light, but I will equivocate say that dude did pick a pretty easy / cheap target here.
In any case, here's a link to the full ad if you want to take a look for yourself. At least, for as long as it stays up.
[h/t: r/LosAngeles]