So Zillow released some figures today on rent rates in major metropolitan areas compared year-over-year from 2013 to 2014. Overall, American renters paid $441 billion in 2014 compared to $420 billion last year. That represents a 4.9% increase. The number of folks renting also went up, increasing at a clip of 1.9% compared to last year.
And as far as angelenos are concerned? Well, our cumulative rent rose to $34.2 billion from a 2013 total of $32.5 billion, a $1.7 billion difference. Overall, as calculated by Zillow, it's around a $42 per month per renter increase. So yeah, on the whole, if you're feeling that pain of your landlord raising the rent on your apartment, you're probably not alone.
You can check out our city (ranked #2) in comparison to some of the other top metro areas in the U.S. in the graphic below.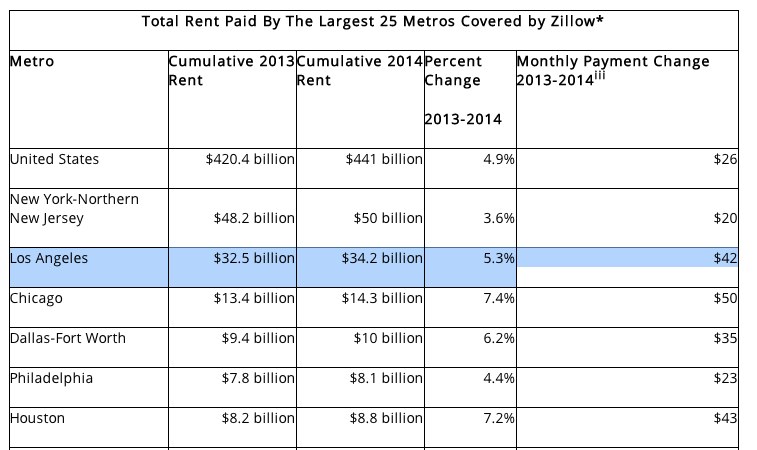 And finally this from Zillow's presser, with a little tidbit that forecasts rents probably won't be going down any time soon…
"Over the past fourteen years, rents have grown at twice the pace of income due to weak income growth, burgeoning rental demand, and insufficient growth in the supply of rental housing. This has created real opportunities for rental housing owners and investors, but has also been a bitter pill to swallow for tenants, particularly those on an entry-level salary and those would-be buyers struggling to save for a down payment on a home of their own," said Zillow Chief Economist Stan Humphries. "Next year, we expect rents to rise even faster than home values, meaning that another increase in total rent paid similar to that seen this year isn't out of the question. In fact, it's probable."
[h/t: LAist]