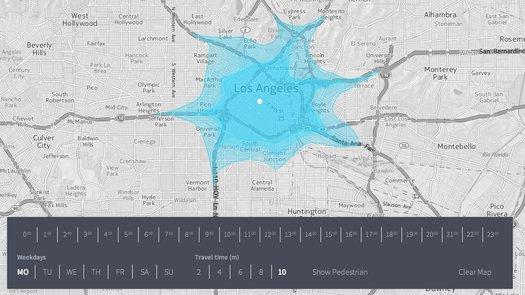 I wonder what's close…
This is a familiar refrain to many people in Los Angeles. Can I make to Beverly Hills in time for a quick meeting?  Will I have grocery stores within reasonable proximity if I move to Eagle Rock? Is there a mechanic close enough for me to drop a car off and walk back?
But instead of plotting out travel directions to a specific location, maybe you'd just like to visualize on a map interface what parts of the city you'll be able to access in a reasonable amount of time.
Something quick. Something easy. Something useful.
Well, Isocope performs just such a function.
Here's how it works:
1. Go to http://www.flaviogortana.com/isoscope/
2. Enter the city or zip of the location you want to search for.
3. Click anywhere on the map and you'll see a blue polynomial bubble that shows you a travel radius you'll be able to access based on the variables you select, including day of the week, time of day, whether you're walking or driving, and your travel time from 2 minutes to 10 minutes.
4. You can clear the map, and test out new locations, or set up multiple bubbles on the same map.
As of right now, it can only visualize up to 10 minutes away, but it's still pretty handy if you want to test out commute times or if you're considering moving to an area and want to investigate how isolated you might be from navigating by car.
Have fun!