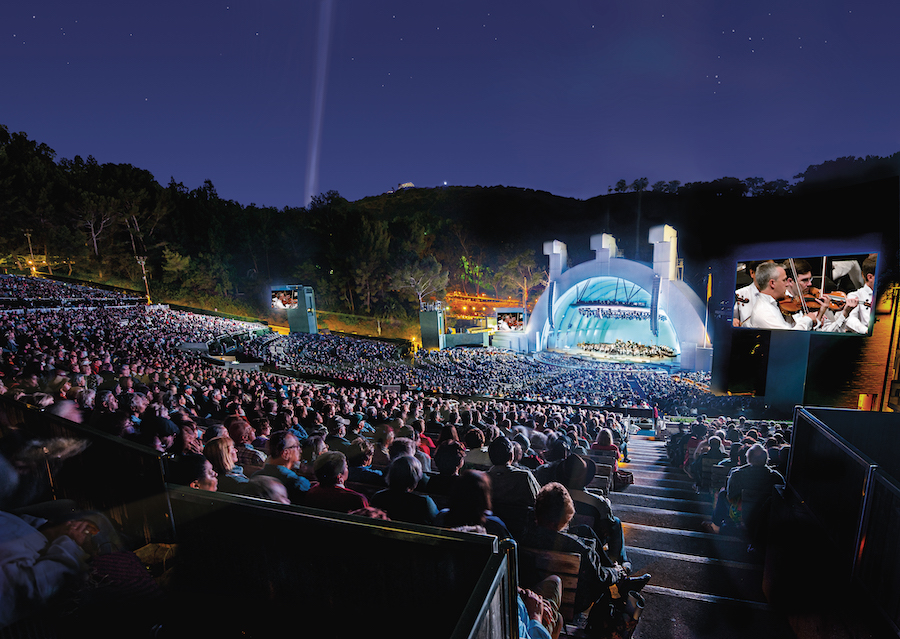 We're on the doorstep of summer and opening night at The Hollywood Bowl is just days away. The big question is, are you ready?
A little bit of planning goes a long way, so we want to prime you for the upcoming season by asking five key questions, starting with the most obvious.
Which Shows Do You Want to See?
There are more than six dozen performances/events presented by the LA Phil this summer at The Bowl, beginning with Janet Jackson and Ludacris on opening night (Jun 10). As we cast our gaze to the coming months, it all comes down to one word: preferences.
Perhaps you'll grab a ticket for the The Game Awards 10–Year Concert (Jun 25), where the Hollywood Bowl Orchestra and Tenacious D will pay tribute to the past decade of video game music while looking ahead to its future.
Or maybe it's musicals that stir your soul. If so, you won't want to miss Everybody Rise!, a Sondheim Celebration featuring a note-perfect selection of special guests (Jul 30).
Do you love all things Disney? Settle in for an evening of musical selections (and clips!) from Walt Disney Animation Studios (Aug 4-5)
Is an indie or rock vibe more your style? The 2023 KCRW Festival lineup includes Portugal. The Man and Chicano Batman (Aug 6), Maggie Rogers and Alvvays (Aug 13), My Morning Jacket and Fleet Foxes (Aug 20), and more.
In between and all throughout, you'll find 20+ classical performances (plenty of chances to see Gustavo Dudamel), fan favorites like the Hollywood Bowl Jazz Festival (June 17-18), the Tchaikovsky Spectacular with Fireworks (Aug 18-19), and movies with scores orchestrated live to screen, including 2001: A Space Odyssey (Aug 3), Star Wars Return of the Jedi in Concert (Sep 1-2), and a Sound of Music Sing-Along (Sep 16).
We know, it's a lot to choose from. And that's just the tip of the iceberg. Then again, that's all part of the fun! Be sure to scan the complete summer schedule to see all your options.
How are you getting your tickets?
If you're hyper focused on a single event, that's one thing. But if you plan to attend multiple concerts this summer, don't sleep on the advantages of ticket packages or a Hollywood Bowl subscription.
You reduce fees, guarantee the best seats possible, and in the case of the subscription package, you also get top priority to upgrade seats, free ticket exchanges, and special discounts at the The Bowl Store. Plus, the create-your-own (CYO) packages start as low as $15 per event.
Make sure you read up on all the advantages before you decide how to purchase.
What's Your transportation plan?
Parking is limited at The Bowl. That's just facts. And starting in 2023, Lot A (Blue), Lot B (Yellow), Lot C (Red), and Lot D (Green) will all be available for pre-purchase. That means parking can (and in many cases will) sell out in advance. Short story: Don't drive to the venue without a spot reservation in advance.
Our humble advice? Either park and ride at one of multiple satellite lots ($7 if you pay in advance), or better yet, Go Metro.
If you ride the B Line into the Universal / Studio City Station or the Hollywood / Highland Station, you can grab a shuttle for free (normally $6) by showing your tap card or proof of fare. It definitely takes the stress out of getting to the event and puts the focus on where you want it: Having fun!
Whatever you choose, you'll definitely want to plan in advance, so be sure to read the venue's FAQ page on getting to and from an event.
Do You Know What You Can Bring?
Packing a picnic to enjoy before or during a performance is a staple of going to the Hollywood Bowl. But veteran attendees know there's rules that apply for "lease events." Namely, no alcohol is allowed.
Alternatively, for all L.A. Phil-presented events (including all mentioned above!), you're permitted to bring wine bottles, wine glasses and beer bottles inside.
It's a good reminder to read up on all the dos and don'ts of what to bring.
Who Do You Want To Take?
The final (and perhaps most important) question is one we can't answer for you. But we do know this: The Hollywood Bowl is always better with friends, so grab a few, pick a date, and settle in for some world class entertainment performed in a setting unlike any in the world.
It's going to be a great summer.
---
If you'd like to learn more about We Like L.A. sponsored posts and how we work with our partners, you can go here.