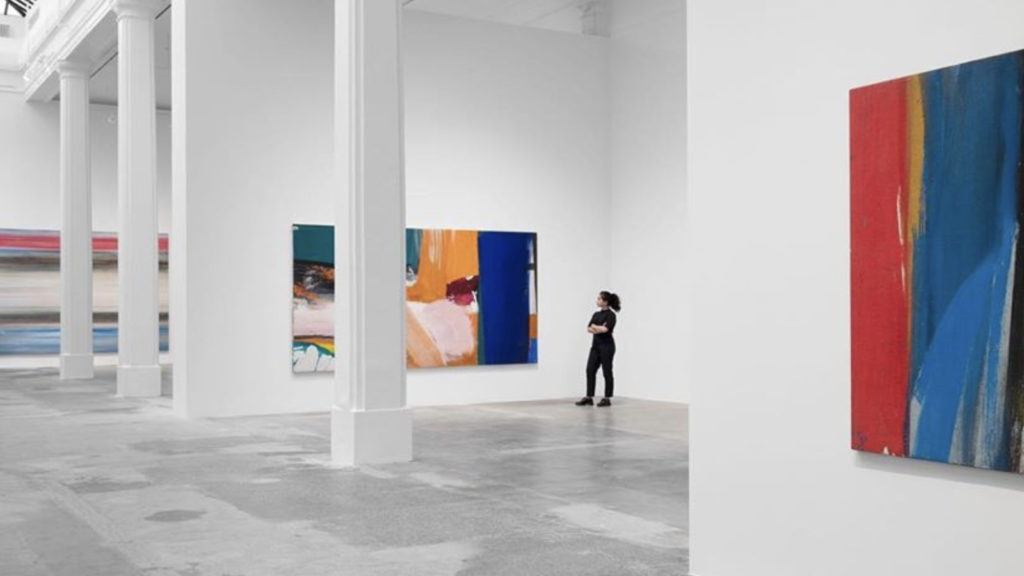 I think we can all agree that seeing art online doesn't always convey the same feelings as viewing it in person. But for some time due to COVID-19, that's been the only option––virtual galleries and digital exhibits. Fortunately, there's now another socially distant way to see art in-person.
While none of our local museums have reopened, several galleries are currently available to visit as long as you make an appointment in advance. Although booking an appointment may seem like a hassle, it actually provides a private, more intimate, and safer experience. Plus, most of the following gallery spaces are free.
So, who's ready to go art-hopping?
Regen Projects (Hollywood)
Operating in Los Angeles since 1989, Regen Projects has a reputation for showing works from acclaimed artists such as Matthew Barney, Catherine Opie, and Wolfgang Tillmans. Currently on view is Raymond Pettibon: Pacific Ocean Pop featuring drawings and collages of pop culture characters like Gumby and Batman alongside Hollywood actors, baseball players, and surfers. Appointments are available Tuesday through Saturday. One additional guest is allowed with each reservation.
William Turner Gallery (Santa Monica)
The latest exhibit at William Turner Gallery highlights new and recent work by Mark Steven Greenfield. Greenfield's Black Madonna explores the Black experience in America, from the consequences of slavery to racial injustice. View the exhibit's 17 works Tuesday through Saturday.
David Kordansky Gallery (Mid-Wilshire)
The David Kordansky Gallery just expanded to a brand new space and is currently exhibiting new paintings and works by Linda Stark. Stark's Hearts explores the blood-pumping organ both literally and figuratively. It's on view through October 24 by appointment only.
Hauser & Wirth (Downtown)
Hauser & Wirth is currently open for timed viewings of 'Ed Clark. Expanding the Image'. Appointment slots tend to fill quickly, but limited tickets are released weekly on Eventbrite.
The Valley Relics Museum (Van Nuys)
Check out historical artifacts unique to the San Fernando Valley. This open-air museum is home to rare documents, photographs, awesome vintage neon signs, art, automobiles, and so much more. Tickets are $15 a person and support the nonprofit. Open every Friday and Saturday evening. Reserve tickets on the museum's Eventbrite page.
Blum & Poe (Mid-City)
One of L.A.'s most influential galleries, Blum & Poe represents local and international artists such as Yoshitomo Nara, Asuka Anastacia Ogawa, Lee Ufan, and San Durant. Currently, the gallery is showing 4 from 3 dancers, new works by Los Angeles-based artist Aaron Garber-Maikovska. On September 22, Blum & Poe will also present Sympathetic Magic, a group exhibition organized by Bill Powers with work from 26 artists. Private reservations for one to three people are available online.
Marta (Echo Park)
Marta is offering timed, socially-distant viewings of Under / Over, an exhibition of 62 bathroom-focused works (mostly of T.P. holders) from 53 artists, designers, and studios. On view daily through November 1 by appointment only.
Tanya Bonakdar Gallery (Hollywood)
New York transplant Tanya Bonakdar features contemporary multimedia artists in its Hollywood gallery. Debuting September 26, Restless Index features six artists from a diverse range of media. The gallery is open Tuesday through Saturday. A maximum of three people or one household can reserve advance appointments in 30-minute increments.
Cakeland LA (Chinatown)
Artist Scott Hove's larger than life cake mazes have found a long-term home at Cakeland LA. In his latest exhibit, Beauty War, guests will explore a labyrinth of cake. Some cakes look delicious, others may be frightening, and no guests leave with the same impression. The gallery is open Wednesday through Sunday by advance appointment. Unlike the other galleries listed in this article, there is an admission fee of $20. Beauty War is on view through December 31.
La Luz de Jesus Gallery (Hollywood)
This self-proclaimed "low-brow" art gallery specializes in pop and street counterculture art. Current exhibits include Come on In, featuring Benz & Chang, Septerhed, and Teresa Watson, and Harold Fox's Working Days End. Timed 20-minute reservations are available online for Saturday and Sunday viewings.
Kohn Gallery (Hollywood)
This modern art gallery's latest exhibit is myselves, a group exhibition curated by Joshua Friedman that features over 25 contemporary artists examining the ways identity is structured or fabricated. Half-hour visits can be reserved online, Monday through Saturday. Prepare to social distance from other guests.
GR2Giant Robot 2 (Sawtelle)
Located on a stretch of Sawtelle dubbed Japantown or Little Osaka, Giant Robot is part-whimsical pop culture store and part-art gallery. Since it opened in the 90s, the storefront has hosted countless pop art shows and product drops. The store is still open during the pandemic, and the gallery is offering limited visits.
Fahey Klein Gallery (Hancock Park)
Fahey Klein Gallery specializes in contemporary and 20th-century photography. Opening September 24 is Lost Angeles, collection of works by legendary L.A. photographer Paul Jasmin. Open by appointment only Tuesday through Saturday.
Gavlak (Downtown)
Gavlak is a contemporary fine art gallery based in Los Angeles and Palm Beach. Currently on view are two exhibits: The Feminine Divine, a solo exhibition of drawings, sculptures, and video by multi-media artist Kathryn Garcia; and Wisdom Embedded in the Treads, a solo exhibition of recent work by Jamaican-American artist Kim Dacres. The gallery is open by appointment only Tuesday through Sunday.
Tierra Del Sol Gallery (Chinatown)
Featured artists at this gallery are from the Tierra Del Sol Studio program. Currently on view is artist Helen Rae's first solo exhibition. Viewings are by appointment only Tuesday through Saturday.
Gabba Gallery (Westlake)
Gabba Gallery features emerging artists from across the world. Though it also hosts virtual exhibitions, it's open by appointment only when hosting shows in the gallery. Email the gallery here for details on what's on view and how to visit.
Galerie Lakaye (Hollywood)
Galerie Lakaye is hosting appointment-only viewings of Haitian-American artist Francesca Lalanne's exhibit Francesca Lalanne: In this Time. Per a release: "The exhibition, which includes mixed media paintings and wall sculptures made of engraved oxidized steel sheets and granite elements mounted on wood speak to a Black woman's perspective on the body as architectural sacred space; the load of loss and mourning of Black bodies brutalized by the police and by a virus which does discriminate when it comes to people of color. The beautiful executed works also reflect the dynamic resistance of a people who believe that justice might still be attained."
George Billis Gallery LA (West Adams)
The George Billis Gallery is a contemporary exhibition space with locations in Los Angeles and New York. The L.A. gallery currently has two openings by appointment only: Wes Hempel's A Portable Eden and Stephen Wright's Undercurrent.