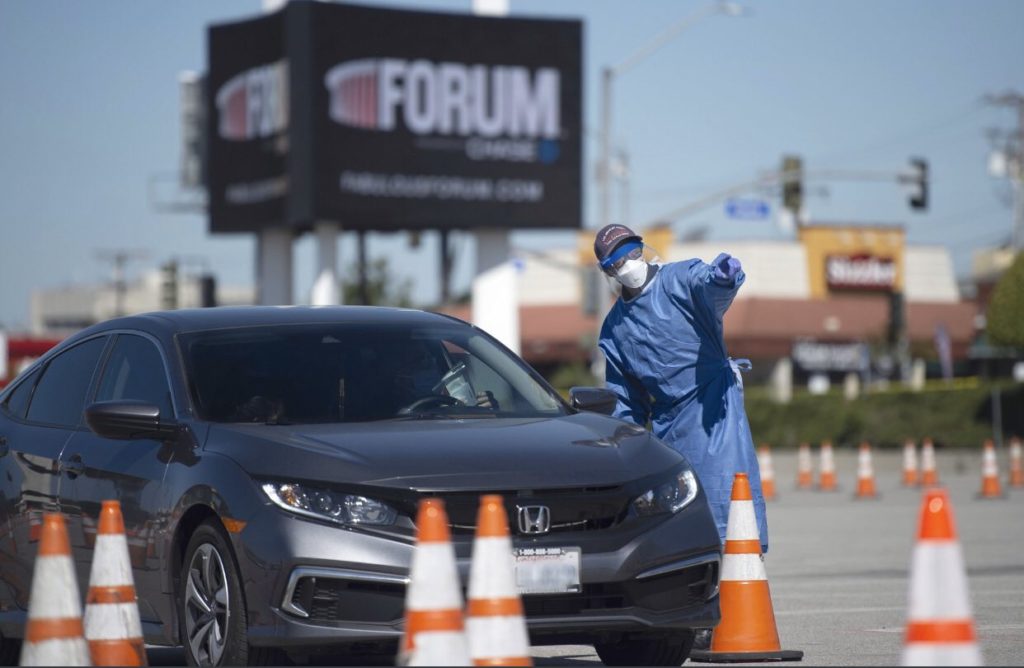 Want to get a COVID-19 test in L.A. County? Now would be the time to do it. Also this morning: Project Roomkey wraps up, Disneyland desperately wants to reopen, and more California counties are loosening restrictions, but L.A. isn't one of them (yet). Finally, what does "defund the police" mean to you?
Morning News Rundown
Remember just a few months ago when getting a COVID-19 test in L.A. could mean waiting days or weeks for an appointment? Remember stories of people spending hours in their cars in line at Dodger Stadium? Well, not a problem right now. According to Dr. Christina Ghaly, health services director for L.A. County, there are now "literally thousands of unused appointment slots" due to a drop in demand for testing in recent weeks. At least 173 public and private test sites in the county now offer residents same-day appointments. While the availability is great for those looking to get tested ASAP, health officials are worried that this could indicate public complacency regarding infection spread. Demand is expected to increase as flu season ramps up, however. [NBC Los Angeles]
Yesterday, nine counties in the state were moved to less restrictive tiers of reopening. Los Angeles was not among them. [ABC 7]
Project Roomkey, the $100 million initiative to turn vacant hotels and motels into housing for the homeless, is officially coming to an end. At peak occupancy, the project housed 4,300 guests, less than 30% of the stated goal. [L.A. Times]
Attorneys for the family of Dijon Kizzee say an independent autopsy found Kizzee had been shot 15 times during his fatal encounter with LASD deputies last month. On Aug. 31, Kizzee was stopped for riding a bicycle on the wrong side of the road in Westmont. A physical confrontation ensued. Kizzee fled the scene and was shot in the back. [CNN]
Disneyland really, really, really wants to reopen. In a video press update yesterday, Disney reps pleaded with Gov. Gavin Newsom to issue specific reopening guidelines for the park, which he promised last week were "coming soon." [Spectrum 1]
Defund The Police vs. Community Policing
What does "Defund The Police" mean to you? Does it mean siphoning a portion of existing department funding and redirecting it towards preventative programs and social services? Does it mean cops don't respond to things like homelessness or domestic disputes? Is it a total abolition of the existing police structure? Do we need to rebuild public safety from the ground up?
You might not know it, but the LAPD does have a community policing program––something called the Community Safety Partnership (CSP) program. CSP represents a commitment by the officers who work the unit to stay in the same neighborhood for five years, engaging with community leaders, participating in local events, and getting to know the people they police. And according to at least one study from the UCLA Luskin School of Public Affairs, neighborhoods where CSPs work have seen significant decreases in violent crimes. But CPS is limited, and KCRW reports there are no plans to expand the program in 2020.
The questions remain: Is a move towards community policing enough? And does it qualify as the type of reform that police de-funders are advocating?
Catch the full story on KCRW's Greater LA. Definitely worth the listen.