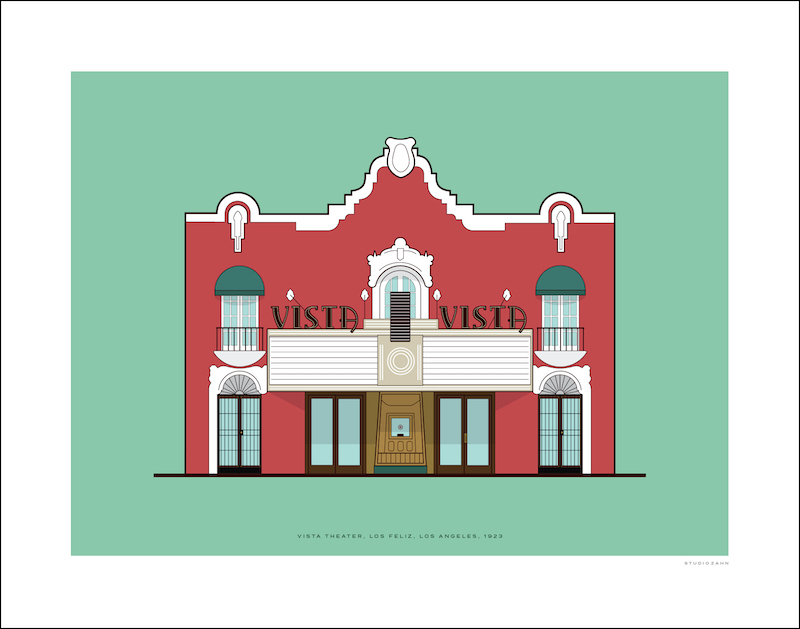 Missing your favorite diner, movie theater, or music venue? Artist Ted Zahn has been illustrating storefronts and neon signs in cities across the U.S., including Los Angeles. While his love of historic architecture and signage dates back decades, these new illustrations are what he's been doing while at home during the pandemic. And to help these kinds of places stick around, he's also donating a portion of the profits to small businesses.
Though Zahn lives in Portland now, he's visited L.A. regularly over the past 25 years to visit his brother. Over that time, his brother's moved from Koreatown to Los Feliz to Pasadena, but Zahn loves to get in his car and search for architectural gems and storefronts to photograph.
"I love exploring Downtown, The Last Bookstore, Griffith Park, being a touristy nerd and driving around Beverly Hills and Mulholland. I love getting old-school eats at places like Clifton's, Canter's, and Casa Bianca. The history in L.A. is amazing, and it feels so accessible, so less stuffy," he said.
Zahn's also always harbored a love for the small businesses that comprise a neighborhood, possibly stemming from the fact that his family ran a dry goods department store in Wisconsin before he was born.
"I think that instilled a lifelong appreciation for independent retailers—including how their storefronts and signage give us a connection to our past. Big, classic neon storefronts feel uniquely American to me, and we are losing them fast. There's definitely a metaphor there," he said.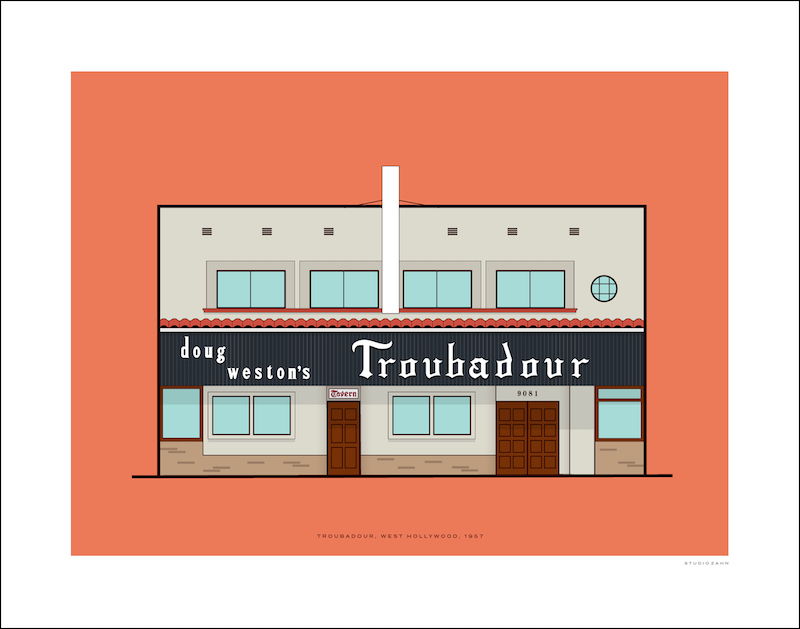 Zahn once published a photo book of those signs called Neon Hunting, but the idea to illustrate his photos was inspired in part by the way artists like Stephen Shore and Ed Ruscha elevated everyday streetscapes into art, and partly due to an inability to travel for photography due to the pandemic.
So far, Zahn's illustrations include buildings in Portland, Chicago, New York, the Bay Area, Texas, and elsewhere. When it came to L.A., he started with movie theaters—the Vista, the New Bev, the Cinerama Dome in Hollywood. After he received a request to illustrate the Troubadour, he added other Sunset Strip venues like The Roxy and Whisky a Go Go. Then he drew Norms, with its signature Googie sign, and more coffee shops and diners followed.
Of them all, Zahn's personal favorite is The Wiltern.
"It was the most challenging to draw in terms of architectural detail and it was the first theater I encountered on my first visit to L.A. My brother lived around the corner," Zahn said. "It was like something out of The Wizard of Oz, the Emerald City. I'd never seen anything like it."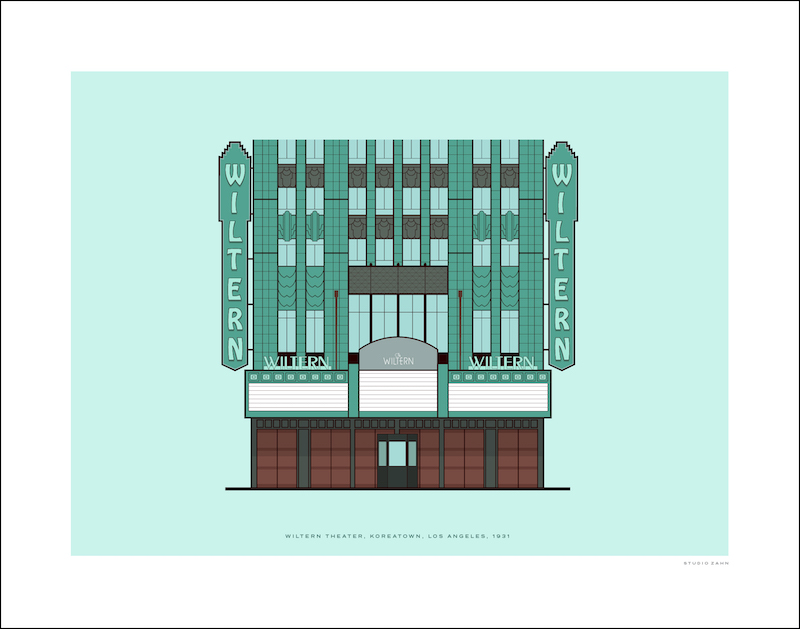 Previously, Zahn donated a portion of proceeds from his art to small business or preservation efforts, like the Los Angeles Historic Theater Foundation or the L.A. Conservancy. As he added more cities, he consolidated his donations to GoFundMe's Small Business Relief fund, which provides microgrants to small businesses affected by COVID-19 across the United States.
So, far, Zahn said the response to his work has been positive, with many people reaching out to request their favorite buildings and venues. Still pending are requests for the Palladium, Pantages, and Rainbow Room, among others.
"It's humbling to be able to create something you're passionate about and find an audience for it. As dark a time as we are in right now, people have shown so much love for these places," Zahn said. "It gives me hope that there will be a newfound appreciation for them when things open up again. If my work can play a small role in stoking that appreciation, it's worth it for me."

To purchase a print for yourself, visit StudioZahn.co. You can also check out Zahn's latest work and works in progress on his Instagram account, @studiozahn.