This post is a sponsored collaboration between Old Pasadena and We Like L.A.
---
Old Pasadena is one of the most walkable neighborhoods in all of Los Angeles county, and on Saturday, August 12, visitors will have even more reasons to take a stroll through this historic 22-block district.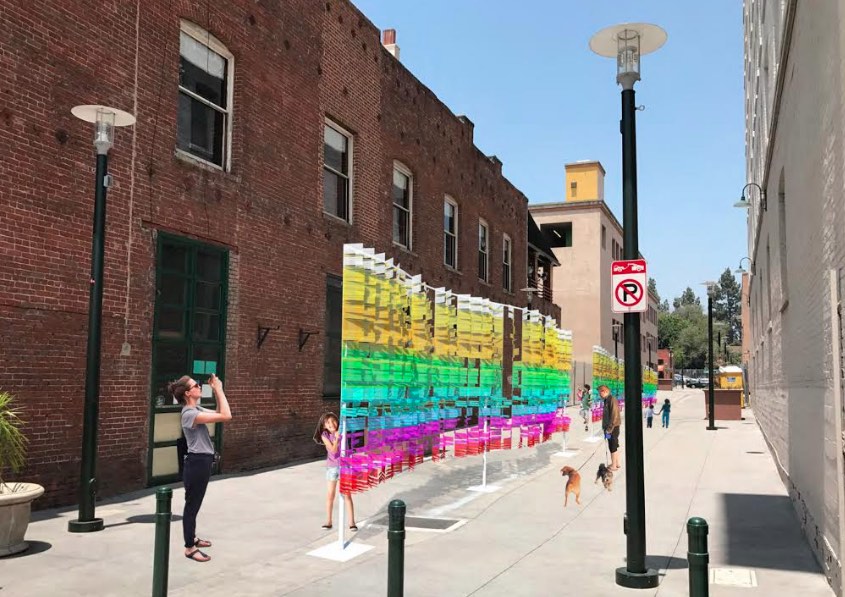 BoldPas: An Art Takeover of Old Pasadena will offer a free, one-day art takeover of the streets and historic alleyways of Old Pasadena, featuring works that bridge design, architecture, art, history, and public space. From 12 site-specific installations to live painting and pop-up canvases, the day-long event will feature a combination of both established and up-and-coming artists to showcase the independent spirit, unique businesses, and history of Old Pasadena.
Among the day's many sights and activities, event-goers can explore:
 – "Better as a Color" by Asli Tusavul: Thousands of straws sewn together and strung in rows across a 50-foot pre-fabricated steel frame.
– "Vantage Obscura" by Arty Vartanyan & Zenah Sakaamini: Six 8-foot cubes of simple yarn and translucent colored film woven throughout a wooden framework that allows visitors to step inside.
– "Crystal Lucida" by Sarah Umles: An installation that encourages visitors to paint the reflections and colorful shadows created on a white table surface when light is refracted through 100 cut-glass containers filled with colored water.
– Special guest and renowned LA muralist/painter Andrew Hem live painting in Mercantile Place throughout the event.
– PLUS: Nine more compelling installations throughout Old Pasadena.
Additionally, visitors will find creative Art Stops at more than thirty participating stores and restaurants, offering great Instagram opportunities and the chance to meet local business owners. There really is something for everyone, whether you're an Old Pasadena local or are just looking for an excuse to visit the neighborhood for the first time!
BoldPas will run from noon to 8 p.m. on Saturday, August 12, 2017. If you're looking for a bit more structure to your experience, Pasadena Walking Tours hosts two tours at 1:30 p.m. and 5 p.m, highlighting the temporary installations and Old Pasadena's permanent public art, as well as offering a chance to meet the onsite BoldPas artists. Tours are $10 and require advance registration.
Remember all works and installations are free and open to the public. For more details of the day's events, and for other information about planning your visit to Old Pasadena, be sure to visit oldpasadena.org.
Enjoy!
---
If you'd like to learn more about We Like L.A. sponsored posts and how we work with our partners, you can go here.