Sometimes it's just a cool experience to find a great vantage point at a nearby airport and watch the miracle of flight as 25 ton chunks of metal arrive and depart in a never-ending assembly line of human transportation.
Well, Clutter's Park in El Segundo provides just such a perspective on the planes at Los Angeles International Airport.
Named after former city councilman Jim Clutter for his (according to a nearby plaque) "hard work in maintaining the small town atmosphere of the LAX adjacent community,"  this is not really a park as the name might suggest, but more of a lookout point where you can glean panoramic views of the airport and marvel at the sheer beauty of physics in motion (or just a fun way to kill an evening).
Located on a bluff at the intersection of Imperial Ave & Sheldon St, this is arguably the single best spot to watch planes takeoff and depart in the entire city (along with the Westchester In N Out). And best of all, it's completely free!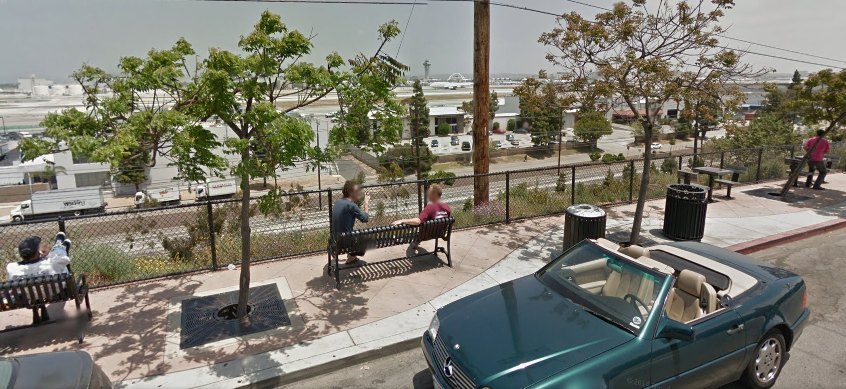 [Photo Credit: Google Street View]
Things to know:
– Several concrete benches and chess board style tables for you to take a load off and watch the planes.
– Fairly ample street parking available on Imperial Hwy parallel to lookout, but can get crowded at peak times. You'll almost always see somebody hanging around there taking in the view.
– Bring a zoom-lens and some snacks. You can totally make a date out of it 🙂
Location of Clutter's Park
Imperial Ave & Sheldon St
El Segundo, CA 90245