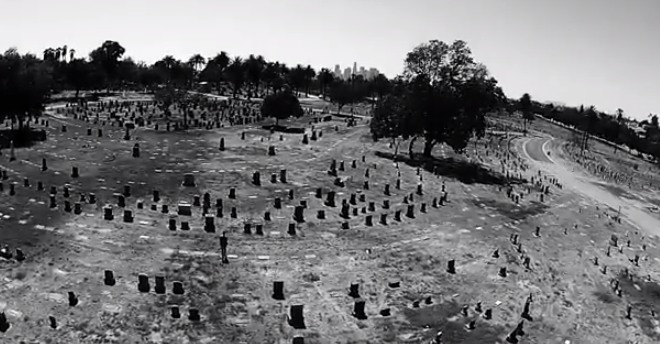 Tom goes black and white for this journey to the Evergreen Cemetery, and we have to admit, he's looking pretty sharp with the whole undertaker vibe going on. But perhaps the wardrobe and editorial choice is as much out of respect for the subject as anything else.
[More on Tom Explores Los Angeles]
Now, the Evergreen Cemetery is L.A.'s oldest (well, kind of) and perhaps most significant cemetery. Significant, not only for the 300,000 headstones that stand there plotted over 67 acres of grass, but because of the variety of historically important names that have been laid to rest on it's grounds, mixed in with a cross-section of the entire L.A. populace (including the homeless).
The princes, the paupers, and pretty much everyone in between all in one place. And death, as it seems, is the great, final equalizer.
In any case, it's old, it's a bit spooky, and it's one of L.A. most remarkable windows into a complex and complicated past, both economically and racially.
Give a watch as Tom explores it below. Map embedded below if you'd like to visit.
[Photo Credit: Tom Explores Los Angeles]