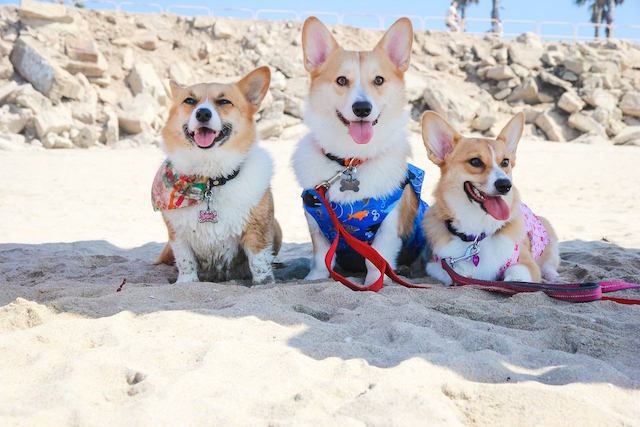 Spring is usually a time to enjoy outdoor life and all the beauty that comes with it. Here in Los Angeles, we've got glowing poppy fields, perfect weather, and a beloved annual tradition called Corgi Beach Day. A kind of Coachella for corgis, it's a massive party that brings these short-legged doggos together for some fun in the sun and offers serious cuteness overload for us humans. Sadly, the IRL beach day is canceled due to COVID-19, but its organizers are taking the celebration to the web with a virtual event open for all to enjoy.
On Saturday, May 23 starting at 10:30 a.m., join celebrity corgi-spondent Mr. Pickles as he hosts the first-ever Virtual Corgi Beach Day on the Corgi Beach Day YouTube channel. Catch Mr.Pickles and his furrends living their best lives. Scheduled for the day are favorite corgi activities like limbo and a bubble spectacular. Competitive corgis can compete for Best Costume and Best Momo (apparently, corgi butts are called "momos," which is Japanese for peaches). There's even a new activity called Corgi Food Racing.
Corgi owners can get in on the fun, too, by tuning into a live cooking demo with PetPoint Medical Center and Resort. Pet photographer Steamer Lee will also be on hand to reveal pet photography tips and tricks. Curious to see what corgis in the wild look like? There's a Corgi Ranch Cam courtesy of Queen's Best Stumpy Dog Rescue set up just for the day, too! Corgi Beach Day is a free event open to the public and all dogs are welcome to participate.