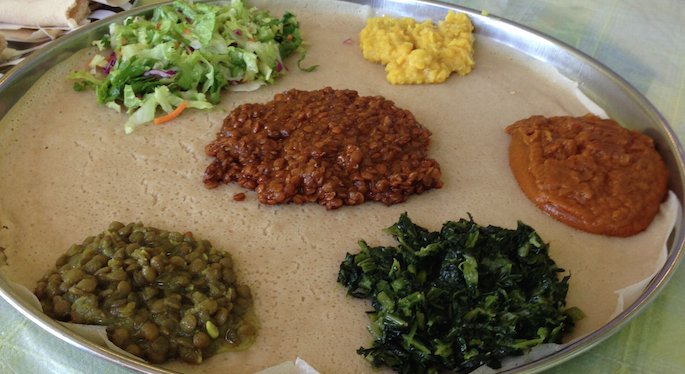 When you think about Ethiopian food in Los Angeles what comes to mind is a tiny strip off Fairfax Avenue just north of the 10 Freeway. After all it is called Little Ethiopia.
Of course, just because of it's namesake doesn't mean that's where all the best Ethiopian food in the city is based.
I had heard through the food-vine of a woman who was being hailed as the "Martha Stewart of Ethiopian food" at a restaurant called Palm Grove a couple mile east of Little Ethiopia proper.
The description alone intrigued me. This was something I had to see for myself.
Walking into the Palm Grove restaurant for the first time I immediately had a good feeling about it. True to the rumors, this was essentially a one woman show. The owner greeted us with some injera chips, a green chili cilantro dipping sauce, and of course, a warm smile. It was a great first impression.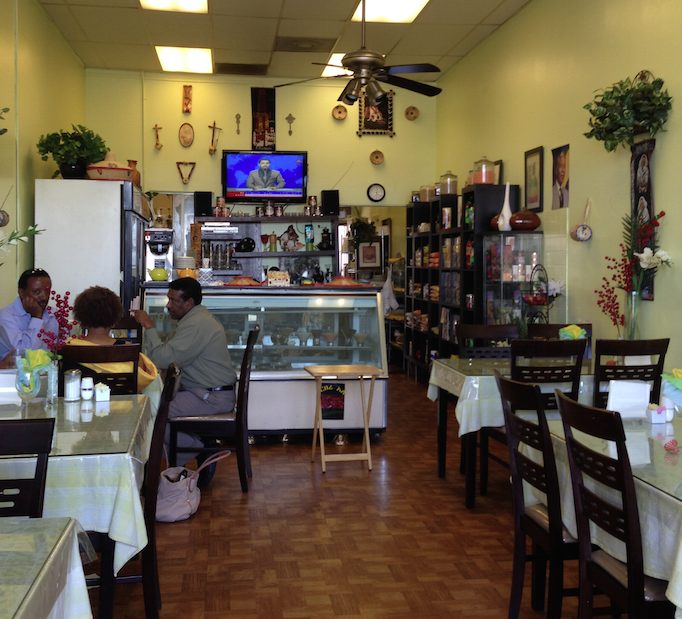 After looking at the two page menu my boyfriend and I ordered the Vegetarian Combination Platter that included a mix of peas, lentils, collard greens, shiro (a powdered meal of chickpeas) and azifa (a green lentil salad). For protein we chose the Yawaze Tibs a beef dish sautéed with onions, garlic, spiced butter and awaze, a type of Ethiopian chili sauce.
When the Vegetarian Platter arrived the bold colors and variety of choices delighted us.As appealing as it looked, it tasted even better.
Ethiopians eat exclusively with their right hands using injera a type of thin crepe like fermented bread to pick up food. I personally like to call it my "food pocket" but thats just me. Utensils are rarely used with Ethiopian cuisine so make sure to have a napkin or two near by.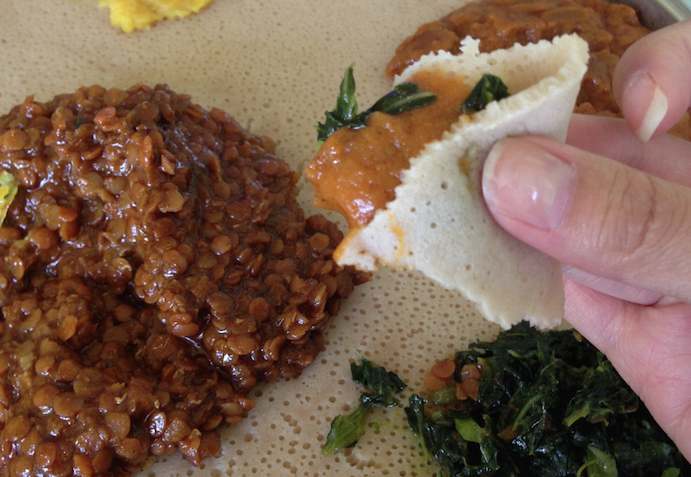 The piping hot Yawaze came out shortly and it was covered in a deep beautiful burgundy awaze sauce with clarified butter glazing the top. At first bite it was pure heaven. The perfectly spiced beef made this dish especially savory paired with the Vegetarian Platter. Needless to say I had my hands full and I liked it.
Things You Should Know
– Two entrees can feed around three people. If it's just a dinner or lunch for two, there is no way you'll leave hungry.
– On Yelp reviews they are listed in the $ range. A meal for two cost us about $18 (plus tip) for two entrees. Well worth it.
– Finish off your meal with Ethiopian coffee they roast the beans on the spot and serve it to you table side.
– Located on the cross streets of Washington and Western Avenue Palm Grove, resides inside of a strip mall.
– The owner is a friendly hostess and service is good, although if the place is jam packed, it might be easy to see how the service might slow down.
– There is parking in the lot of the strip mall and on the street.
Location and Hours
Mondays to Saturdays 11am-8:30pm
Sundays 11am-6pm
1905 S Western Avenue
Los Angeles, CA 90018