It always surprises me when I talk to folks who haven't had a chance yet to visit the Arts District neighborhood in downtown L.A. In my opinion, it's hands-down one of the coolest places in all of Los Angeles, and at least worth a single day to explore all the food, culture, and arts offered up in one tiny sliver of our vast city.
That said, there's some awesome stuff happening down there this weekend that you ought to take some time to check out, especially if you've never been.
First up, there's the showcase of local fashion, art, and design (or LA FAD) taking place all weekend from Friday, Nov. 7th, to Sunday Nov. 9th hosted by the Arts District Flea.
Our friend Gwen the LA Girl helped put the whole thing together, and as part of that event they'll also be announcing the winners of the #EyeSpyDTLA Instagram contest (Saturday), for which yours truly will be one of the judges.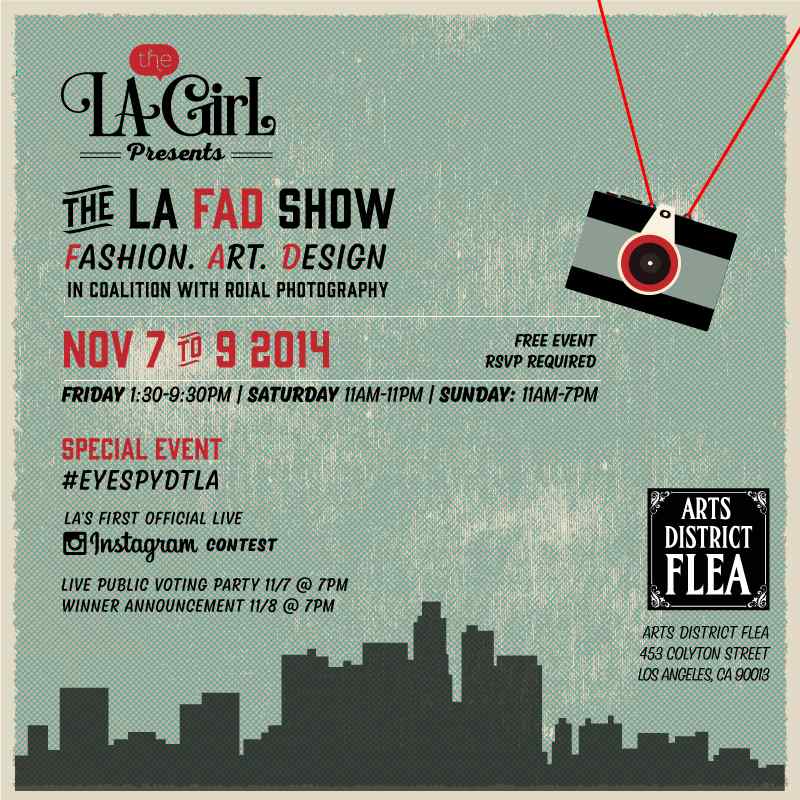 But wait, there's more!
The Arts District will also celebrate Bloomfest LA on Saturday with a series of events honoring Joel Bloom, the unofficial mayor of the neighborhood who passed away in 2007.
The event takes place on 3rd Street and Traction Avenue from 11:00am to 6:00pm and features a beer garden sponsored by Angel City Brewery, plus KCRW DJs Travis Holcombe, Mario Cotto, and Marion Hodges. District food favorites – Guerilla Tacos and Cerveteca DTLA will be serving grub in the beer garden as well.
Proceeds will benefit area arts organizations: ArtShare L.A, LADADSpace/Arts District Center for the Arts (ADCA), and the Los Angeles River Artists & Business Association (LARABA). For more information, check out the official Bloomfest website.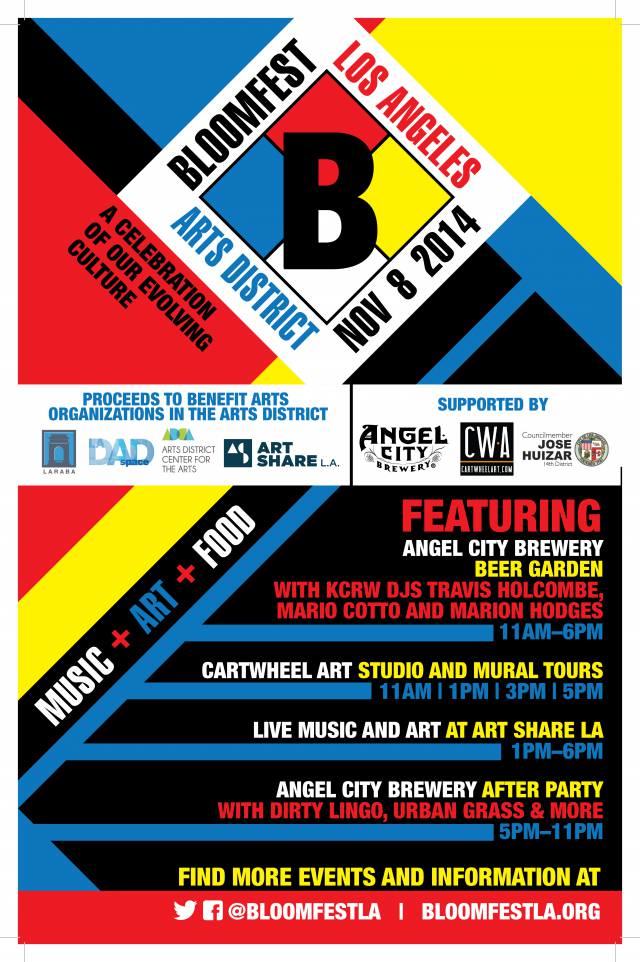 If you want to an insider perspective on the neighborhood, Cartwheel Art Tours will be offering free walking tours of local artists studios, galleries, murals, and other creative-use spaces throughout the day. There will be four tours in total, the first of which starts at 11:00am. Check the official announcement page for more info on how to RSVP.
In any case, this is all by way of saying you'll probably find Christina and I wandering around the Arts District on Saturday experiencing the best of what this amazing neighborhood has to offer.
Maybe we'll see you guys there! 😉