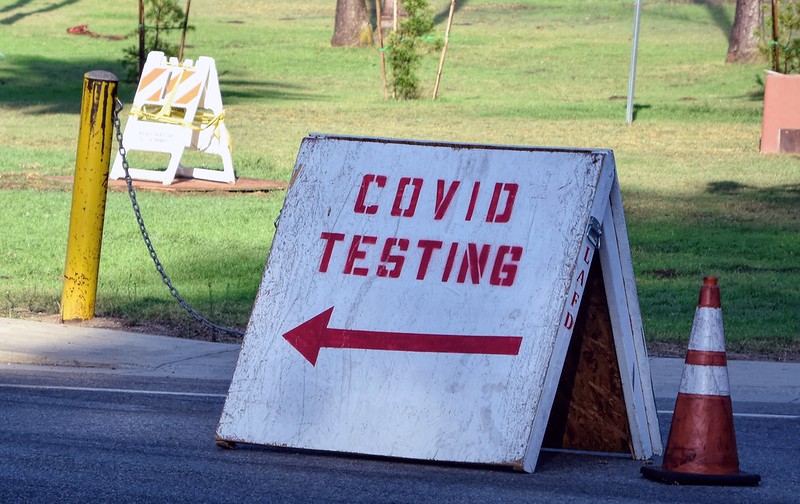 A new FDA notice says COVID-19 tests administered by the L.A.-based startup Curative carry the risk of "false tests, particularly false negatives." Curative tests are used at several of Los Angeles's testing sites, including the city's largest at Dodger Stadium.
On Jan. 4, the FDA issued the notice saying that the Curative SARS-Cov-2 test presents a risk for false negatives, which is when your test comes back negative, but you actually do have COVID-19. This can lead to patients not seeking timely treatment, failing to appropriately self-isolate or quarantine, a lack of contact tracing, and further spread of the virus. 
To reduce the risk of false negatives, the FDA says the test should be administered as described in its authorized labeling, which specifies that the test is only meant for symptomatic people taking the test within 14 days of the onset of symptoms, and that a trained healthcare worker must directly observe and oversee specimen collection. The FDA also wrote that a negative result doesn't rule out COVID-19.
The FDA further recommended healthcare providers retest patients with a different test if they suspect a Curative test is inaccurate, and that patients who received a Curative test should talk to their doctor if they have concerns.
For its part, Curative has said it is still confident in its data and is working with the FDA.
Curative is a startup based in Los Angeles that in May acquired Korvalabs. The L.A. County Fire Department, the City of Long Beach, and numerous testing sites across Los Angeles—including the Dodger Stadium site and the walk-up kiosks at Union Station—use Curative.

According to NBC News, Curative was also recently awarded a contract to test a third of the U.S. government. On Monday, the FDA sent a message about the potential risk to Congress ahead of their meeting on Wednesday which, of course, erupted in chaos when President Donald Trump incited a mob of insurrectionists to storm the Capitol.
This news only further underscores what health officials have been saying throughout the pandemic. A negative test does not clear you to go out and party with friends or gather with others.