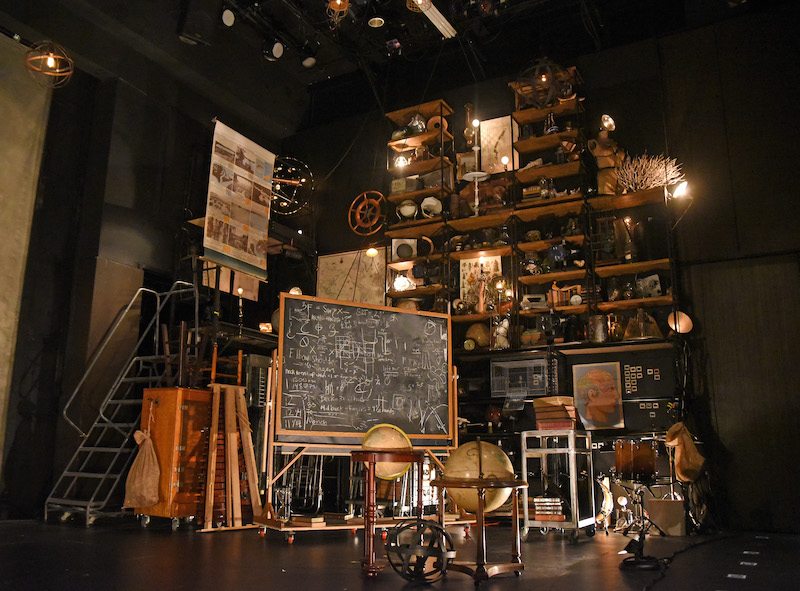 Frankenstein, the classic novel by Mary Shelley, gets a modern facelift in the latest show commissioned by The Wallis Annenberg Center of Performing Arts in Beverly Hills. The story follows an ambitious scientist, Frankenstein, who discovers a secret method to create life. He dissects and puts together bodies, building a hideous human-like creature. He and his creature both suffer the consequences of Frankenstein's unbridled desire for glory and recognition, raising questions regarding moral responsibility and ethical science.
Four Larks, an L.A.-based theater company, created this Frankenstein piece as their Wallis debut. The adaptation draws heavily on Shelley's work, preserving much of her original wording in the libretto. It also brings in context from Shelley's life and works referenced in her book, such as John Milton's Paradise Lost.
Co-founder Mat Sweeney created, staged, and composed the entire performance. His fellow co-founder Sebastian Peters-Lazaro designed and choreographed it. The libretto was written with Jesse Rasmussen.
Four Larks, created in 2008, is often described as experimental and genre-fusing. The company is known for its contemporary approach to theater as well as its inventive orchestration and emphasis on physical theater.
The play utilizes a small cast of 12 who are actors, musicians, and stagehands in one. Frankenstein builds on aspects of theater, dance, music, and visual arts to create a comprehensive experience. Four Larks' "junkyard opera" approach incorporates discarded objects into the set design. The cast uses musical instruments as props and props as musical instruments throughout the show.
Creators Sweeney, Peters-Lazaro, and Rasmussen adapted the play specifically for the Lovelace Theater in The Wallis. The Lovelace was once a mail-sorting room for the Beverly Hills Post office. Now the converted theater sits an intimate crowd of 250.
While there are specific themes classic to the Frankenstein story, Max Louis Baumgarten, who portrays The Creature, hopes that the audience all take something different away from the performance.
"There is so much in the story and the production, and a lot in it that interested me that is eerily relevant today, like the issues of technology and the speed with which we're progressing," says Baumgarten. "You can take it in a lot of different directions but with our ability right now on the verge of artificial intelligence, bioengineering of people and maybe a different race of human beings, which is hugely problematic theoretically and socially. We are rushing ever closer to this haunting reality.."
There is a warning that the performance includes theatrical haze, flashing lights, strobe light effects, and partial nudity. It runs for 1 hour and 15 minutes in total, with no pause for intermission. Frankenstein today through March 1 on Tuesdays through Sundays, with multiple showings on some days. Opening night is Feb. 19, and tickets can be purchased on The Wallis website for $60.
The Wallis is located at 9390 N Santa Monica Blvd, Beverly Hills, CA. Underground parking available for an $8 flat parking fee, and there is often street parking available nearby as well. Theatergoers can also purchase drinks at Barlingual, the theater bar, to enjoy during the show.