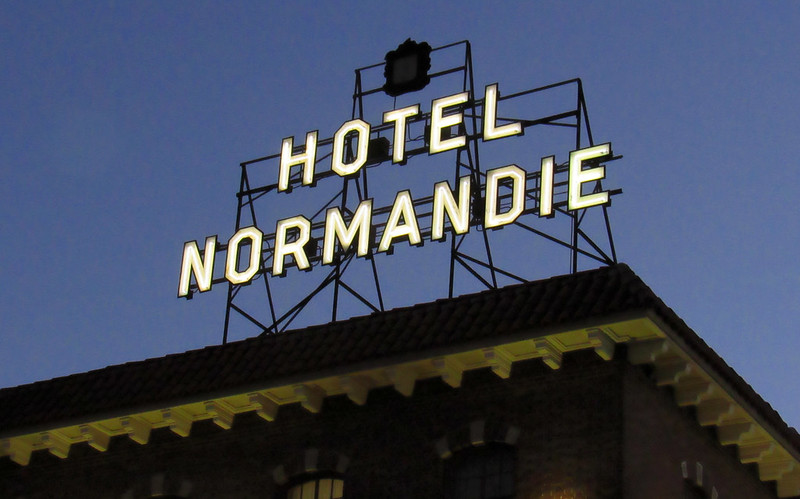 The Museum of Neon Art invites you to take a self-guided tour of Koreatown's many neon signs through a free walking guide you can download.
According to the guide, many of Wilshire Boulevard's neon signs were shut off during WWII and never turned on again. Some, however, were renovated in the late 90s as part of the Living Urban Museum of Electric Neon Signs (LUMENS) project, which MONA now oversees. 
This guide takes you on a stroll along and near Wilshire, pointing out several signs and their histories along the way. It begins at 763 S. New Hampshire, where you'll see a sign that reads "Mayan" on top of the building. That's because this building was originally called The Mayan Hotel, though the name doesn't have anything to do with the building's design. 
Many of the other signs are ones you've probably seen countless times, similarly perched atop tall buildings, but perhaps haven't thought much about.

One stop is the Gaylord sign on top of the Gaylord building, named for Henry Gaylord Wilshire, who built a chunk of Wilshire Blvd. then donated it to the city of Los Angeles. The HMS Bounty sits on the ground floor and while you can't visit the neighborhood watering hole right now, you can order food for pickup or delivery daily from noon to 8 p.m.
You'll also find the bright bowling pin at Shatto Lanes and the capital R outside of R Bar (also open for takeout). 
If you feel like exploring further, there are more signs than what's listed on the guide, including the Wiltern and the Los Altos Apartments (which you may recognize as the exterior of Angel Investigations in the TV series Angel). You can find the larger list on Public Art in L.A. here.
This neon tour is one of several self-guided art tours suggested for taking in culture while social distancing, unique in that it's actually designed for pedestrians. Some other options include:

The National Arts Drive on June 6
Durden and Ray's Here We Are/We Are Here, open through June 20