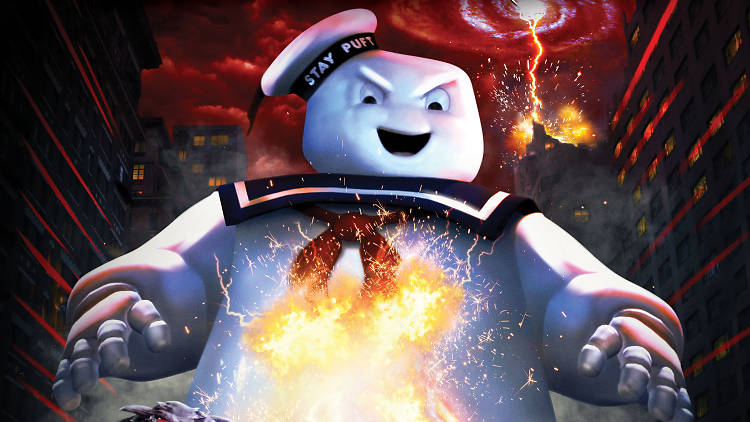 If there's something strange in your neighborhood, who you gonna call? The box office. 
The slimy n' scary classic Ghostbusters oozes into Universal Studios Hollywood's 'Halloween Horror Nights' this September with sure-to-be-spooky immersive mazes based off the beloved 1984 hit film. Aim for full apparition submission as you follow the films' heroes- Peter, Ray, Egon and Winston – through iconic scenes from the movie: the firehouse, the New York Public Library, and the Temple of Gozer, which sounds like a delicious restaurant but sadly is not.
Expect to be scared, but in a funny way, with classic characters like Gozer the Gozerian, and the gooey and goofy Slimer, and the big boy version of the Stay Puft Marshmallow Man.
This year marks the films' 35th anniversary, a milestone recently-commemorated by a massive two-day Los Angeles fan fest.  That event was teeming with khaki-jumpsuit clad 'busters buffs , and you can bet Universal will be going all in to impress the flick's faithful followers. 
The fun kicks off with a September 12 preview and runs through November 3. Halloween Horror Nights has been spooking crowds for over 25 years, and is a must-see for folks who love their scares made to scale. This is the film capitol of the world, after all, with the industry's best special effects within reach.
Featuring the show-stopping Stranger Things maze and the perennially well-attended Walking Dead Attraction, this promises to be a frighteningly-big year at the famed Hollywood entertainment mecca. General admission tickets for the preview start at $69 and includes admission all the new mazes and attractions, photos with scare actors, live DJs and themed food and merch. For more ticketing and more information visit hollywood.halloweenhorrornights.com.