The first segment of California's future bullet train begins construction this week with work starting on a 29-mile stretch that originates in Fresno. This despite continued heavy legal and political opposition to the $68 billion dollar project.
[RELATED: Construction Begins to Add Wi-Fi and Cell Service to Select Metro Lines]
Per a report from the L.A. Times:
"Over the last two years, the California High-Speed Rail Authority has prevailed in a series of court challenges to the project, won a federal exemption from state environmental rules, secured several key legislative victories that improved its future funding and made a politically savvy bet to move up by several years the inauguration of service in Southern California."
The project goal is to create a high speed rail option that connects the cities of Los Angeles and San Francisco, and runs at a top speed of 220 mph. In theory, you could travel from L.A. to San Francisco in about 3 hours.
A two-year project delay was due primarily to the slow pace of land acquisitions. Still, the biggest obstacle ahead for completion is securing the necessary future funding.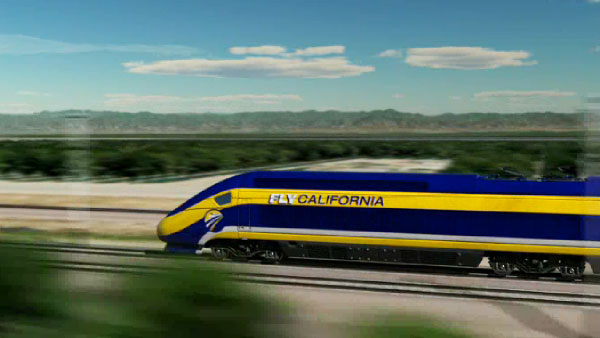 The project will be partially funded by a 2008 $9 billion bond measure and a $3.2 billion grant by the Obama administration, and you can ddd to that a legislative commitment of 25% of future greenhouse gas — or cap-and-trade — fees, which could produce $250 million to $1 billion annually. Still, all-told, even with the most optimistic of predictions, the funding of those three sources leaves about $42 billion more necessary to complete the train.
Proponents will point to the Governor's unwavering support and the funding that has already been put in place, while critics will argue out the because no long-term funding is already in place, this could turn out to be (if I may borrow a phrase), a train to nowhere. The worst case scenario is that they build out a large portion of the project, then have to abandon it due to lack of funds.
It'll be a long process. We'll see how this thing plays out.
A ground breaking ceremony is scheduled for this Tuesday in Fresno.