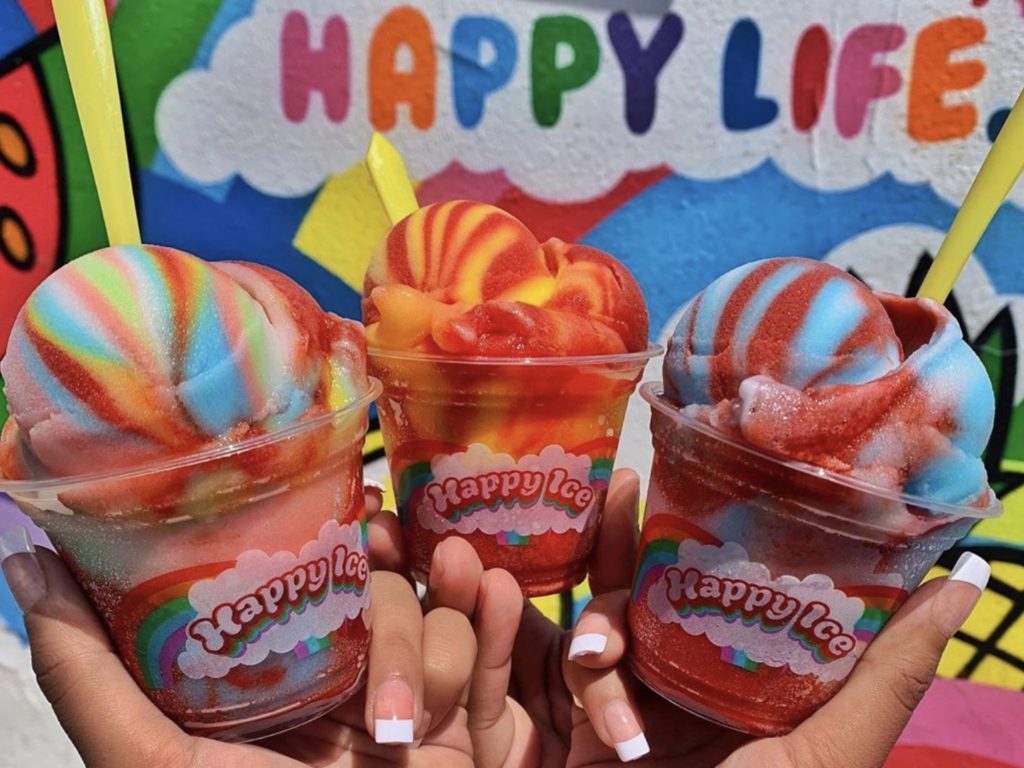 Happy Ice, the psychedelic, highly Instagrammed vegan treat, is hitting the road this summer to provide a sweet cooldown for Californians and beyond.
Happy Ice is inspired by a Philadelphia creation called "ice water," which is a mix between a slushy and sorbet. Happy Ice owner Lemeir Mitchell took this 40-year-old recipe and gave guests the ability to mix and match a variety of brightly-colored flavored ices, which he swirls together into unique works of art. What started as a roaming truck quickly drew lines of fans. It's become so successful that Happy Ice now has its own storefront on Melrose Avenue.
While the pandemic has slowed most businesses down, the shop has received countless messages to expand. To meet this demand, Mitchell is gearing up to put the Happy Ice truck back on the road for a special Happiness Tour, offering its signature creations to select Los Angeles County neighborhoods and roaming as far as Riverside County, San Diego, and even Las Vegas.
"The amount of success and positive feedback we received from our Melrose opening was overwhelming and such a blessing. I've had the idea for a kind of road tour with the trucks for a while now. But since opening the shop, so many people started messaging me on social media to see if Happy Ice could open more locations or stop by their cities," Mitchell said. "I felt the timing was perfect, so I knew we had to get this idea in motion, literally. My goal with the Happiness Tour is to bring the smiles and joy we see in L.A. to other areas from all across SoCal to Vegas and back. During times like this, I figure everyone could use a little happiness in their life."
The tour kicks off this weekend on the westside at Santa Monica Place August 14 & 15 and makes a stop in Long Beach on Sunday, August 16. From August 14 through September 20, the public will find the Happy Ice truck Fridays through Sundays at the designated schedule below.
Find more information about Happy Ice here.