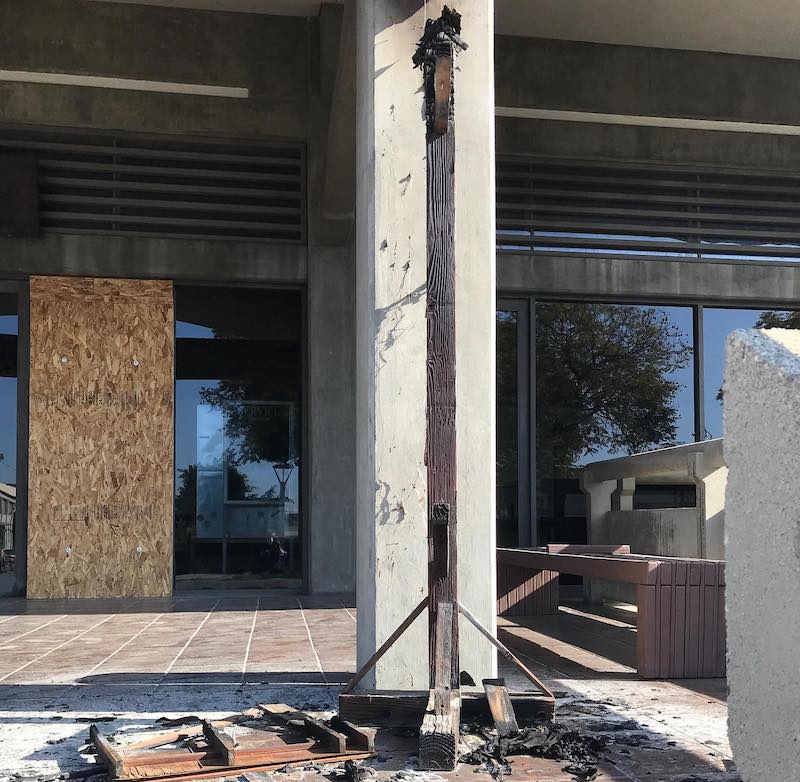 A GoFundMe in support of Higashi Honganji Buddhist Temple has raised over $70,000, exceeding its goal of $30,000 in just a few days. The Little Tokyo temple was recently vandalized, but it's only the latest in a string of incidents that have led the temple to seek additional security measures.
Last Thursday, a man was caught on surveillance video scaling the temple's security fences. According to Rev. Noriaki Ito, the temple's head priest, the footage shows the man using a rock to smash a glass window, removing lanterns from their bases, and setting two wooden lantern stands on fire.
There were no injuries in that particular incident, but Ito told the Los Angeles Times that last month, a couple trespassed onto the property and assaulted a security guard when asked to leave. The guard later quit. Another trespasser stole a gardener's iPhone. 

Ito also posted a statement to Facebook, saying: "We will work to repair the damage and to restore the temple. But we need to repair the damage to ourselves as well. Like many others in our AAPI community and beyond, we feel hurt and saddened and even angered by the recent attacks on those of Asian and Pacific Islander descent. For many of us, the temple is a second home, and this feels like an attack on our culture, our history, our community, our family. Together we will grieve, and we will heal."
The GoFundMe will cover the temple's repair costs, as well as help them upgrade its security. 
Investigators say it's not clear at this point if the vandalism was random or a targeted hate crime, but many media outlets have reported a disturbing surge of violence against Asian-Americans and Pacific Islanders throughout the nation.
Locally, Denny Kim, a 27-year-old Air Force veteran, told NBC that he was assaulted by two men in Koreatown on Feb. 16. The men shouted racial slurs at him as they threw him to the grown, breaking his nose. In Rosemead, 51-year-old elementary school paraprofessional Matthew Leung was assaulted at a bus stop. The assailant took Leung's cane and beat him with it, causing him to lose part of a finger.
During a recent Los Angeles Police Commission meeting, a report found 15 anti-Asian hate crimes in 2020, a 114% increase from 2019's seven reported hate crimes. This figure does not include racist incidents that aren't considered crimes, nor do they account for incidents that aren't reported.
To help with reporting, activist Esther Lim has created a booklet called How to Report a Hate Crime that's available in seven languages. Lim believes these booklets will help older people, who may not have access to the internet, learn how to get help or report a crime.